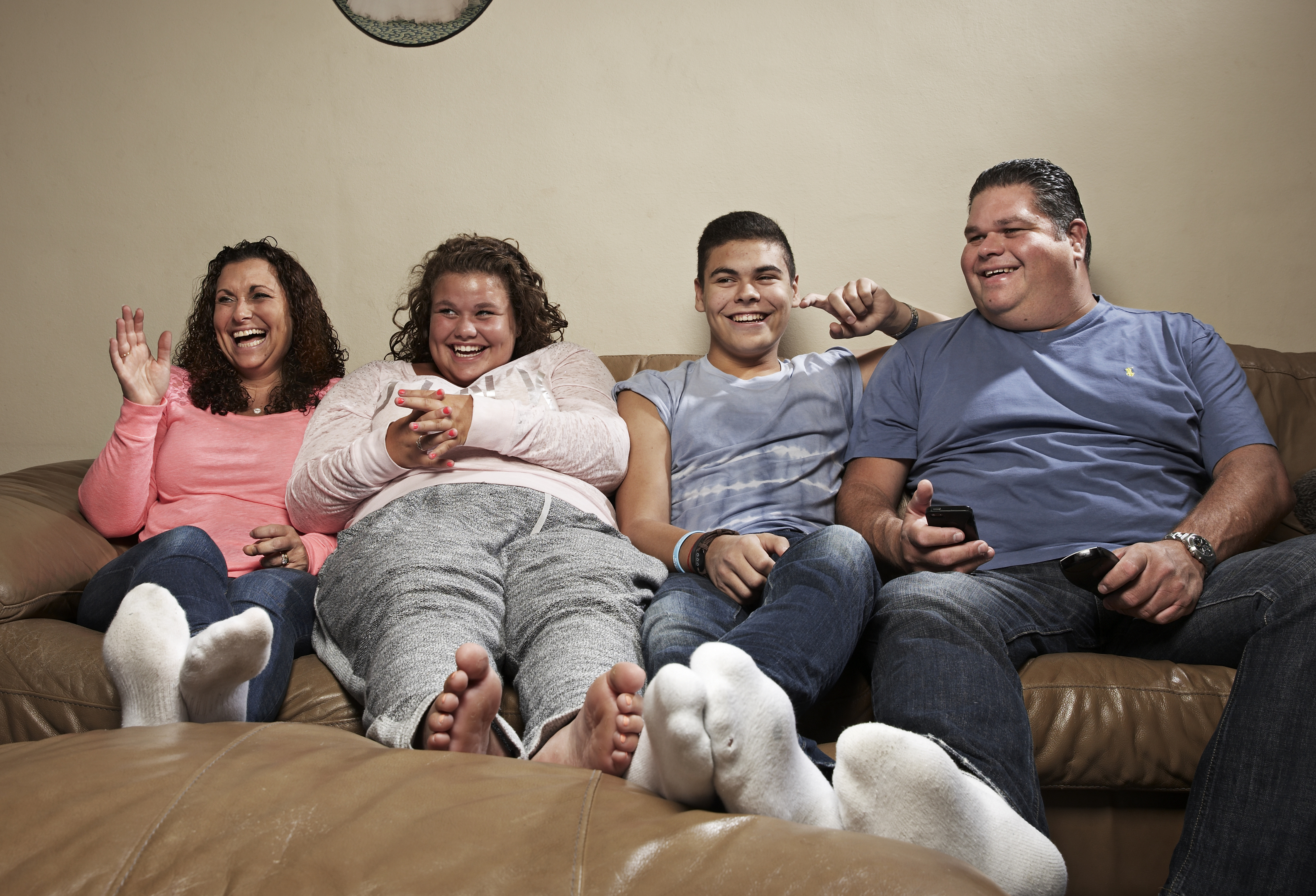 Might she be interested in a new programme about people watching the telly?
She had no idea how it was going to work and even less of an idea how big it would be.
Three years on, the down-to-earth nursery teacher, husband Jonathan and their kids have become telly stars themselves.
Big telly stars. As big as their brown, over-sized sofa.
They are four of the best-known faces and outspoken voices from Channel 4's Gogglebox, which is back on Friday.
And it's immediately clear that what you see on TV is what you get at the comfortable home they've had in Edgware, North London for the best part of 20 years.
That's loud, chaotic, warm, fun.
And while they've endlessly entertained millions, they've got something just as precious back – family life.
"We're close as a family anyway, but as kids grow up they spend their time socialising or in their rooms," says Nikki, 43. "But it's so lovely for us that we've still got that time with them, sitting on the couch watching telly."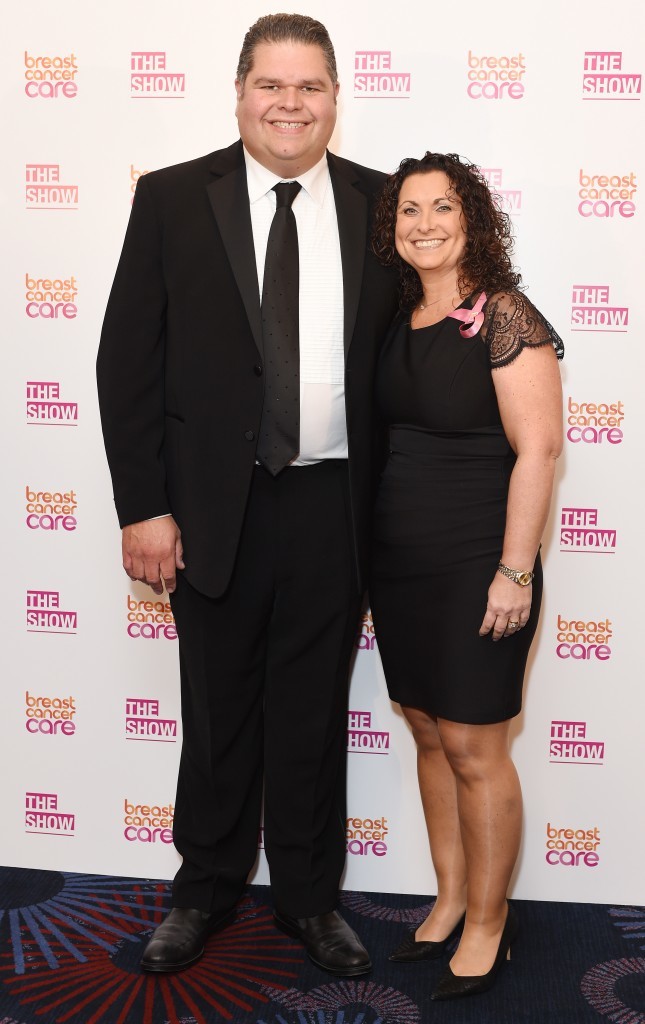 It's a house just like others the length and breadth of the nation.
Amy, who's 16, admits with a giggle that she and Josh, 18, would indeed be in their rooms.  "Dad would be working and mum would be ironing and cleaning," she says.
Gogglebox time is, she says, their quality family time together – albeit, bizarrely, one shared by four million people.
"The fact that it gives us time together is the best thing about the series," chips in Jonathan, 48, rubbing his aching back after another long day's stint as a chauffeur.
"It almost forces us to talk, just have a conversation. Not always about the programme, it's just sharing opinions. Sometimes that leads to a disagreement, but that's normal."
They all agree that a quiet night around
the TV, merely watching in silence, is a non-starter.
They're always gabbing, cameras or not, "It's good to talk," he smiles.
The call to share their viewing opinions with the rest of the country came after Channel 4 had initially considered Nikki for another programme, Jewish Mum Of The Year.
"I'd just recovered from breast cancer and my mum nominated me," explains Nikki.
"But I ended up not going on it – actually Jonathan didn't want me to do it.
"The researcher, who came round and met the kids, must have kept my number and phoned out of the blue saying she was helping out with this small four-week programme.
"I didn't understand how it would be done and I didn't think Jonathan would have any interest in being on TV."
With the mock fed-up sigh of someone who's been down this road before, Jonathan says, "See, that's my wife. She normally makes the decisions for me – are you married? You'll know what it's like.
"I didn't want her to do the other show but I was OK about giving this a go."
From humble beginnings the series has become one of TV's biggest successes, smashing whatever's up against it, even big budget BBC dramas like The Musketeers.
Three years and now seven series later, Nikki says she still can't quite get her head around it.
"It's absolutely nuts," she laughs. "We're in the middle of this mad, mad phenomenon.
"We didn't think for a minute it'd lead to something but now everything's a blur.
"I've forgotten what life before Gogglebox was like. Jonathan and I work all day as usual, the kids go to school and then we come home and film a couple of times a week.
"It's like leading a double life."
That #FridayFeeling with @C4Gogglebox's @tapperofficial. ??? pic.twitter.com/d10wJInSWH

— Studio Lambert (@studiolambert) January 29, 2016
The programme really is as simple as it appears.
On filming nights the Tappers get their viewing laid out for them, the cameras roll and that's it.
"You really do forget the cameras are there," says Amy. "You just get into watching and chatting.
"The thing is that I love watching horror films with my pals (her hysterical reaction to Cape Fear has gone down in Gogglebox folklore) but with my family I'm SO scared. My dad makes me jump."
Says Josh, "You can't help what you say in the moment so although I've come out with embarrassing things you can't regret it.
"The only thing is that it's weird when my teachers watch it. My head of sixth form is a big fan and I do think, 'Oh, he's going to see this'."
The Tappers aren't the only stars. Toff tipplers Steph and Dom, caravan chums Jenny and Lee, pithy pensioners June and Leon and vocal vicar and silent spouse Kate and Graham have become something akin to national treasures.
"The strange thing is we're all part of this amazing experience but because we live in different parts of the country we've never met," says Josh, in his second year of A Levels.
"They're the only other people who know what this is like. We talk on Twitter and it's nice to share this."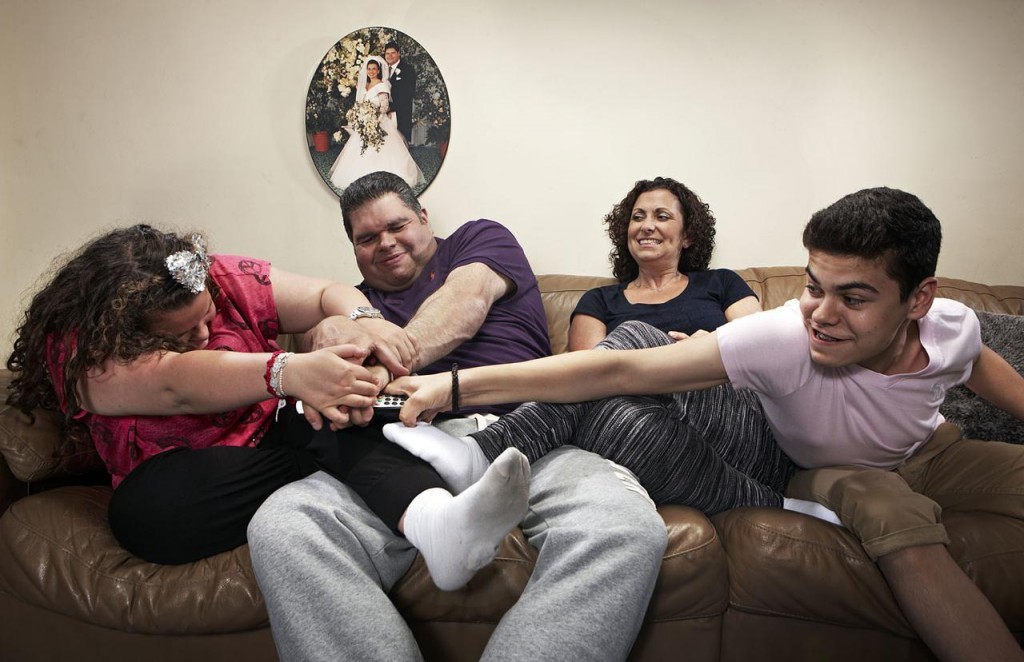 None of the families and friends know when or how they're going to feature until they tune in like the rest of the country on a Friday night.
But the Tappers have never had any qualms about a stitch-up.
"TV can be cruel but this never is," says Jonathan. "We trust them implicitly. It shows us in a good light and I think that's why it works.
"As Nikki says, we're a family who love each other and whether it's families or friends on the show, that warmth comes across."
They've laughed, cried, raged and, indeed, fallen asleep in front of millions on that old sofa.
Along the way they've become so well-known that a family holiday in Disney World, Florida last year saw them mobbed, taking half-an-hour to just get through the entrance.
A family friend became the stand-in photographer, snapping away for the hordes who wanted a picture.
And the show's fame saw the family chosen to attend last autumn's TV Choice Awards to pick up a prestigious gong.
"Lenny Henry was hosting it and when we were up on stage it was so strange looking out on a sea of famous faces," confides Nikki, who says the kids at work know she's on TV as their parents show them edited highlights.
"And the funny thing is that at the party afterwards we didn't have to try to speak to them; they all wanted to come over and speak to us about Gogglebox.
"Jonathan loves Michelle Keegan and I love Mark Wright and we both got the thrill of being photographed with them."
Contrary to what some think they aren't paid big money – "that couldn't be further from the case, we get the fame without the fortune" – but they love their Gogglebox life.
"It hasn't changed us at all," adds Jonathan. "We and the kids are exactly the same.
"We've always had larger-than-life personalities and whether we were on this or not for the past three years we'd be just like you see."
With that they're off to settle down for another couple of months of "great telly", superfan Nikki bereft she'll have no Downton Abbey – and the rest happy they'll never have to suffer it again.
Gogglebox, Friday, February 19, 9pm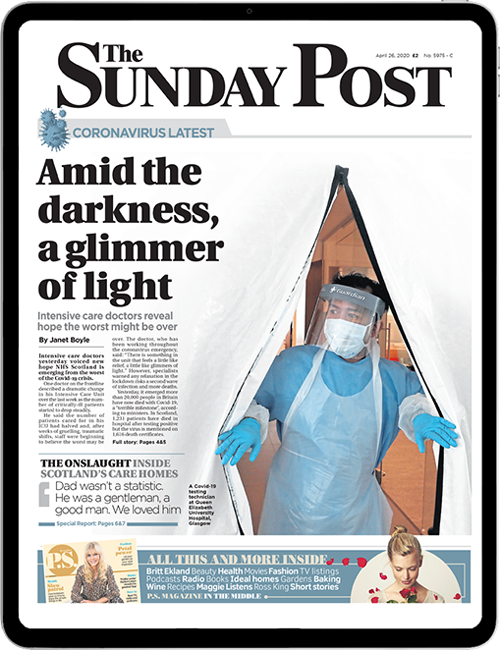 Enjoy the convenience of having The Sunday Post delivered as a digital ePaper straight to your smartphone, tablet or computer.
Subscribe for only £5.49 a month and enjoy all the benefits of the printed paper as a digital replica.
Subscribe