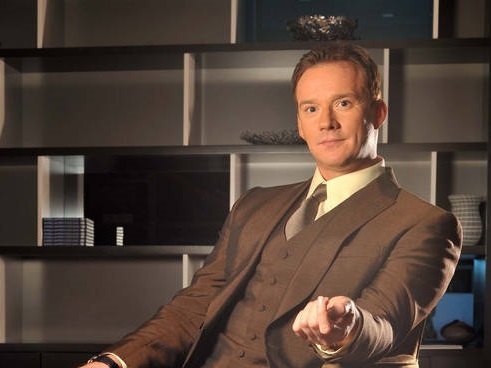 Born into a working-class family in Salford, he left school at 16 with no qualifications and spent eight years on a factory floor making nuts and bolts while singing in working men's clubs at night.
After winning a local radio talent competition, his singing career took off and he's now released 10 albums and performed around the world.
But the dad-of-two has also had to battle back from two life-threatening brain tumours. Prior to touring Scotland with his new show, Songs from the Heart, he told us the 10 most memorable moments of his life.
Theatre of Dreams
It was 1999, the year before my first record came out, and I was still unknown.
I did a charity event at The Midland Hotel in Manchester and Manchester United's chairman, Martin Edwards, was there.
Months later, the club called to ask if I'd sing at Old Trafford in the last game of the season against Spurs.
The biggest crowd I'd played to at that point was 1,000, so going out on the pitch in front of 57,000 was something else and, as I hit the top note in Nessun Dorma, the place just went mad.
My dad isn't an emotional guy but he was at pitchside with a tear in his eye – although he said it was because of the wind!
Afterwards, the club asked if I would represent them by singing again at the Nou Camp in Barcelona for the Champions League Final.
I flew over with the famous 1968 squad, sang to 92,000 on the pitch and took my seat with my dad and legends Paddy Crerand and Wilf McGuinness. What a night!
Christmas 1977
I'm from a humble background – my dad was a welder and my mum worked in Woolworths until she had my sister and me.
We were both born towards the end of the year, so we would get rubbish birthday presents and sometimes my mum would ask if we wanted a combined birthday and Christmas present instead.
This year I asked for Skalextric, the Rallycross version, but I never believed they would say yes.
They did and from that moment on I just couldn't stop thinking about it. I was too excited to sleep and, when I finally did, I would dream about it. I'll never forget that Christmas morning, seeing the massive box under the tree and knowing it was mine, and then the thrill of opening it.
It's probably the best Christmas present I've ever had.
The birth of my kids
My children, Hannah and Rebecca, are my life. My world just wouldn't be the same without them.
Hannah was born on November 13 and Rebecca on October 31 and those are two of the best days of my life.
We have such a close link and bond.
Waking up from the second tumour operation I haemorrhaged while I was in bed and genuinely thought I was dead.
I remember coming round from the op and as my eyes flickered open I saw two white silhouettes at the bottom of the bed and thought I was in heaven.
I was just relieved that I had made it there. But as I came to I realised the shapes were my kids.
It was an incredibly emotionally-challenging day. When you wake up from an operation that you don't think you're going to make it through, there's a rush – a real euphoria.
Although it was a difficult time, having overcome that hurdle has given me extra layers as a person.
Commonwealth Games
I remember standing at the side of the pitch during the 2002 opening ceremony, which was held at the City of Manchester Stadium, watching as the athletes entered the arena with their flags.
A steward was standing beside me. "Are you ok?" he asked.
"Yeah, I'm fine."
"Not nervous?"
"No, I'm fine, mate."
"I'd be nervous, with all of these people and all the athletes. What if you forget the words?"
"OK pal, I'm nervous. OK?"
As I sang I remember thinking how we didn't have two pennies to rub together as I grew up along the road in Salford, yet here I was performing in the midst of all these people.
I'll never forget that feeling for as long as I live. My career was still in its early stages and this was a real pinch yourself moment.
Schools football
The highlight of my entire life was in 1976 when I was chosen as the goalie for the Irlam Endowed Primary School's football team in the seven-a-side regionals competition. I was rubbish at football but I have big hands!
It was a cloudy, rainy day and the pitch was like a mudbath.
Somehow we did quite well and reached the semi-finals, where we came up against one of the best teams.
I made a last-minute save that took us to the final.
That finished 3-3, so it went to penalties. I pushed their final penalty over the bar to win the cup and our teacher, Mr Walsh, carried me on his shoulders.
I felt like I'd won the World Cup but when I got home, covered in mud, my mum took one look at me and went crazy, so I was quickly brought back down to earth!
Performing for the Pope
In 2002 I was invited to perform what was originally presented to me as a private audience with Pope John Paul II.
But on the day of rehearsal there was a 110-piece orchestra and 400-strong choral section there and when I turned up there were 40 cardinals, 3,500 dignitaries and 500 million watching on TV – that's not very private!
As I started to sing the first aria I thought, crikey, two years ago I was playing Wigan Working Men's Club. It was unbelievable.
I got to meet him and gave him a CD.
I later received a letter that said His Holiness would remember the gesture in his prayers – I think that's what got me through those tumours.
My wedding to Louise
We were married on August 19 last year in the hills of San Pedro in Spain. The ceremony was in a little church and we held the reception outdoors.
It was an incredibly emotional and memorable day.
When you play the day out in your mind in advance, you worry about all the things that could go wrong but nothing did. It was so beautiful and just like a fairytale.
Playing Carnegie Hall
Every artist has venues you dream of playing, like Royal Albert Hall and Sydney Opera House.
Carnegie Hall is another one and if you play there you know you're doing something right.
I played there just as we were told the album had reached number one in both the UK and American charts.
The first aria was O Sole Mio. As I held an early note, 3,500 stood up and started cheering and clapping.
I'd never had a response like that and experiencing it in New York was just unbelievable. It's a sensation I'll never forget. It was a similar sense of euphoria and excitement to what I felt after my second operation.
Singing in space
Diane Warren, a songwriter I'd been working with, called to tell me words were being put to the Star Trek theme for the first time and they wanted me to go to LA and record it.
So off I went and did the recording.
Fast forward 10 years and I receive a call from NASA telling me their Pluto probe was to come out of hibernation and they wanted to waken it by using my recording of the Star Trek tune. I was thrilled.
No human voice has ever been heard further away from Earth.
I was so excited so I put the news on Twitter, only for someone to comment that space was where my voice should stay!
---
Russell performs at the Glasgow Royal Concert Hall on April 1 and at Perth Concert Hall, Eden Court Theatre in Inverness and His Majesty's Theatre, Aberdeen, from July 2-4.
---
READ MORE
10 questions for Casualty star Lee Mead
10 meetings with celebs former Jackie editor Nina Myskow will never forget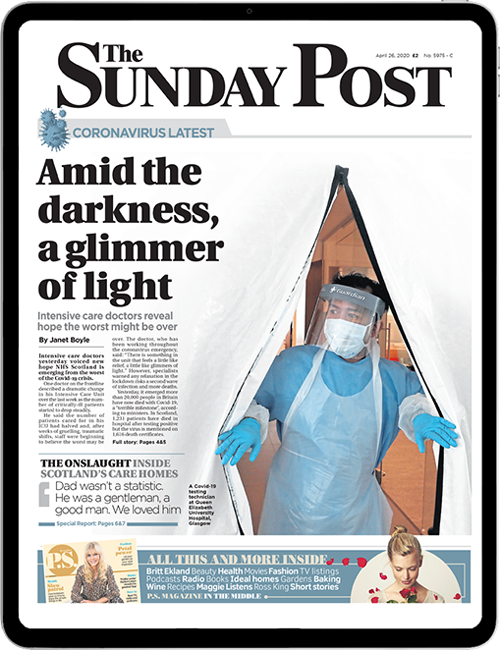 Enjoy the convenience of having The Sunday Post delivered as a digital ePaper straight to your smartphone, tablet or computer.
Subscribe for only £5.49 a month and enjoy all the benefits of the printed paper as a digital replica.
Subscribe