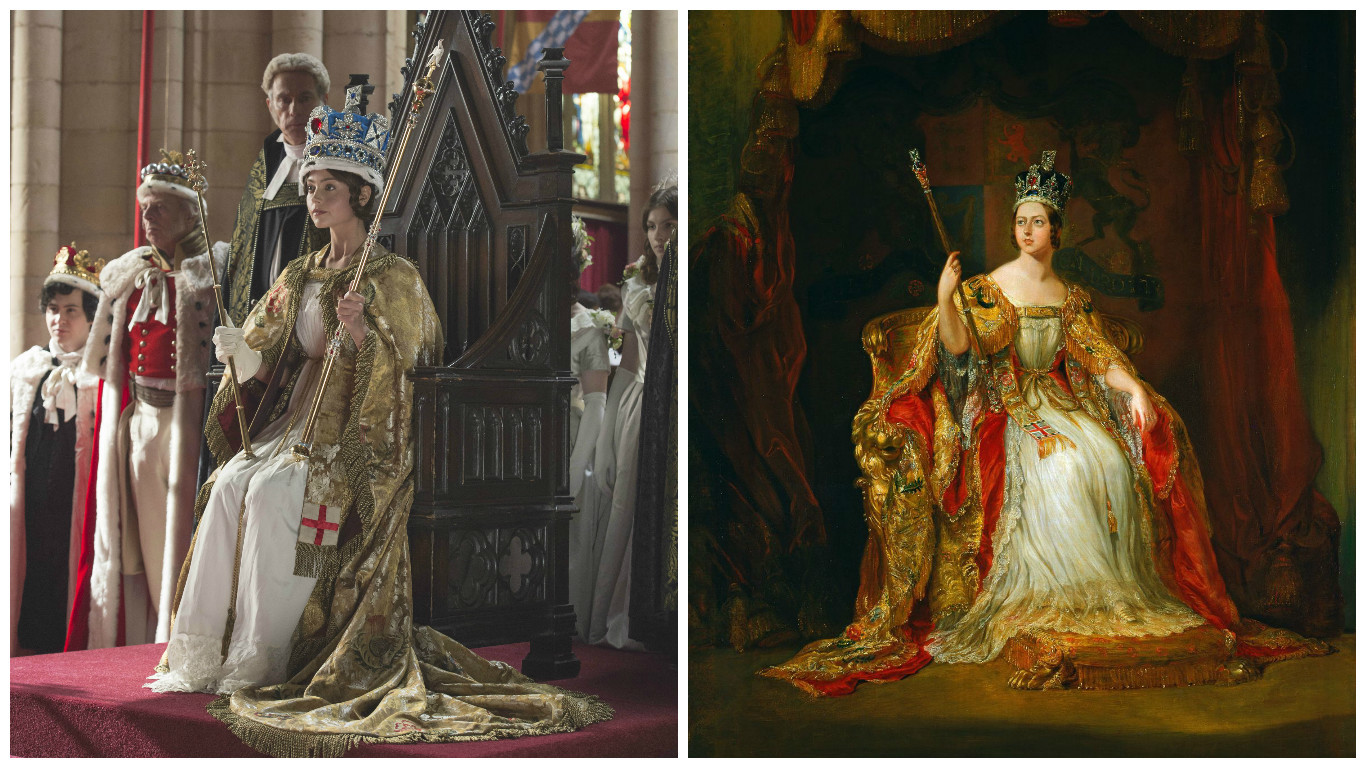 VICTORIA has become a Sunday night TV sensation.
The ITV series, starring former Doctor Who sidekick Jenna Coleman as the iconic 19th Century monarch, has been crowned the nation's favourite prime-time period drama.
With 5.3 million tuning in, the new £10m show is beating last year's telly hit Poldark – which can only muster 4.8m viewers.
However, historians have criticised the makers of Victoria for playing fast and loose with the reality of her reign.
So would the real Queen Victoria be amused at the way she's been depicted?
Bill Gibb takes a look at what's fact and what's fiction in the hit show.
Queen Victoria
REEL: Eyebrows were raised when Jenna Coleman, one of the UK's hottest young actresses, was cast as Victoria. At 5ft 1in, Jenna is only a few inches taller than the real Queen. And she wears striking blue contact lenses to transform her brown eyes. Her long-term boyfriend is Scottish Game of Thrones heart-throb Richard Madden.
REAL: The real Victoria was a "short, vulgar-looking child" who had bulging eyes and a tendency to be overweight. In fact, in her later years, she was so portly she had a 50-inch waist. She was absolutely tiny, just 4ft 11in, and needed a specially-made throne as she was too short. Jenna's petite frame fits comfortably into a tiny-waisted corset – any later weight-gain to copy Victoria will likely have to be padding.
REEL: Jenna is actually 30, so her youthful looks came in handy for portraying the teenager thrust on to the throne.
REAL: Victoria was crowned when she only was 18. Writing in her diary, the Queen said the Archbishop put the regal ring on her wrong finger, and she faced a painful struggle to remove it later.
REEL: Episode two saw her scheming mother and evil Sir John Conroy concoct a plot to send her mad, like her grandfather, King George III. They use a plague of rats to make the young monarch think she's losing her mind.
REAL: Victoria did have a strained relationship with her mother but there's no evidence of a plot by her to depose her daughter. However, one of the first acts of her reign was to remove Sir John Conroy from her household. Her mother protested but Victoria gave her short shrift.
REEL: Victoria's uncle, the Duke of Cumberland, also helps plot her downfall. "She's got an unstable temperament," he spits. "Her wits are fragile."
REAL: Rumours persisted that the Duke of Cumberland was plotting against his niece. But in response to these accusations, the Duke stood up in Parliament and declared he would shed his "last drop of blood" for Victoria.
REEL: Victoria intervenes on behalf of the Newport Chartists, who rebelled in order to gain the vote. Defying those demanding the traitors be hung, drawn and quartered, the compassionate Victoria commutes their sentences.
REAL: The Newport Chartists were in fact spared by the Prime Minister, Lord Melbourne. The young Queen wasn't particularly interested in the starving poor, according to historians.
Prince Albert
REEL: When young Victoria first met Prince Albert on last week's episode, the awkward noble criticised the young Queen's piano-playing skills.
The two have a frosty relationship to begin with and the feisty monarch isn't impressed with the standoffish German prince.
Last week's episode also saw the young Queen trying to make Albert, played by The Game star Tom Hughes, look stupid and she bemoaned spending time with him.
Viewers were delighted later, however, when Albert asks Victoria to dance.
She is seen gifting him a corsage of flowers, then Albert passionately rips his own shirt so he can wear them "close to his heart".
Lord Melbourne isn't impressed with Prince Albert, though, and the series portrays them as rivals for the Queen's affections.
REAL: Queen Victoria wasn't shy about offering her opinion and was immediately impressed with Albert after he was sent to her court by her uncle, King Leopold I of Belgium.
She wrote a letter to Leopold after she first met Albert, and it was full of gushing praise.
"He is so sensible, so kind, and so good, and so amiable too," she gushed.
"He has besides, the most pleasing and delightful exterior and appearance, you can possibly see.
"He possesses every quality that could be desired to render me perfectly happy."
Not quite love at first sight – but not far behind it either.
Lord Melbourne and Prince Albert weren't enemies as hinted at in the ITV drama, either.
They did differ on certain key issues when it came to advising the Queen, though.
According to historians, Lord Melbourne didn't encourage Victoria to pay much attention to the poor and needy.
Meanwhile, the real Prince Albert was a compassionate man who helped convince his beloved wife to pay more attention to her starving subjects.
Prime Minister Lord Melbourne
REEL: The smouldering Prime Minister Lord Melbourne – who seems to spend more time on country estates and dancing at balls than in Parliament – is played by 48-year-old hunk, Rufus Sewell.
The pair share tender moments as they fend off plots by Victoria's scheming relatives before the young Queen falls for the handsome older man.
In the third episode the besotted Queen secretly visits Melbourne to reveal her feelings – and even proposes to him before he nobly turns her down.
REAL: Rufus Sewell is more than a decade too young to play the Prime Minister and, by all descriptions, much more handsome.
Far from being a middle-aged hunk, Lord Melbourne was in his late 50s at the time of the Queen's coronation.
He was overweight and had a tendency to fall asleep and snore loudly in public.
Experts say the marriage proposal was merely created for dramatic impact.
The relationship between them was more like a father and a daughter rather than anything amorous.
Lady Flora Hastings
REEL: The lavish 90-minute series opener had young Victoria's relationship with Lady Flora Hastings as one of its big stories.
Flora's supposed pregnancy was a court shocker that troubled Victoria so much that she insisted on a medical examination – which showed up a tumour, not a baby.
The distressing examination is shown in contrast to the joy of the Queen's coronation. And, realising she's wrong, Victoria makes a bedside visit to the ailing Flora, only to be told she has much to learn about her people.
REAL: There was a scandal involving Lady Flora Hastings, but not until well after the coronation.
Victoria did indeed force Lady Flora, who was suspected of being pregnant, to be examined by two doctors but certainly not on the Queen's biggest day.
Lady Flora's family were scandalised and publically criticised her treatment by the Queen. Flora's death caused a massive scandal which dogged all of Victoria's reign.
---
READ MORE
Former Doctor Who star Jenna Coleman enjoys the royal treatment in new period drama Victoria
Records of Victorian villains have been released online for the first time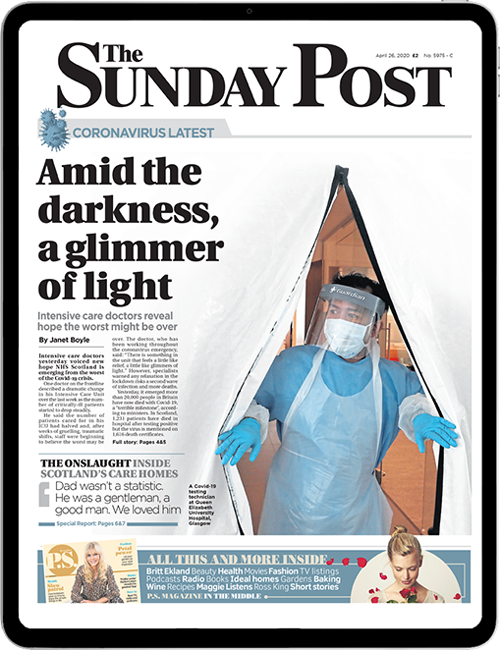 Enjoy the convenience of having The Sunday Post delivered as a digital ePaper straight to your smartphone, tablet or computer.
Subscribe for only £5.49 a month and enjoy all the benefits of the printed paper as a digital replica.
Subscribe