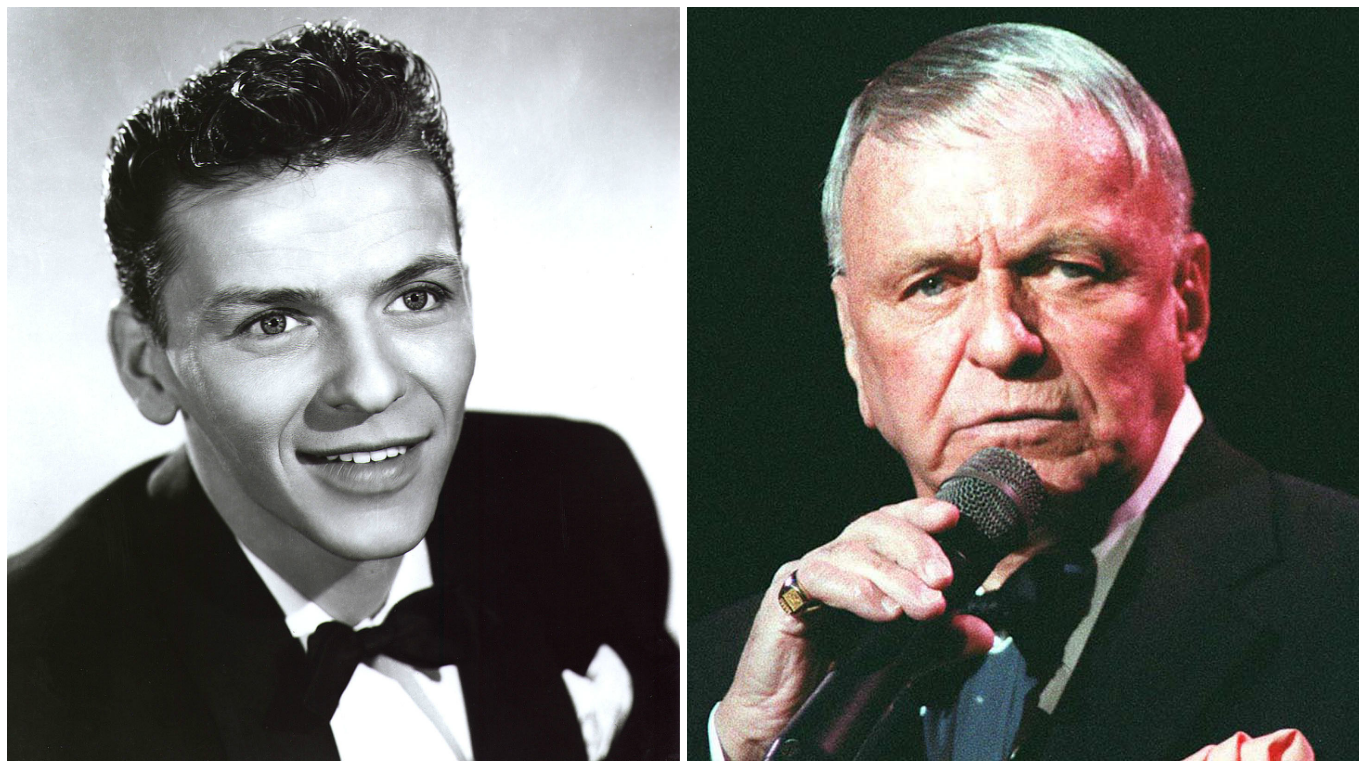 Life began in an upstairs tenement at 415 Monroe Street, Hoboken, New Jersey.
The street outside was roughly cobbled, with two tram tracks cutting through it, and there was a modest little delicatessen and a stationery store downstairs.
Not the most auspicious beginnings, for a child who'd grow up to cast a giant shadow over not just the music world, but Hollywood, too.
Dolly Garaventa and Marty Sinatra would only have this one child, and had eloped two years earlier, on Valentine's Day, 1913.
Their baby boy weighed 13lb and had to be delivered with forceps, leaving severe scars on his face, neck and ear. Along with a perforated ear drum!
It even delayed his baptism, as the baby was in such a sorry state, and in teen years, his awful acne would further damage his features.
Not that his dodgy hearing or less-than-pretty face would put anyone off, or negatively affect his ear for a good tune.
In years to come, this man would become so adept at singing over a full orchestra, that he'd be able to tell which of a dozen violinists was ever so slightly flat or sharp.
He'd never master an instrument, but some of us are born to sing, with the expert musicians seemingly just there to provide a lush backing to our remarkable voices.
Frank idolised Bing Crosby, among others, while still a young lad, and when he was gifted a ukulele for his 15th birthday, he was soon entertaining the family with it.
But it was his singing, even then, that folk remarked on.
https://www.youtube.com/watch?v=oJimkJIPqhQ
He seemed to have the ability to make you think about each line of lyrics, and always made them sound like he was singing about his own experiences, even when they'd been written by a complete stranger.
They often say poor old Bob Dylan is the man who wrote a thousand great songs, but other folks sang them better than he did.
With Frank Sinatra, he rarely tried to write, as he could just pick and choose from the thousands of songs out there, and do the definitive version!
His "Noo Joisey" twang was the first thing he got rid of, taking elocution lessons to knock the rough edges and local accent off his voice and make it more palatable for people from London to Timbuktu.
It was at this point that John Quinlan, the vocal coach helping, pointed out to Frank and many other people that this guy had a sensational singing style.
A vocal harmony group took him on, just because he was the only guy they knew with a car, and at first they joked about how he would look at them with awe.
Before long, they were looking at him as their leader, and their own vocals suddenly sounded just ordinary in comparison.
In his early 20s, Frank was a singing waiter at a roadside inn, no sign of the superstar glamour awaiting him.
The establishment was, however, directly attached to a small, local radio station.
They got to hear him, of course, and before long, asked him how'd fancy a shot at the microphone for all their listeners.
With the self-assurance he'd be known for already blossoming, Frank was soon telling pals: "I'm gonna be so big that no one can touch me."
Arrogance and conceit are forgiveable, when you are right!
Before the 1940s were started, his first real recording was out there, and the Sinatra myth began to spread.
"Have you heard this kid from New Jersey, whose voice can break your heart and make you grin at the same time?" people would say.
As word spread, he began to show frustration with the musicians around him, and he was clearly deeply ambitious to get much, much bigger.
He didn't have to wait long.
He became lead singer with the Fabulous Tommy Dorsey Band, with Tommy admitting: "You could almost feel the excitement come up out of the crowd when this kid began to sing."
It was like Elvis in years to come, except this guy didn't have to swivel his hips.
Frank just stood there, calmest man in the building, and let his velvet, chocolate voice do the rest.
By the early 40s, he wasn't just sure he could emulate his hero, Bing.
He was focused on directly competing with him and resorted to legal action to get away from Dorsey's band and go solo, and the story goes that Tommy's parting words were: "I hope you fall on your ass."
It would prove a forlorn hope, but another Sinatra tale began at this time, too.
Some folks reckoned Willie Moretti, a Mafia mobster who was close to Frank, pushed a gun down Dorsey's throat and made him tear up Frank's contract.
Whatever the facts, Mafia tales would haunt, and sometimes help, Sinatra the rest of his life.
If it could portray him in a nasty, sinister light, it could also add to the sense of danger about him, and it certainly kept a few over-zealous fans from pestering him too much!
He made a string of hit records in the 40s, and several films, but the following decade saw a slump, with the death of his publicist seemingly knocking him off his stride.
Frankie Laine and that man Crosby beat him in Top Singer polls, those Mafia rumours plagued him, and a couple of new albums were panned by the critics.
With rock 'n' roll rearing its head, and the 60s revolution set to make him seem even more old-fashioned, Sinatra could have rolled over and given up.
Instead, he hit back with some of the greatest all-time albums, such as 1955's In The Wee Small Hours and Songs For Swingin' Lovers the next year.
He took 22 takes to perfect I've Got You Under My Skin, but just put it on today — it truly is perfect.
Presley, Lennon and McCartney would never sound quite so masterful, and no one since has again hit the Sinatra standard.
He was thrilled to start recording in this new-fangled Stereo thing, and just as delighted to cover some Beatles numbers and to see daughter Nancy take up her old man's trade.
Along with his Rat Pack buddies, his movies were almost as loved as his LPs, and his private life was never long out of the papers either.
My Way also set a new higher bar — going straight to No 5 in the UK charts, it proceeded to hang around the charts for 122 weeks, a record still not matched today.
When he put international tours behind him and focused on long residences at the likes of Caesars Palace, the world simply came to him!
Every night, there would be folks in the audience from every corner of the globe, come to marvel at this man who could sing better than anyone, often with a cigarette in one hand and a bourbon in the other.
To this day, his records continue to sell like hot cakes, today's middle-aged fans having heard him via their parents, and now playing him to their own kids and grandkids.
For a tiny tot with a burst ear drum, not bad at all, to be a century on and still the best.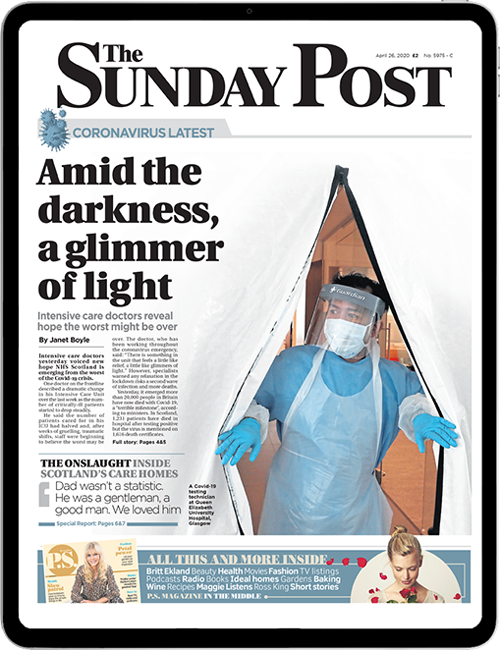 Enjoy the convenience of having The Sunday Post delivered as a digital ePaper straight to your smartphone, tablet or computer.
Subscribe for only £5.49 a month and enjoy all the benefits of the printed paper as a digital replica.
Subscribe