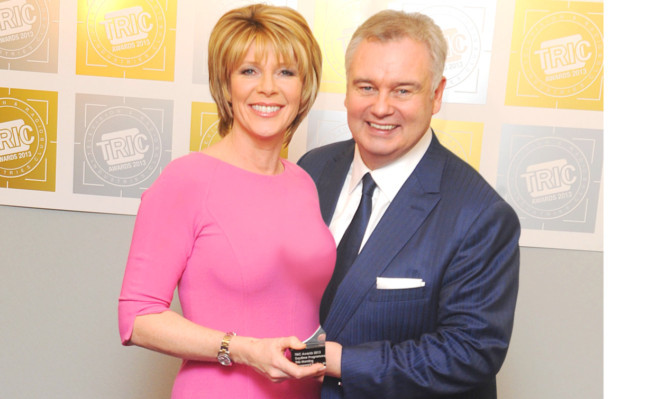 Eamonn's verdict on working with wife Ruth.
I'm told I'll have 20 minutes to speak to Eamonn Holmes. He spends the first 10 telling me of his love for The Sunday Post. "You're working for my FAVOURITE newspaper, The Sunday Post!" he begins. "We were brought up on it."
Well, I say, that's clearly the reason you've been so successful.
"Hahahahaha!" he cackles. "I'll tell you what, I'm not making it up. When I was a teenager it gave us fantastic sport, I was able to read lots of Celtic and Rangers stuff, a wee bit English stuff and then of course you had the news. My mother would say there's a great wee read in The Sunday Post. And my dad, I had to get The Broons and Oor Wullie off him!"
He's on a roll.
"It heartens me that a paper like The Sunday Post keeps going there's a level of decency there. I do love it, I honestly, genuinely love it. I know the audience it's going to. I know what it's about."
Well, he'll get no arguments from me. I tell him I've wanted to interview him since I read that his dad used to say you'd find no filth in The Sunday Post.
"Exactly right. He did!" he booms. "I just know that of all the kicks my mum will get in the next few weeks, the biggest will be seeing me in The Sunday Post and she'll swell with pride."
He's clearly a man of taste. Though I feel a bit of pressure to make sure I give Mrs Holmes a great wee read about her son.
We're all familiar with Eamonn. He's been in our living rooms for 30-odd years, starting off on local Ulster TV and working his way up to present Daybreak with Anthea Turner before jumping ship for Sky News.
The man's a workaholic. He's still getting up when it's dark to present the Sky News breakfast show, but he presents This Morning with wife Ruth Langsford and he's also been a judge on the hunt for a new Blue Peter presenter on Blue Peter You Decide.
He grew up with The Sunday Post, but also with Blue Peter.
"When I was asked to be a judge on You Decide, I was honoured. As I child I had this incredible curiosity. Growing up in the '60s, it was all about lunar landings and Apollo space missions. The world was in such change. I learned so much from Blue Peter. So when I was asked to help find a new presenter, I couldn't believe it. Though I'm a bit disappointed I haven't got a Blue Peter badge yet"
With wife Ruth, he's presenting This Morning throughout the summer while reuglar hosts Phillip Schofield and Holly Willoughby take holidays.
I tell Eamonn I used to work with my husband and we spent a lot of time bickering and blethering. I tell him he doesn't seem to bicker as much with Ruth.
"Ha! What planet are you ON?" he asks. "It's difficult, because when you work with your real life partner you tend to be more naturally honest. You cut through formalities and sometimes you will bicker.
"Most people appreciate it. They'll say you're just like me and my husband or other half. There's that reality isn't there we're like Maw and Paw Broon!"
He admits, though, not everyone is keen on a husband and wife on air together.
"There is a section that don't like you being over-familiar with your co-presenter. Some despise the fact you give an insight into your life.
"Some tweet me and say you're over-familiar with that woman, they have no idea we're married."
Eamonn, 53, can be a livewire and he's a man of opinions, but according to him Ruth takes no nonsense.
"Well, I couldn't boss Ruth about in real life and I certainly couldn't do it on screen. If I said to her I think you should change this, or you should write this, well, she'd stick her stilettos in the front of my shin. Haha!"
He's on another roll.
"Ruth has been diagnosed with a condition that means she hates superfluous chatter and people slurping while eating.
"And no matter where I am or what I'm doing she's saying 'stop chomping, stop eating with your mouth open, stop snoring, stop breathing, stop this, stop that'. I might as well just die" he sighs.
"She complains. A lot. But she doesn't do it to anyone else, just me. Last week I sent her a message saying try going 24 hours without saying something negative."
Hmm, I say. It's a big ask for a woman with a husband. I'm on Ruth's side on this one.
"It is! You're right!" he laughs.
Getting up to do the breakfast TV shift is notoriously difficult. But, like our own Lorraine Kelly, he seems to take it in his stride. Sometimes, though, you can tell when he's exasperated, or doesn't agree with viewers' comments.
You can be a bit narky first thing in the morning, Eamonn. He seems genuinely let down by this.
"Och, I don't mean to be," he says. I feel bad. Like I kicked a puppy. I tell him it's part of his down-to-earth nature and ask if he's fed up getting up so early.
"My brother, Conor, is a postman. He's up at the same time as me, on a fraction of the money I earn. I'd find it very discourteous to complain about what I do."
Rumour has it he earns a small fortune, with some reports suggesting he earned £2.8 million in 2011.
Eamonn, you never have to work again. What keeps you getting out of bed? "No no no no!" he protests. "I don't earn what they say I do, though I'm well paid. But I was brought up with a work ethic, and what a joy it is to do what I love."
It could all have been so different. He started off as a trainee manager for Primark.
"Now that was real work. It was tough," he says. "So tough, it made me give up and follow my dream of being a journalist. No-one believed I could do it. So to be here 33 years later is an achievement. I worked in a bar, too. In fact, I couldn't give up. The head barman said, look Eamonn, do you not think it's strange that you present the teatime news at 6.30 pm and at 7.30 pm you're behind the bar pulling pints?
"I said I was worried this TV lark might not last. He took my jacket and bowtie off me and said have faith. And you won't need to come in here again unless you're a customer. You know what, that was very sad. I'd always thought I was going to be a barman."
We're winding up our chat. But before I go, ask him about his love for Manchester United. He wears his heart on his sleeve.
Do your kids support Man U?
"Well, that's a stupid question," he shouts. "Of course they do. There was never going to be any alternative."
And he's off again, telling me his thoughts on David Moyes, Wayne Rooney and Fergie, his love of Scotland and a dozen other subjects under the sun.
In the end, he gives me more than double my allotted 20 minutes. Sunday Post readers, you see, will always make time to help out others.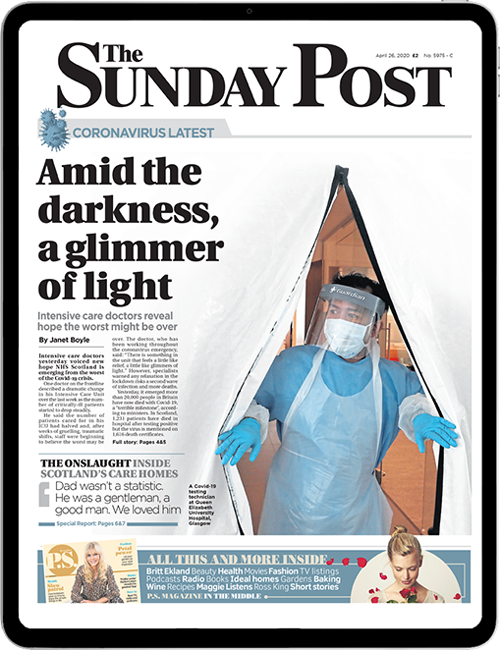 Enjoy the convenience of having The Sunday Post delivered as a digital ePaper straight to your smartphone, tablet or computer.
Subscribe for only £5.49 a month and enjoy all the benefits of the printed paper as a digital replica.
Subscribe