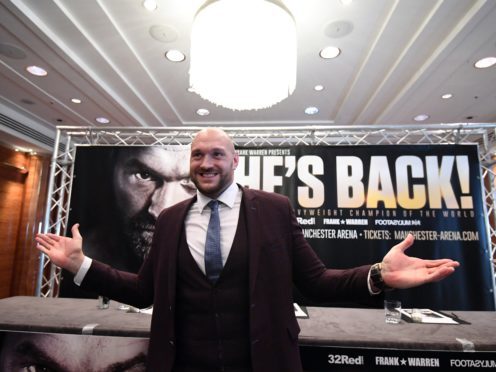 Tyson Fury claims he can go on to knock out "dosser" Anthony Joshua and reclaim his place as the king of the heavyweight division after confirming a return to the ring for the first time in nearly three years.
The former world champion has signed with promoter Frank Warren and will fight at the Manchester Arena on June 9, against an opponent who is yet to be revealed, following his doping suspension.
Fury last fought in November 2015 when he outpointed Wladimir Klitschko to win the IBF, WBA and WBO titles.
In December, Fury accepted a backdated two-year ban from UK Anti-Doping. He was charged with testing positive for a "prohibited substance" in June 2016, but said that was as a result of eating wild boar.
The 29-year-old has been preparing to return since January, when the suspension on his boxing licence was lifted.
Fellow Briton Joshua has stepped into the spotlight to become the WBA, IBF and WBO belt holder, having last month beaten Joseph Parker on points in Cardiff.
Fury, though, said he was "back to reclaim what is rightfully mine – the world."
"There are few people out there claiming to be the world's best, but I know for a fact they are not," Fury said.
"Given the right amount of fights, then I don't believe these guys are going to be much of a match-up for me."
Fury claimed the current heavyweight title holders were "sluggers and wild punchers".
Asked for his thoughts on Joshua, Fury said: "He is a big old dosser – he is a belt carrier for me. By the time I get ready to fight, it is going to be an easy fight, no contest.
"He is looking for one punch all night. We all saw the Parker affair – anybody who can move a bit and throw a few feints, he struggles, he can't land on.
"So if he wants to land any punches on me – here's the tip – get a handful of rice and throw it at me .. that is the only way he is going to land anything on me, apart from that – no chance.
"I will out box him for a few rounds and then I will knock him out.
"He is not the hardest man in the world to hit, and he is not the biggest man in the world. He is a lot smaller than I am and don't believe he holds the best shot either."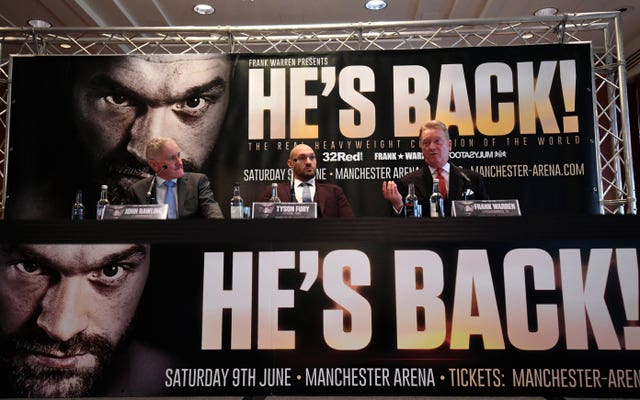 Fury feels WBC champion Deontay Wilder is "top of the pile", but claimed "they are all vulnerable and very beatable too".
Given his well-publicised issues outside of the ring, Fury believes he will have a lot of support on his return.
"This is not just a fight for Tyson Fury and Frank Warren, for whoever puts it on TV – this is a fight for depression and mental health problems," said Fury, who has been working with new trainer Ben Davison.
"I have been as low as any man can go and as high as any man can go. You can always overcome all these problems that one can have, and I think people can relate to that.
"When people see me coming back from the brink of no return to get back to the top of the world, that has got to be a statement for mental health itself, so I am looking forward to that challenge."
Warren said Fury would need "three or four fights" and will "be busy" before being ready to take on the best in the business.
"Until they (other title holders) fight him, they cannot consider themselves to be the (true) champion," Warren said.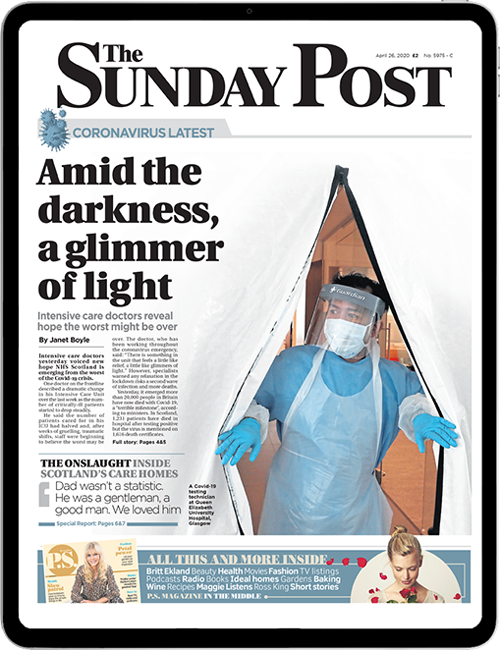 Enjoy the convenience of having The Sunday Post delivered as a digital ePaper straight to your smartphone, tablet or computer.
Subscribe for only £5.49 a month and enjoy all the benefits of the printed paper as a digital replica.
Subscribe