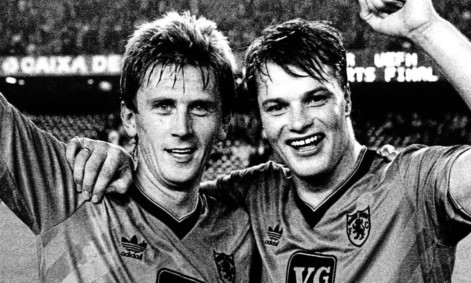 "Everyone I meet wants to talk about THAT goal!"
When Celtic's Tony Watt scored the winning goal for Celtic against Barcelona in last season's Champions League, he wasn't the only Scot to have slain Barcelona. Twenty six years after outmuscling Mark Hughes to head Dundee United into the UEFA Cup semi-finals in 1987, John Clark still can't move for people keen to reminisce about his magic moment.
"I wouldn't predict what Tony Watt will do in his career but I guarantee he'll have people talking to him about scoring the winner against Barcelona until he is old and grey," he said. "That is just the way it is.
"I have had it half my life now and, with Tony being a Celtic player, he'll no doubt get even more attention.
"United had a terrific team back then with the likes of Dave Narey, Paul Sturrock and Eamonn Bannon top, top footballers. And, to be fair, the rest of us weren't too bad either!
"We were in Europe 13 years in a row and claimed some big, big scalps. As a result, all of Scotland seemed to be behind us. I have had Hibs and Hearts fans tell me they took time off their work to watch our games.
"Getting to the European Cup semi-final in 1984 was probably our best achievement we should really have got past Roma to get to the Final that year. It was devastating that we didn't. But the win in Barcelona was probably the one that really captured people's imagination.
"They weren't the massive global brand they are now but they were still comfortably one of Europe's super clubs. To put it into context, they had been in the 1986 European Cup Final, which they lost to Steaua Bucharest in a penalty shoot-out. Their manager was Terry Venables and they had Gary Lineker and Mark Hughes playing up front. When we were paired in the draw, I don't think anyone outside Scotland would have expected us to get through.
"My header in the Nou Camp wasn't the best goal of my career. It wasn't our best win either. But it was certainly up there as our most enjoyable result. Ian Redford took a free-kick from the left. Hughes was picking me up but I managed to get my head to the ball first. It clattered off the crossbar but happily it went down rather than up."
Down into the net and into legend. "The thing I always remember was that Paul Hegarty had predicted to me seconds beforehand that I was going to score," Clark continues. "I said I didn't know about that because Hughes was always very strong in the air.
"On this occasion, though, I managed to bully him a little to be fair I think my size had something to do with that!
"We had gone defending a 1-0 lead from Kevin Gallacher's goal in the first leg so that put us back in front. Iain Ferguson got a second and that was it. We'd won 2-1 to reach the semi-final. Another away win helped us past Borussia Moenchengladbach but, as everyone knows, the run came to an end when Gothenburg beat us in the Final.
"It was such a shame we couldn't get over the line because that was the beginning of the end for that side, with a couple of the boys going their own way after that. Those were still great times, with the win in Barcelona right up there. It might not have been their strongest team but, in addition to Lineker and Hughes, they had a good few Spanish internationalists.
"It is a long, long time ago now and sometimes you kind of wonder if it ever happened at all. Certainly I get people, my son's pals and the like, looking at me this 18 stone-plus guy and saying: 'What? You scored against Barcelona! It is right there on YouTube if they need the proof but it is not something I tend to watch myself.
"It is nice to have the memories but it doesn't pay the bills. I have done a few things since I stopped playing and currently I sell air conditioning for a living. I know that is not an issue for everybody. I see Gary Lineker hosting Match of the Day on a Saturday night and you have to imagine he enjoys a very good life. Likewise I wouldn't think Mark Hughes, as manager of Stoke, is doing too badly. We were at completely different sizes of clubs so I suppose it is natural you have different lives.
"What we had at United was great camaraderie. We needed it because the way our money was structured you had to depend on your teammates.
"It was all about bonuses. Win a few games on the bounce and you could be laughing. Beat Rangers at Ibrox one week but lose at home to Hibs the next and you could be struggling to meet your commitments. But we had great fun. We were close and would socialise as a group."
As Clark pointed out, it might have all been very different. "I had a trial at Aberdeen in the early '80s. Alex Ferguson wanted to sign me but I decided to join United," he recalls. "A couple of years later I met him ahead of a game against the Dons.
"He just looked at me and said: 'See you. You must be certifiable to join them instead of us!' I think at the time I might have been of a mind to agree with him.
"There were plenty of fantastic times, though, with what was just a brilliant group of guys. We played some great football, won some honours and got more than our share of runners-up medals!"
And, of course, they will always have Barcelona.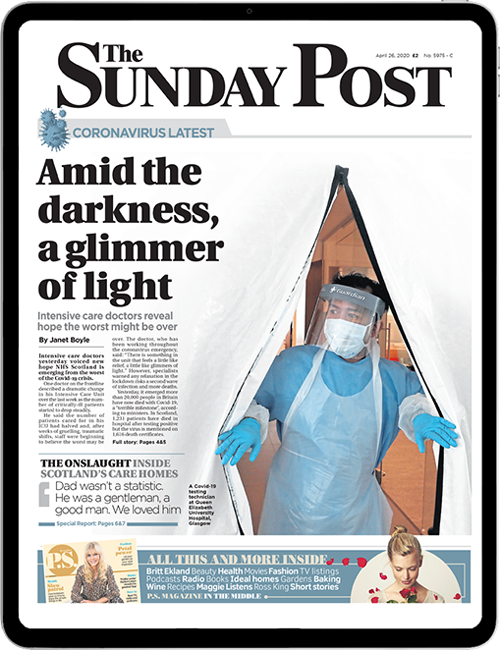 Enjoy the convenience of having The Sunday Post delivered as a digital ePaper straight to your smartphone, tablet or computer.
Subscribe for only £5.49 a month and enjoy all the benefits of the printed paper as a digital replica.
Subscribe