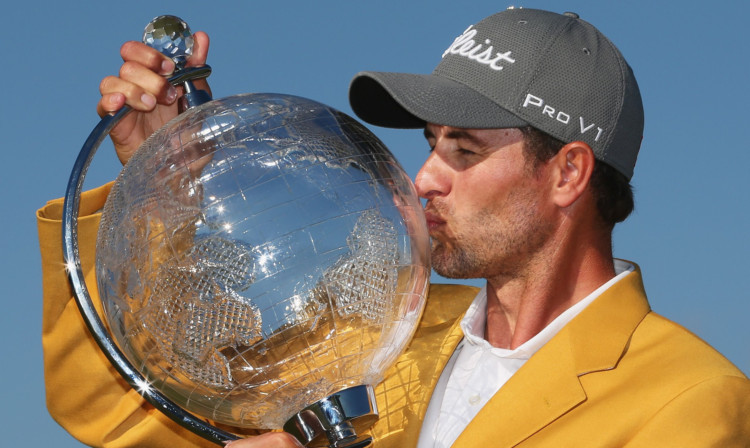 Tiger Woods may have been named the PGA Tour's Player of the Year, but Henrik Stenson and Adam Scott have been the real stars of 2013.
Winning five tournaments and regaining the World No 1 ranking were indeed impressive for Tiger, but Stenson and Scott's achievements have been greater.
What a year Henrik's had. Winning the FedEx Cup and the Race to Dubai is an exceptional effort in normal circumstances, but even more so after his off-course problems.
The Swede's career went into a downward spiral a few years ago after losing around $7 million to American fraudster Allen Stanford.
That was a massive blow and some people might never have recovered, but Stenson has.
He's a tough character and doesn't mind leading from the front, as he showed in Dubai last week and when he won the Tour Championship.
But key to Stenson's success this year was his victory in the South African Open this time 12 months ago.
It was a lesser event and he was only playing to try to secure his place in the Top 60 for the season-ending tournament in Dubai.
But that first win for over three years must have been a huge confidence boost.
It didn't matter where he won, Henrik proved to himself that he could still do it, and he carried that belief into this year.
Now, he'll be anxious to maintain his form heading into 2014, and he'll definitely have an eye on The Masters already.
He was second in The Open and third at the USPGA this year, so if he keeps getting into contention, it won't be long before he's a Major winner.
While Stenson has reigned in Europe and America this autumn, Scott has been on a celebratory tour of Australia.
It's his first visit home since becoming the first Australian to win The Masters in April.
That was a fantastic way to bounce back after the disappointment of throwing away last year's Open at Royal Lytham.
Scott has taken on the mantle of Australian golf, in the same way his idol, Greg Norman, did in his pomp.
So, it's great to see him supporting the game Down Under.
He's already won their PGA and Masters events and this week he'll try to seal their Triple Crown when he tees off in the Australian Open at Royal Sydney.
Scott has been around for a long time, but he feels his time has come. He's now 33 and is entering the prime years of his career.
When someone as modest as he is says he's ready to challenge Tiger for that No1 spot, you'd better believe it.
He's had seven top tens in the last 12 Majors, and with that consistency it's hard to imagine him not adding to his Augusta triumph.