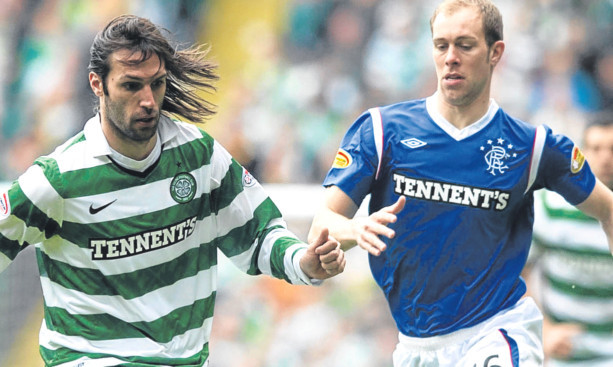 The sums of money at the very top of world football are truly astonishing.
Just look at Real Madrid, who overtook Manchester United for the first time last week at the top of the Forbes football rich list.
The Spanish giants are apparently worth £2.15 BILLION, with United languishing behind at a meagre £2.07 BILLION.
It's crazy, but in terms of what it means for the Red Devils, I wouldn't read too much into it.
With the money they'll pick up from all their sponsorship agreements, and the improved Premier League TV deal next season, they're hardly on their way to the poor house.
For me, the real worry is a lot closer to home. No Scottish club has appeared in the top 20 since 2008 and I can't see any of them returning.
Celtic were the last team from north of the border to make it into football's most exclusive club, but the game has moved on so far since then that they've no chance of catching up.
They'll have the odd year where they do well, like this year, and that might give them a boost financially.
But the top clubs are on a different level now. Scottish football has been left in the dark ages, while Europe's top leagues have undergone financial revolution.
And for all the talk of the Premier League in England beginning to lag behind the likes of La Liga in Spain and the Bundesliga in Germany, the number of English clubs in that Forbes top 20 will tell you otherwise.
There are SEVEN Premier League outfits amongst Europe's richest and one of them may come as a surprise.
Newcastle United have snuck in at number 20, behind Manchester United, Arsenal, Chelsea, Manchester City, Liverpool and Spurs.
When you think about it, that makes sense.
The Magpies get 52,000 people through the turnstiles every week, they've got a passionate fan-base spread around the country, and they've got a proud history.
Sound like anyone you know? Celtic and Rangers perhaps?
The difference is Newcastle are playing in a league that's absolutely swimming in money, while the Old Firm are both struggling in a set-up that earns them pennies.
Unfortunately, I can't see anything happening to change that in my lifetime and that's a terrible shame.
Because for my money, Celtic and Rangers ought to be dining at European football's top table.