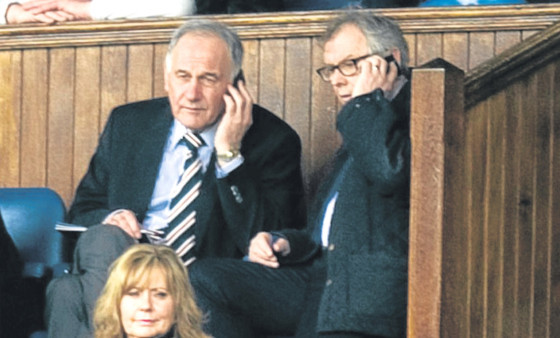 At times it's hard not to see Scottish football as a bit of a soap opera.
That has certainly been the case in the past week.
There have been dramatic stories which have cast some of the game's biggest names as heroes, villains or victims.
From the collapse of the SPL's reconstruction plans to the news Charles Green is to stand down as Chief Executive of Rangers, it hasn't stopped.
I am not too sure which category Green falls into.
Up to a few weeks ago, the Yorkshireman was looking pretty heroic.
Rangers were on course to tie up the Third Division title, and his financial dealings since coming north of the border had marked him out as a smart guy.
But then things started to get strange.
There was his criticism of the team as the worst Rangers side of all time, and the leak that Ally McCoist had been asked to consider sacking his assistants Ian Durrant and Kenny McDowall.
Worst of all was the racist comment for which he has had to answer.
And not surprisingly the same supporters who had been backing him started to complain he was harming Rangers' reputation.
What was the reason?
Was it that he was unused to the level of public scrutiny he has attracted since becoming involved with the club?
Or was he trying to engineer a situation where he could cash in early?
To be fair to him, Green has always made it clear that the desire to make money was his main motivation for getting involved with Rangers.
That is OK. It's is not like he was a boyhood fan.
I would, however, like to put forward my own theory.
Namely, that Green might just have come to the conclusion his continued presence at Ibrox might have hit season ticket sales and in doing so hit him in the pocket.
That in standing down he would open the door for a consortium of Rangers-supporting businessmen to step and take over.
Such a move would be hugely popular after a time of considerable turmoil.
It would have the potential to galvanise the fan base once again to buy season books in record numbers which would put money in Green's pocket.
You might think it is a bit far-fetched, but these days that would just make it par for the course.
On the subject of theories, I wasn't surprised to see the SFL reject the SFA's offer to step in and save the day after the SPL's plans for reconstruction collapsed on Monday afternoon.
The soundings I have heard from lower-league clubs suggest there is a strong suspicion that Stewart Regan and Neil Doncaster are a little too close for comfort.
And that any rescue plan drawn up by the SFA might tend to favour one league in particular the top one.
Unfortunately it is now hard to see a way forward. We will all just have to stay tuned.