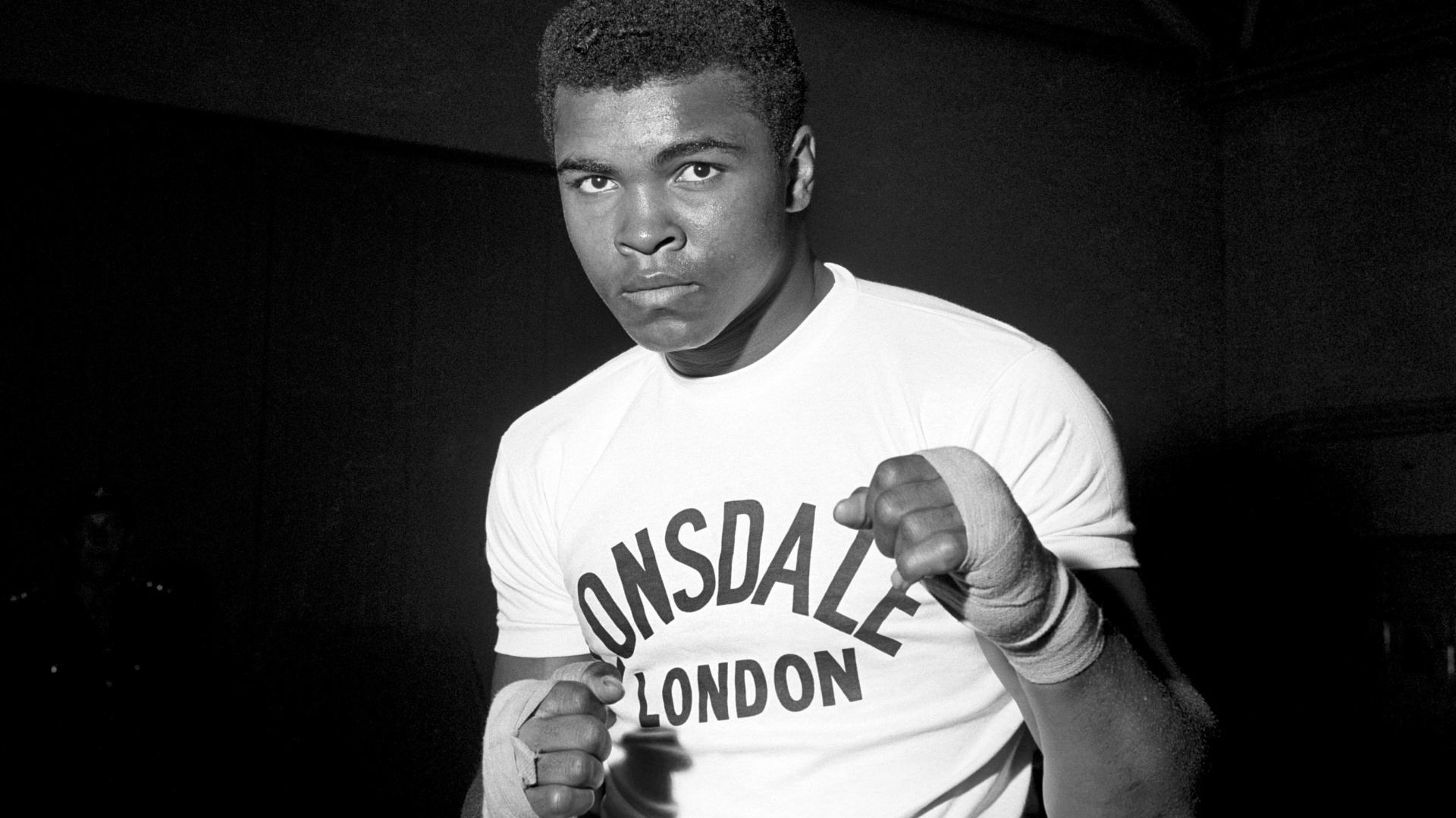 A SUPERSTAR in the world of boxing, Muhammad Ali was the first person to become heavyweight championship of the world three times.
The self-proclaimed greatest boxer of all time, who brought poetry to the ring and the world with his words and deeds, has died at the age of 74.
Born Cassius Clay in 1942, Ali – who had battled Parkinson's disease for 32 years – was admitted to hospital with a respiratory condition earlier in the week.
Here, we take a look at his life in pictures.
---
The Beatles take a fake blow while visiting the heavyweight contender at his training camp in Miami Beach, 1964.
With David Beckham in 1999, after winning Sports Personality of the Century award at the BBC Sports Personality of the Year Awards.
Ali and Jean-Pierre Coopman being examined and weighed ahead of their fight in San Juan in 1976. Ali won.
Getting his gloves strapped by Angelo Dundee ahead of a fight in 1965.
A young-looking Ali behind wheel of car in 1963.
Hugging former US president Bill Clinton at the opening of the Muhammad Ali Centre in Kentucky.
George Foreman taking a right to the head from challenger Ali in the seventh round in the match dubbed Rumble in the Jungle in Zaire in 1974.
Surrounded by his fans and friends after leaving the Federal Court Building where he was convicted on charges of refusing to be inducted into the armed forces in 1967.
With his mother Odessa Clay in 1963.
---
READ MORE
5 of Muhammad Ali's greatest fights
Boxing legend Muhammad Ali dies aged 74
---
Ali landing a hard right on Ernie Terrell in the fourth round of their heavyweight championship fight in Houston, Texas in 1967.
In 1999, laying a wreath at a monument in Tower Gardens, London, as part of a campaign by the Jubilee 2000 Coalition to cancel the Third World debt for the Millennium.
At the weigh-in for his fight with British heavyweight Henry Cooper at the London Palladium in 1963.
With his bride Belinda Boyd, 17, following their marriage at Ali's home on Chicago's south side in 1967. It was Ali's second marriage and his bride was the daughter of a member of the Black Muslim group to which Ali belonged.
Being escorted by police officers as Ali leaves his London hotel for early morning training in preparation for his title fight with Henry Cooper.
Ali fighting Cooper during their World title fight at Arsenal's Highbury stadium in 1966.
In a London park the morning after defeating challenger Cooper in the World Title bout at Arsenal's Highbury Stadium.
With Lennox Lewis in 1999.
Training at the gym in 1966.
With former French boxing champion Georges (Gorgeous Georges) Carpentier, ahead of Ali's fight against British boxer Brian London in 1966.
Ali posing with European golf team members during The Ryder Cup at the Valhalla Golf Club in Louisville, USA.
With his first wife Sonji at his parents home in Louisville, Kentucky in 1965.
With his wife fourth Lonnie at the National Constitution Centre in Philadelphia where he received the Liberty Medal from his daughter Laila.
//