James Roby will keep his emotions at bay and focus on leading St Helens towards an achievement he believes would eclipse all others when he steps out on home turf for the final time against Warrington in Saturday's Betfred Super League play-off.
The 37-year-old's swansong at the Totally Wicked Stadium is guaranteed whatever the result, with a win propelling Saints into a semi-final against Catalans in Perpignan, and one game away from enabling Roby to fulfil his dream of signing off with an unprecedented fifth straight Grand Final win.
Beyond the business-as-usual mantra which has served the home-grown hero so well since he made his Saints debut as a teenager against Widnes 549 games ago, he acknowledged he will be stepping into the unknown when the final hooter brings an end to his last home appearance.
"My whole approach is that it is just another game, but maybe after the final whistle I might think a little differently," Roby told the PA news agency.
"As of yet, it's not sunk in that it's the last time. I'm not the most emotional person.
"But I know after the game it might feel different, depending on the result and the atmosphere, if the fans are singing my name, a little bit of emotion might come out."
Having announced in February that 2023 would be his final season, Roby, who would duly go on to break his club's all-time appearance record, started the campaign by lifting the World Club Challenge trophy after a stunning upset win over Penrith in Australia.
The after-effects of that gruelling early trip threatened to curtail his career before the play-offs, with Paul Wellens' men initially struggling to wrestle their way into the play-off positions before a late flourish sealed their customary post-season place.
Whilst he may be unsure about his emotional response to his final home appearance, Roby is crystal clear on what a fifth successive Grand Final crown would represent in the context of his already-glittering career.
"It's the ending I would love to pick – to do five in a row, I don't think that could ever be beaten by any other success I've had, or any accolade or praise I've had in the past," continued Roby.
"It would be an amazing accomplishment for us as a team, and to finish on that, I couldn't think of anything better.
"If you'd told me back when I made my debut that I would be in this position I wouldn't have believed it.
"My mentality was, I've got my foot in the door a little bit here, don't mess it up, keep your head down, keep your mouth shut and do what's asked of you.
"It seemed to work well and before you know it you're 20 years down the line and you're getting ready to retire.
"I know for a fact I've been extremely lucky and privileged to do all this for my home-town club, and I'll be forever grateful for everything they've done for me."
Roby is honest enough to admit there is little about the matchday experience itself that he will miss: "I just look forward to coming to watch a game without the stress of having to play in it," he joked.
His investment in the Saints' cause will not end when he hangs up his famous red vee shirt this weekend.
Roby hopes his legacy of longevity will ensure future generations of Saints players maintain and extend the club's dominant stature in the domestic game.
"I've never led this team on my own," added Roby. "There's a bunch of leaders in this team who are individually fantastic, but when it all slots together it becomes bigger than the sum of its parts and we can go on to achieve greatness.
"Hopefully a little bit of me and Louie (McCarthy-Scarsbrook, who is also retiring) will live on in the quality of those we leave behind, and it's their responsibility and privilege to drive standards until it is their time too to pass on the baton."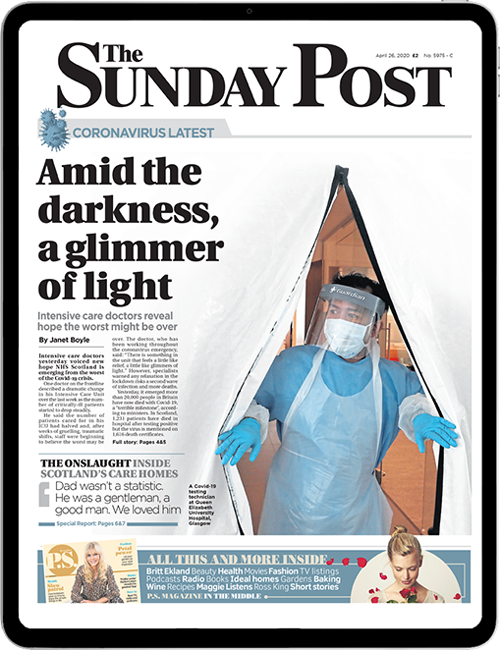 Enjoy the convenience of having The Sunday Post delivered as a digital ePaper straight to your smartphone, tablet or computer.
Subscribe for only £5.49 a month and enjoy all the benefits of the printed paper as a digital replica.
Subscribe