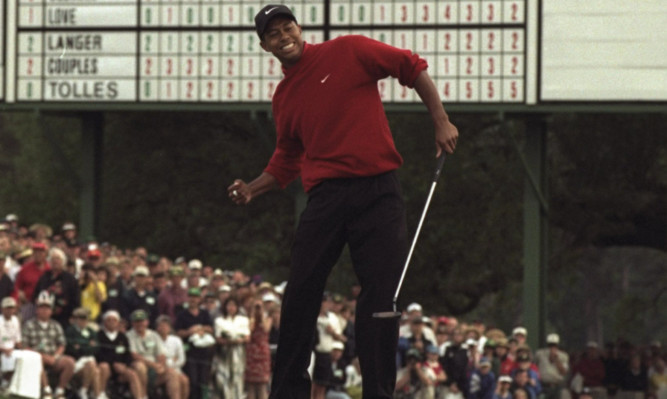 1. Tiger Woods
WHEN Tiger Woods pitched up at Augusta in 1997, the 21-year-old was the hottest player in golf.
He had won three events in less than nine months as a pro, and everyone thought he was a special talent.
After four incredible days, everyone knew just how special, as he smashed the field to win by 12 shots and become the youngest-ever Masters winner.
Woods' legend was born, and he would go on to add three more Masters titles.
In 2001, he completed his Tiger Slam by winning at Augusta, retained the title a year later and collected his fourth in 2005.
That was famous for his chip-in at the par-three 16th on Sunday, where the ball trickled down the slope, and hesitated dramatically before dropping into the hole to spark wild celebrations.
2. Jack Nicklaus
FOR metronomic brilliance over a long period of time, no one compares to Jack Nicklaus. The Golden Bear remains golf's greatest ever player with the most Majors and the most Masters victories.
He first conquered Augusta aged 23 in 1963 and would pick up four more by 1975.
But his most-famous triumph came in 1986 when his time at the top appeared to be over. He hadn't won a Major for six years, but he found something special down Magnolia Drive on the last afternoon.
Jack went on a charge on the back nine, shooting an incredible 30 for a round of 65, including a memorable birdie putt on the 17th. It was the most-famous of his 18 Majors.
3. Arnold Palmer
ARNIE'S greatest legacy to golf was not how many Majors he won, but how he succeeded in bringing a new generation of fans to the game with his swashbuckling style.
But at no venue did he enjoy as much support as he did at Augusta, where he won four Green Jackets in six years between 1958 and 1964.
Amazingly, that success in 1964 was his last Major triumph, but he remained a superstar and was still cheered by the Augusta galleries until his 50th, and final, appearance in 2004.
4. Sir Nick Faldo
ALTHOUGH he was already an Open winner, success at The Masters took Nick Faldo to a new level.
In 1989, Scott Hoch missed a two-putt to win in 72 holes, before Faldo sunk a monster 25-footer to win the play-off.
A year later, he won another play-off, this time beating Raymond Floyd to be the last man standing. But it was his victory in 1996 that is most remembered.
Starting the Sunday six adrift of Greg Norman, he reeled in the Australian whose game deserted him in astonishing fashion.
5. SeveRIANO Ballesteros
BY 1980, no European had ever won The Masters. But Severiano Ballesteros broke down barriers.
Having come from a poor background, the young Spaniard had learnt to play golf on the beaches of Northern Spain, but he made it to professional status where his natural flair had seen him become a regular winner on the European Tour.
He went to Augusta as the Open Champion and he duly added a Green Jacket with a convincing four-shot victory as the fast and undulating greens played into the hands of such a gifted shot-maker.
Seve won again in 1983, and should have won more given his talent.
Sadly, he died from brain cancer, in 2011, aged just 54, but his enduring memory lives on.
6. Phil Mickelson
LEFTY loves Augusta and Augusta loves him.
Here is an all-American hero adored by the patrons, who has the perfect game for this famous course.
In 2004, though, the doubts were growing about his ability to win Majors. He had come close so many times without getting over the line, and he'd finished third four times at Augusta already.
But his career changed when he holed an 18-foot putt on the final green to win by a single stroke.
As he leapt into the air in celebration, the weight on his shoulders evaporated. Two more Green Jackets have subsequently followed.
7. Gary Player
NO one has been as dedicated to golf as South African Gary Player.
Whatever he could do to possibly make himself successful, Player was prepared to do it. And he was far ahead of his time in terms of practice, diet and fitness.
In 1961, he became the first overseas winner of The Masters, although he would have to wait another 13 years to claim a second one.
He recorded a third and final triumph aged 42 in 1978.
8. Tom Watson
HE is probably best known for his five Open Championships, but Tom Watson made sure he achieved greatness with two thrilling wins at Augusta.
Three months before "Duel in the Sun" at Turnberry, in 1977, Watson had already faced down Jack Nicklaus at The Masters.
With two holes to go, the pair were level, before Watson birdied the 17th and Nicklaus bogeyed the last as the man from Kansas claimed a two-shot victory.
Watson was triumphant again four years later.
9. Sam Snead
ONE of golf's earliest stars, Sam had learnt to play using clubs his father made for him out of tree limbs and that natural talent stayed with him all his life.
Snead had already come close to success at Augusta before the Second World War, but he wasn't to be denied after returning from active service, winning three times in five years between 1949 and 1954.
Slammin' Sam eventually finished with a career record 82 wins on the PGA Tour, which still stands today.
10. Ben Hogan
THE fact that Ben Hogan won two Masters titles was a minor miracle. In 1949, he was involved in a life-threatening car accident with wife Valerie that left him with multiple serious injuries.
Doctors told him he may never walk again, let alone play golf.
Amazingly, two years later, he was slipping on a Green Jacket before adding another in 1953.
They were part of six Majors Hogan won after that accident.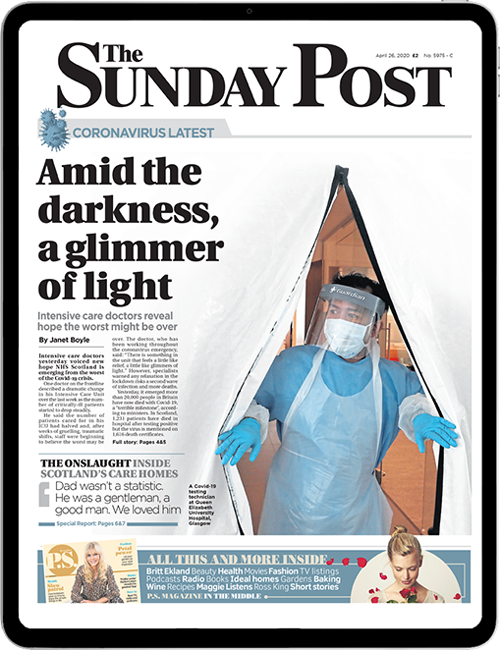 Enjoy the convenience of having The Sunday Post delivered as a digital ePaper straight to your smartphone, tablet or computer.
Subscribe for only £5.49 a month and enjoy all the benefits of the printed paper as a digital replica.
Subscribe