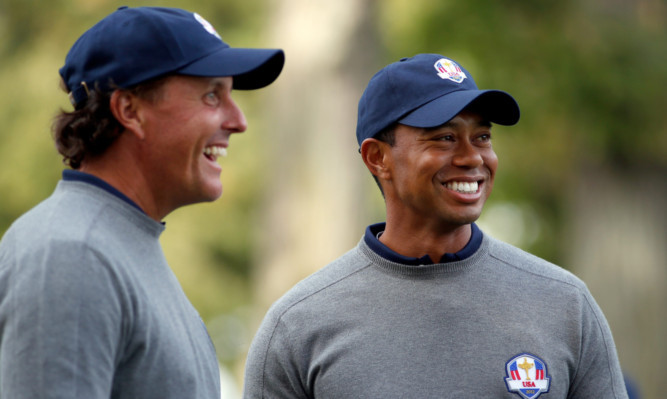 Tom Watson has taken his first positive step as US Ryder Cup captain by reducing the number of wildcards from four to three.
Four was too many, and this places a greater emphasis on people playing their way into the team.
Europe's last captain, Jose Maria Olazabal,wanted his men to do the same and that proved to be successful.
With too many wildcards, you start thinking about combinations for foursomes and fourballs, and pre-conceived ideas can develop.
If you're good enough to make the team, you shouldn't have a problem partnering any of your 11 team-mates.
Last year, Davis Love III seemed blinkered by the idea only Steve Stricker could partner Tiger Woods, and he was picked at the expense of the player ninth on the list, Hunter Mahan.
Tom has also hinted strongly that he wants Woods and Phil Mickelson to have more of a senior role in the team.
These two are not just 'normal' players. Watson will want them to be open to partnering anyone as he tries to win the Cup back for the United States.
He's showing that he's the boss and he's already putting the Ryder Cup high on the agenda, still 18 months away from Gleneagles.
The Rainbow Nation has been soaring in the early months of the European Tour season.
Six different South Africans have been victorious so far but each of them owes a debt of gratitude to the great Gary Player.
Gary was the trailblazer for modern South African golf, and the rest have followed in his footsteps.
He was also an inspiration to me when I was a young golfer.
I read all his books and watched him practice, eager to soak up any information that might help my game.
His famous phrase was: 'The more I practice, the luckier I get'. With today's huge rewards, that remains an excellent lesson. Everyone thought he was a keep-fit eccentric with his running and press-ups.
But Gary has been proved right. Fitness is now essential to the top golfers.
The country was cut off from the rest of the world when Gary was in his prime, so he had to travel and he beat the world's best players on their own patch. Ernie Els, Retief Goosen, Louis Oosthuizen and Charl Schwartzel have all done the same in recent years.
The European Tour has been forced to stage six events in South Africa this season as it compensates for a loss of tournaments in Europe.
But it's a big opportunity for local players to make their mark on a global tour and earn good money. And how they've seized their opportunity.
The country itself is perfect for developing good golfers with its variety of conditions the altitude of Johannesburg, the heat and humidity of Durban and the cooler conditions on the Cape.
Throw in the ferociously competitive streak that runs through them as seen in their rugby and cricket teams and you have the perfect mix. And if the European Tour keeps going back there, expect more South African success in future.