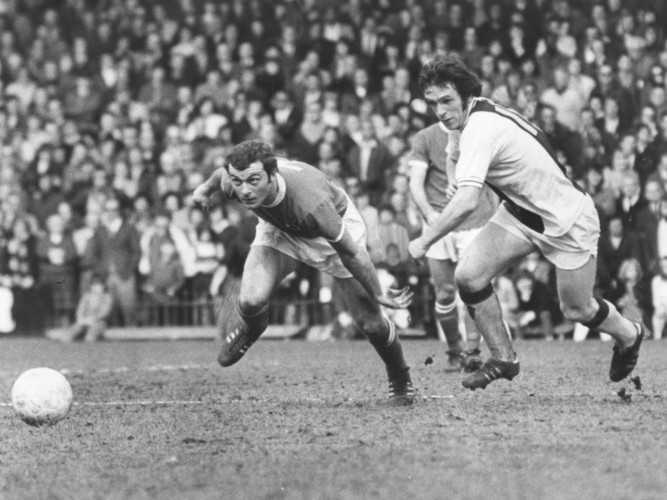 The first Palace team to play top-flight football had a distinctly Scottish flavour.
Crystal Palace fans are still celebrating their fairytale promotion to England's Premier League. But the club owners have made it clear the play-off triumph at Wembley won't spark extravagant spending on new players.
Maybe manager Ian Holloway will look for a couple of bargains in Scotland?
Certainly, the first Palace team to play top-flight football had a very Scottish flavour. They won promotion to the First Division with Scots in key positions, and added more to the mix when it came time to tangle with England's top sides.
Tony Taylor made the move from Morton to Selhurst Park, and helped The Eagles go up in the most dramatic fashion. He recalled: "Bad weather meant we had to play something like 16 games during the last eight weeks of the season.
"We went on a great unbeaten run and won ten of the matches. We needed to beat Fulham at home to clinch second spot, but were 2-0 down at half-time.
"But we went out in the second-half and scored three times to win the match. That really was a fairytale. "Palace was a great family club and we would socialise with the supporters. It was a happy time."
Promotion meant Tony would face teams like Chelsea, although he had played against the Blues when Morton took part in the Inter-Cities Fairs Cup.
"I started my career with Kilmarnock, and then had three years at Celtic. But I was understudy to John Hughes and Bobby Lennox, and there wasn't much chance of me playing. My ex-team-mate Gerry Sweeney recommended I go to Morton because he reckoned club owner Hal Stewart would try to sell me on. Within a year, I'd been transferred to Palace. John Loughlan had already gone there from Cappielow, and we were joined by a couple of Morton's Danes, Borge Thorup and Per Bartam.
"During my six years at Selhurst Park, we had Scottish guys like John McCormick, Iain Phillip, Willie Wallace, John Hughes, Gerry Queen and Roger Hynd. They used to call us MacPalace! Gerry and Roger both scored when we drew 2-2 with Manchester United in our opening First Division match."
Tony was one of the most versatile players in the game. He goes on: "I started as a left-winger and striker, then moved to left-back and also played in midfield. I think I wore every shirt apart from goalie. At Palace they gave me a job to stop others playing. One week I would be marking Kevin Keegan, the next it would be Alan Ball."