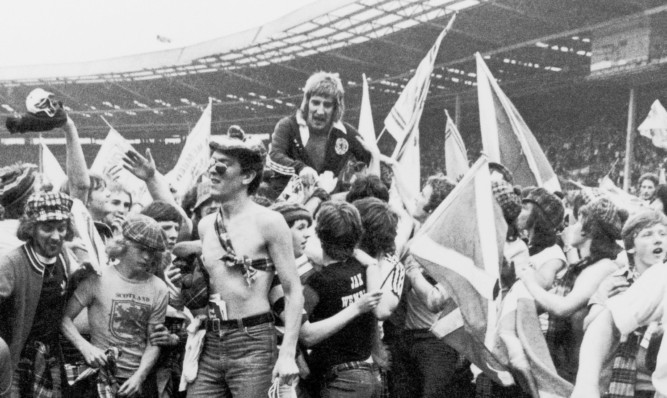 Three fans relive famous scenes after Scotland's 1977 victory
Scotland take on England at Wembley this week for the first time since 1999. For fans, the world's oldest and most emotional international fixture has special significance.
But no one will be more determined to win than Scotland manager Gordon Strachan.
In 1977, just days after getting married and with wife Lesley and best man George Mackie, Strachan made the pilgrimage to Wembley.
Buoyed by Scotland's first win in London in 10 years, he was among 70,000 Scots who swarmed on to the pitch after the match, ripping up the turf and bringing down the goalposts.
https://youtube.com/watch?v=2PtQKVsHB70%3Frel%3D0
He even smuggled a bit of grass home to Broughty Ferry where he planted it in his garden.
"I sold the place to my brother-in-law but I've no idea who owns it now," Strachan said.
After the match, which Scotland won 2-1, the Tartan Army were accused of "outright hooliganism".
One official described the boisterous scenes on the pitch as "the worst ever witnessed here".
Now, three foot soldiers with happy memories of the game reveal they'd love to do it all again.
Most Scotland fans' memories of running on to the pitch in 1977 are clouded by alcohol. But not Colin Carmichael's. The 55-year-old was one of the few fans who was sober.
But that didn't stop him plundering his own bit of turf and taking it home to his mum Isobel's house in Currie, Edinburgh, where he planted it in her garden.
"The thing I remember most is my mum's reaction," he smiled. She'd just complained about the scenes when I pulled this big bit of turf out of my bag.
"She is a keen gardener so I knew she'd look after it, which she did, although she was wasn't very happy about how I'd got it."
English teacher Colin, who now lives in Japan with his wife Miyuki and twin children, Sean and Isla, 10, still follows Scotland despite the huge distance he has to travel for matches.
But he says nothing will compare to that famous Wembley weekend.
"I went with a group of 10 mates," he recalled. When we arrived at Wembley it was very early in the morning and we had nowhere to park.
"So we bribed the security guard with some cans and he let us leave it in the official car park for the weekend."
Colin and his friends spent the morning in Trafalgar Square before making their way back to the game.
"No cans were allowed in so my mates filled a huge plastic juice container with everything and the security guys just shook their heads.
"The ground was jam-packed with Scots. It was reeking with beer and the noise was deafening.
"One policeman who'd been confiscating cans let my friends have some from his 'collection' so long as they drank them in the toilet. He was later seen with a tartan scarf around his helmet and a drunken smile on his face.
"I think I was the only person in the stadium who didn't partake."
At the final whistle Scots fans poured on to the pitch, Colin among them.
"I went into the goalmouth and the centre circle where I tore up some turf. We just got caught up in the atmosphere."
Colin is looking forward to returning to Wembley with his football-daft children on Wednesday. It's unlikely to be as eventful as his trip there 36 years ago.
John "Ludo" Low has TWO pieces of hallowed Wembley turf.
The first was dug up in 1967 when Scotland beat England 3-2 and the second was snatched 10 years later. His turf trophies were carried 340 miles to his former home in Castle Douglas where they were planted in his back garden.
"In 1967 I drove down to Wembley with a group of lads and an English soldier who worked with us at the MoD in Dundrennan," said retired mechanic, John, 61, from Castle Douglas.
"He was so furious about the pitch invasion and at us for taking the turf that he didn't speak to us."
"In 1977 I remember just grabbing pieces of it and it coming away in my hand. I think it had been laid not long before the game."
John has been to more than 100 Scotland games since his first in 1962 at the age of 16, when Scotland beat England 2-0.
"I was hooked after that," he beamed. Our family are big Scotland fans and my earliest memories are of my dad, John, taking me to a game.
"And just to keep the family tradition going my daughter Rhonda, 35, attended almost every match with me until she had two babies.
"Now her bairn, Venna, two, has learned to shout for Scotland."
John's precious turf was left in the back garden of his former home but the memories it provokes have never faded.
"Every time I pass the house I can't help thinking of those landmark victories against England," he smiled.
"Back then you could travel to Wembley and back for just a few quid. I'm really looking forward to the next one."
One of Alex Kane's fondest childhood memories is of his mum Betty watching the TV and telling him to look for his dad, Arthur. It was news showing tens of thousands of Scotland fans invading the Wembley pitch.
"The four kids in our family sat in the living room looking at this sea of fans tearing up the pitch," recalled Alex, 48.
"We were desperate to catch a glimpse of him but there were just too many."
Former factory worker Arthur returned to the family's Lochee home in Dundee with two pieces of Wembley turf. He told Alex to nurture them.
The schoolboy didn't realise their significance until a few days later and he gave one away to a friend. The other was planted in his back garden.
Youth worker Alex, whose parents have both passed away, moved out of the family home last year. But his older brother Brian, 60, still lives there and is now the family "greenkeeper".
He said Arthur was hugely proud of his Wembley booty.
"Dad didn't support a club only Scotland. We have stacks of family photos of him leaving for matches with the Wembley Turf-Owners Club flag he'd had made.
"He was never happier to see Scotland beat England."
Alex is devastated he cannot attend next week's clash with the Auld Enemy.
"I'm going on holiday to Sweden with my girlfriend, Paulina, and it's breaking my heart to miss it," he admitted.
The Kane's treasured Wembley turf was joined in the garden by more grass from the Hampden pitch after Alex bought 20 bags at £1 each during the stadium's renovation in 1994.
"I picked it up on the way to collect an aunt and uncle from Glasgow Airport," he recalled. The boot was so full they had to sit on their cases all the way back to Dundee."