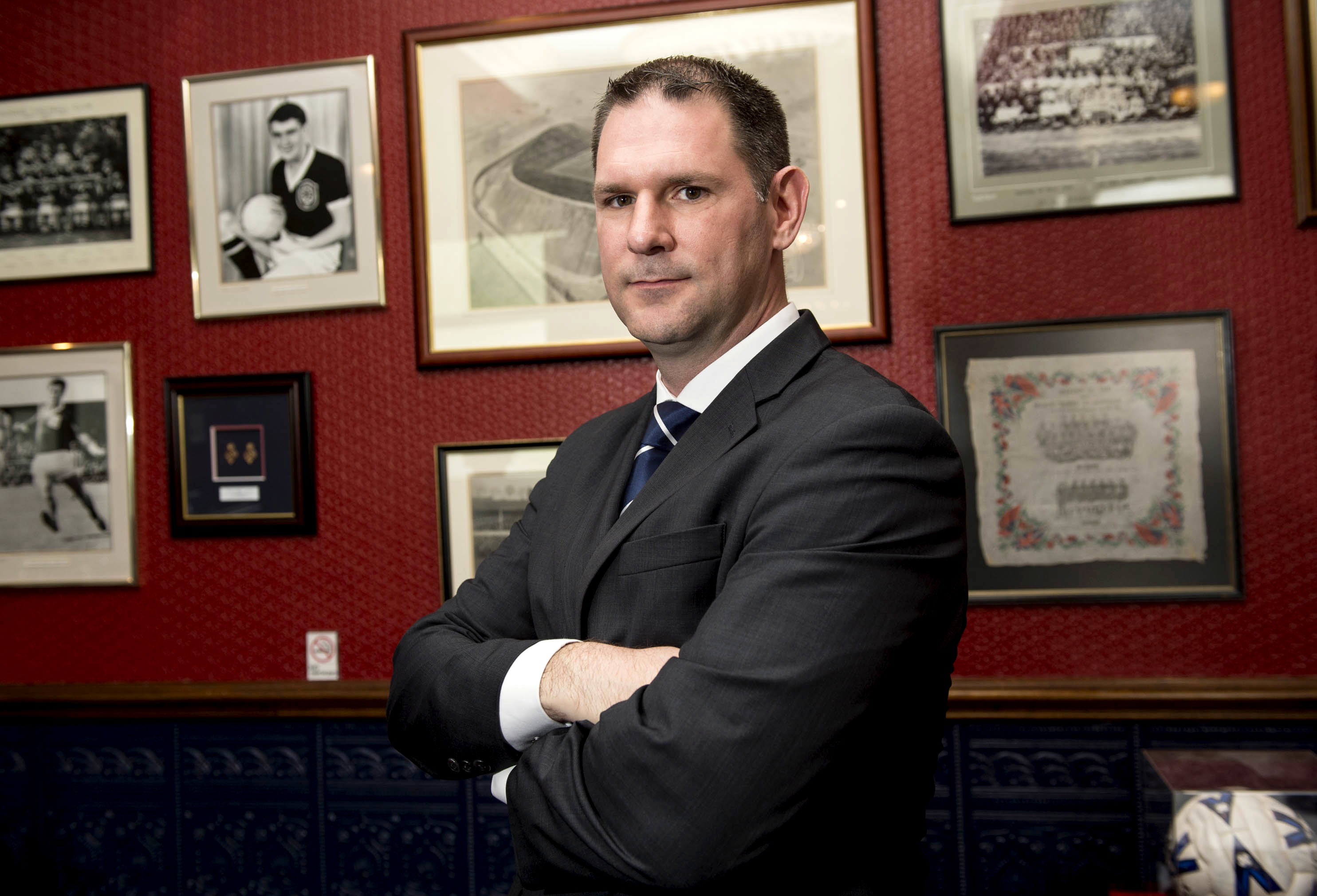 OPTIMISM in Scottish football is as rare as reasoned debate in an American Presidential race.
But when it comes to delivering the kind of sunny State of the Union address our game's gloomy stakeholders need to hear, trust a Yank to get the job done.
Dundee's Director of Football Operations, John Nelms, has clear ideas on what the Scottish game has to offer.
Never mind the endless, unfavourable, self-drawn comparisons to the English Premier League.
The softly-spoken Texan reckons we've got something to sell that the millionaires and billionaires down south don't.
It's just that we've all been too busy whingeing to notice.
Almost three years have passed since the consortium led by Nelms and his business partner, Tim Keyes, bought a controlling stake in Dundee.
That's time enough for anyone to get their feet under the table and study the lay of the land.
Now, fuelled by that curiously American cocktail of hope and faith, the Dark Blues' top dog wants us all to snap out of our national malaise.
The "poor me" stuff isn't working. That much is clear to see.
Instead, Nelms believes it's time to stop being down on ourselves – and start talking Scottish football up.
"I always want to promote the game, and I always want to be positive in everything we do connected with it. Our game is no longer just a Scottish game, it is a global game," says the earnest businessman, without breaking eye contact.
"I want us to market the game more than we already do. I want us to talk about the positives more. I don't think they are talked about enough.
"If you want an example, how about the build up to the Dundee derby a few weeks back?
"It wasn't ever about how well Dundee have been doing, like: 'Look at the changes Dundee have made over the last few years'.
"It was all about the negativity of Dundee United going down.
"Now, there's drama in that – that's undeniable – but there are always two sides to everything.
"I think sometimes we're all guilty of thinking the only thing that will sell is the negative story – somebody's going to jail or somebody failed with this or that – as opposed to: 'Look how fantastic these guys are doing'."
It's a belief that bears scrutiny, and not even solely in relation to the media.
Throughout the entirety of Scottish culture, there festers a malignant tendency to accentuate the adverse.
To an American, steeped from birth in positivity, it's a jarring trait.
And Nelms believes a shift in perspective could do wonders for Scottish football's ability to sell itself.
"I think we're trying to do more, as far as the League goes, and with the SFA. We're trying to change the perception of our game," he says.
"We have the English Premier League on our doorstep. They call themselves 'the best league in the world', and it is a good league. It's very entertaining to watch.
"That said, the Champions League Final is being contested by two Spanish teams.
"So clearly the Premier League's marketing obviously does very well for them.
"That's where we should be doing better. I think we could be 'the hardest league in the world'.
"We play in inclement weather, we go into tackles like we mean it, we play 90 minutes and more at a pace that not many other countries can handle, and we do it in Baltic temperatures, even in May!
"Anybody can play in 16-degree weather on a perfect pitch, sun shining, no wind, all the best things in the world.
"It's difficult to play here – it's hard. But that should be the best part about it. It's what we've got, so it should be a selling point.
"It's what we need to broadcast: 'Look at us, this is what we're doing. Don't think you can come and play in our league because you're not hard enough and you're not technically good enough to deal with the elements'."
Across the road from Nelms' Dens Park office, things have been on a horrendous downward spiral at Tannadice in the past few months.
The recriminations have weighed heavily on Dundee United chairman Stephen Thompson, who paid a visit to Nelms' homeland just a few weeks ago in search of investment to boost the Tangerines' coffers for a costly tilt at the Championship.
If Thompson had done so three years ago, he might have met the Texan before Dundee did.
But the good news for United's stressed-out supremo is that Nelms reckons Scottish football remains an attractive proposition to the right sort of investor.
"There is plenty on offer here," he says.
"Realistically, short-termism isn't going to pay-off. But if you're in it for the long haul and are prepared to be patient – and to be prudent and make decisions that might not be popular – it can work.
"For Tim Keyes (the Dundee owner) and I, it's a passion more than anything. We didn't invest here, we bought Dundee Football Club, and we love what we're doing here.
"I bought a new house – well, an old house that we're re-doing at the moment – but it really is home now, no doubt.
"I'm here – until you put me in the ground, I think!"
Optimism, Scottish style. And proof that maybe, just maybe, Scottish football might sit up and listen to what Nelms has to say.