San Marino are determined to show they are no longer the whipping boys of world football as they begin their Euro 2024 qualifying campaign at home to Northern Ireland.
San Marino sit in the familiar position of 211st and last in FIFA's global rankings, with the microstate – the fifth smallest nation in the world – yet to win a competitive international in 166 attempts.
But while the results have not changed, the scorelines have improved since Fabrizio Constantini replaced Franco Varrella in the wake of the 10-0 home defeat to England in November 2021.
Since then, bar a 4-0 Nations League defeat to Estonia last September, San Marino have conceded goals in ones and twos, rather than sixes and sevens.
"We are motivated and have done better recently and also scored more goals. We respect Northern Ireland but we don't want to be victims," said Constantini.
"We will try to play as well as we can but we also know Northern Ireland is a very strong team and it is a team that has had some very good results over the years and with Michael O'Neill back as manager, maybe it will be even stronger.
"This is the first time we have prepared by looking at ourselves and not the other team because we know when a new coach comes in everything changes with the combination of the team.
"We hope it will be our first win in a competitive international. You never lose hope."
Midfielder Alessandro Golinucci, who plays his club football for Virtus, said although the players were well aware of their reputation and ranking in world football, he believes times are changing.
"I have a positive feeling about the match," he said. "We are very united and are ready to play a good match.
"Now we have the possibility to play well. We are not the old San Marino, we are a new San Marino and we have potential and possibilities to do more.
"We are aware that strong players in the Northern Ireland team who play for prestigious clubs are injured and we will do our best to get a good result."
O'Neill will start his second stint in charge of Northern Ireland with a fixture his side should, in no uncertain terms, win, regardless of their injury problems.
The 53-year-old laughed when asked in Wednesday's press conference if San Marino's record meant they were due some fortune.
"I can't think like that," he said. "It's the same when you are drawn away in the cup and it's not an easy tie and you see teams come unstuck.
"That's the nature of football but you can't fear it and I'm comfortable going into the game and confident going into any game if the preparation has been good and I have to say the preparation leading into this game has been as good as anything we've done.
"I think ideally you probably want a home game to open with but I never think these games are easy. We certainly don't treat it as if it's easy. The training has been as intense and as detailed in the last three days as it has ever been.
"We are trying to get a style of playing and a way of playing into a group of players, some of whom are accustomed to it, some of whom are new to it and some of whom have never worked under me either, so there is a lot to cram into two days and tonight. It is a very challenging thing to do."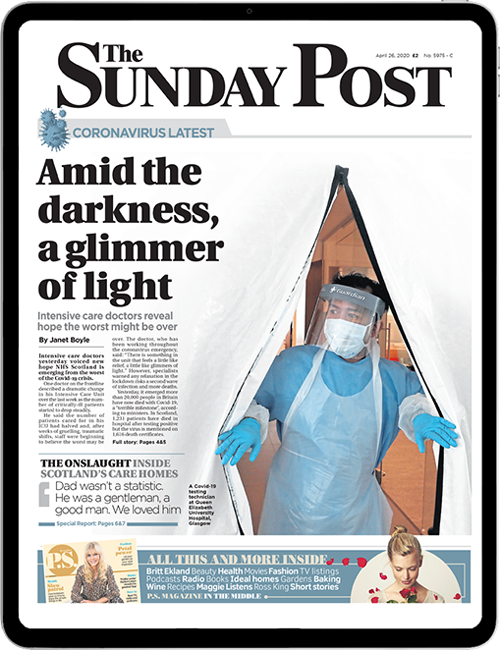 Enjoy the convenience of having The Sunday Post delivered as a digital ePaper straight to your smartphone, tablet or computer.
Subscribe for only £5.49 a month and enjoy all the benefits of the printed paper as a digital replica.
Subscribe