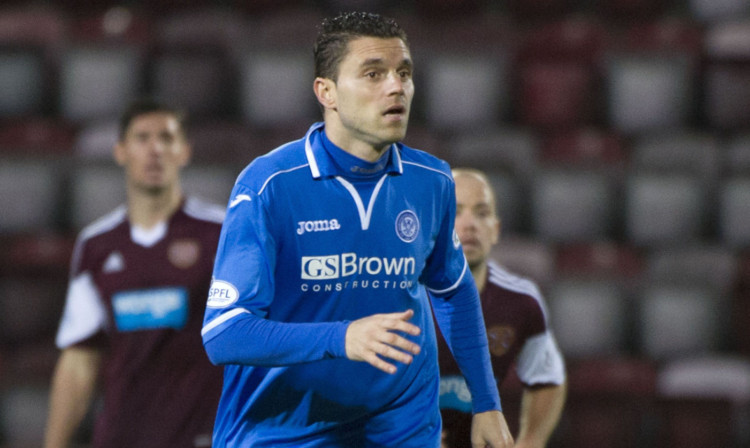 St Johnstone's Sanel Jahic admits time is running out on his World Cup dream.
The draw for next summer's Finals takes place on Friday to signal the countdown to the extravaganza.
But the Bosnian internationalist insists he can still make it to Brazil by doing the business for St Johnstone.
Jahic was a first pick for his country whilst storming the Champions League last 16 with Cypriot outfit APOEL in 2011.
But the 24-times-capped defender fell out of the national squad after a move to Karabukspor in Turkey turned sour for him.
As a result, he has not played for his country since their defeat to Portugal in the Euro 2012 play-offs.
Nonetheless, he is determined to book his seat on the plane to Brazil and he is confident he can do exactly that, as long as he grasps his chance with the Saints when it comes.
He said: "I need to play here to be on the list for the World Cup. I know that, and I am working hard and awaiting my opportunity to play. After that, I need to play well to keep my place.
"I haven't spoken to our national manager about my desire to go to Brazil. He knows I want to be there because I have been with the national team for years.
"Now it just depends on my performance. It's up to me, because he will not call me if I don't play.
"For the last five or six years, I have played for the national team. That's why it is important to me.
"I am 31 years old also, so when I finish my career it would be nice to have memories of playing in the World Cup for my country.
"In the last two tournaments the World Cup and the Euros we played Portugal in the play-offs and lost both times.
"I played in both of those and we were unlucky to go out twice.
"But it was Portugal we were playing, after all, and you know it is going to be difficult with Ronaldo in their team.
"Not qualifying was a major disappointment because for any football player, the dream is to play in big tournaments, especially the World Cup.
"Now, with the tournament in Brazil, I think it is the best place to play in a World Cup, so I will try to give my maximum to be there."
Like all of his countrymen, Jahic admits he will be watching Friday's World Cup draw to see who Bosnia are grouped with.
And he believes that if the draw is favourable, they have every chance of progressing to the knock-out stages.
He said: "Everyone in my country will be watching to see who we are drawn with next week.
"It will be a big event because Bosnians love football.
"We won our qualification group, finishing ahead of Greece, and will be in the second pot of teams, the same as England.
"So, who knows, perhaps we have a good chance?
"The whole country was involved in the qualifying campaign, and it has been a good for them because for 20 years we had a bad war.
"This has made people happy and they deserve to be happy."