The Football Association's apparent willingness to sell Wembley has provoked a wide range of opinions ever since the plan emerged in April.
On Wednesday, MPs on the Digital, Culture, Media and Sport select committee got their chance to interrogate the FA, ask the Government what it thinks and hear from critics of the idea.
Here, Press Association Sport outlines the key questions and tries to answer what we learned and where this story goes next.
Remind me, who wants to buy Wembley and how much are they offering?
Fulham owner Shahid Khan, a Pakistani-born American billionaire, wants to buy the national stadium so he can relocate his National Football League franchise, the Jacksonville Jaguars, to London. The Jaguars have been regular visitors to Wembley over the last decade but both Khan and the NFL see London as the key to growing gridiron's appeal abroad. He has offered the FA £600million in cash and said it can keep the Club Wembley hospitality income for football games, worth another £300million.
What will the FA do with this windfall?
FA chief executive Martin Glenn, the deal's biggest champion within the governing body, told MPs the FA does not need to sell the stadium. It has cut costs, signed new broadcasting deals and is on track to pay off the Wembley construction debt by 2024. He also said the FA is already investing large sums in grassroots facilities. But apart from Club Wembley, the current stadium business only breaks even, and a £900million windfall would allow it to "accelerate" those grassroots plans in a "transformational" way – an extra £70million a year for 20 years.
How bad are England's grassroots facilities?
This is something everyone agrees on: they are unacceptable. The FA says only one in three grass pitches is good enough and that is why one in six amateur games were cancelled last season. Thirty-three of the 50 county FAs do not own their own modern artificial pitch and, in total, England has half as many artificial pitches as Germany. What people do not agree on is whether selling what they see as a national asset – to a foreigner who wants to use it for a foreign sport – is the best way to fund the necessary investment. Some also question if the FA can be trusted to spend the money wisely.
What ideas for grassroots investment do they have?
Some believe Government should do more, which is what happens in many European countries, although this would mean higher taxes, cuts elsewhere or both. Others believe football should do more and by football they really mean the world's richest domestic competition, the Premier League. Former England and Manchester United star Gary Neville also appeared before the committee on Wednesday and he advocated both of these ideas, asking Government to give football low-cost loans and "intervene to reset" how the game shares its wealth. He suggested a levy on agents fees and said Premier League clubs could just give up some of their prize money.
What does the Government think?
This was probably the key takeaway from the hearing: Sports Minister Tracey Crouch sat one side of Glenn during the hearing, and Sport England boss Nick Bitel the other. They would have to consent to the sale. The Government agency for grassroots sport has £120million wrapped up in Wembley but Bitel made it clear he was happy to see that rolled over into an infrastructure investment fund and would fund it going forward, providing any new owner of Wembley would maintain it as a venue fit for football and rugby league's biggest games, set a fair price for renting the stadium and would not sell the naming rights. Crouch said she was confident the FA could be trusted to spend the money as promised and made it clear she thought this was exactly the type of thing a national governing body should be doing.
So what happens next?
Bitel and Glenn told MPs they have been putting these "guarantees and restrictions" in a contractual form that would then be put on the market to see if anybody could beat Khan's offer. Glenn said this would be done "within the month" and later told reporters that he did not believe this would deter Khan and believes the deal can still be done by the end of 2018. Glenn knows that Neville speaks for many in the game when he said selling Wembley was "a short-term plan we'll regret for years", and he also knows many fans have a strong emotional attachment to the iconic venue and simply do not believe it should be sold, but he is confident his more rational arguments are winning people over. The MPs on the DCMS committee have a reputation for giving sports administrators a rough time but even they seemed to have been persuaded by end of the session.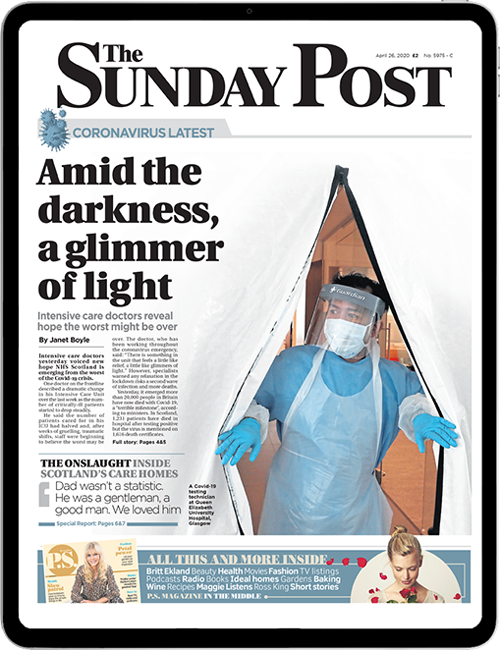 Enjoy the convenience of having The Sunday Post delivered as a digital ePaper straight to your smartphone, tablet or computer.
Subscribe for only £5.49 a month and enjoy all the benefits of the printed paper as a digital replica.
Subscribe