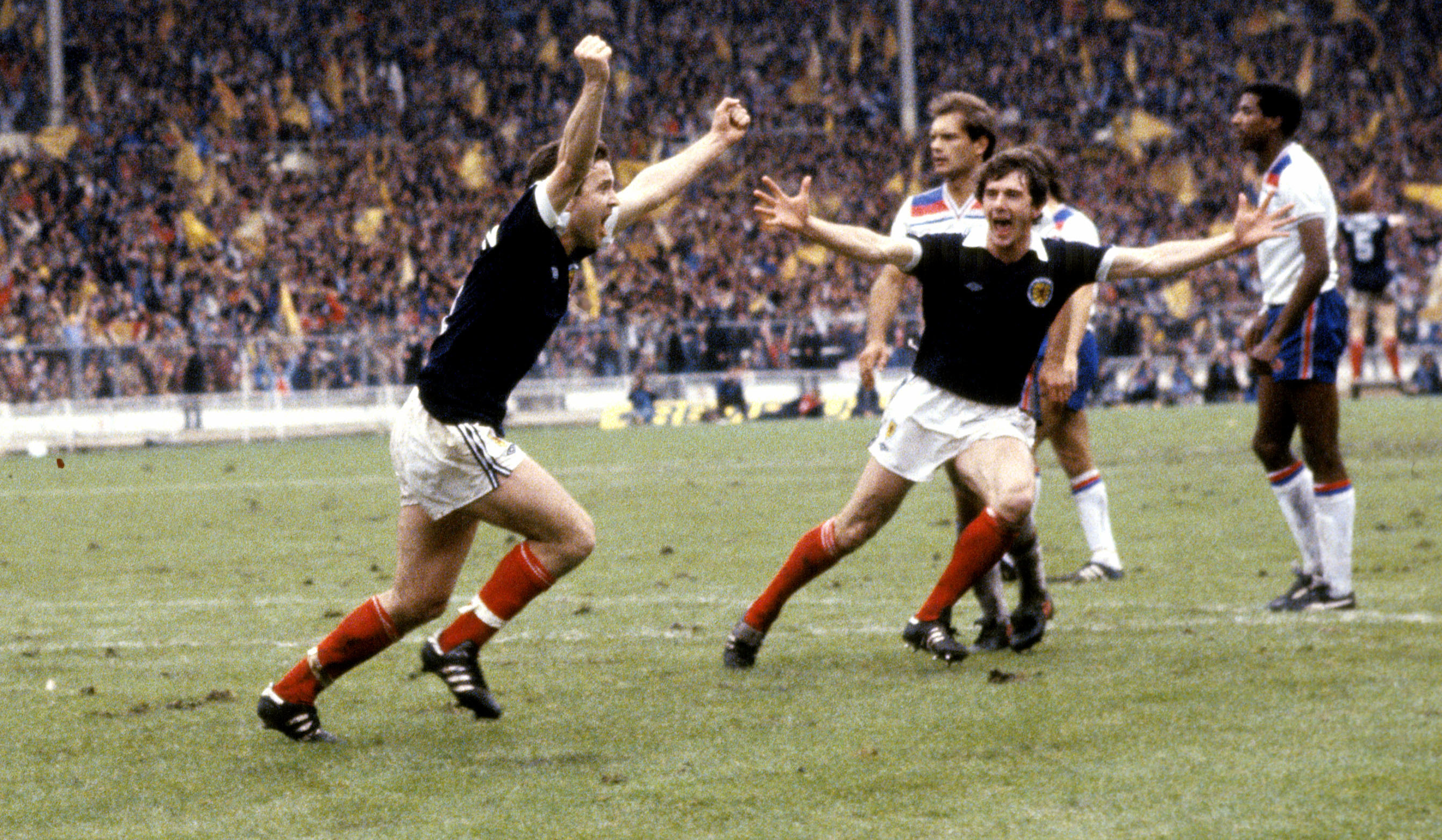 Bruce's dream was a nightmare
THERE is an old joke in football about a player getting two caps on the one night – his first and his last!
It is partially based in truth.
International football is an unforgiving environment in which one below-par display can bring a player's time with their country to a shuddering halt.
For Stewart Kennedy, it came on May 24, 1975, on a day that saw Scotland crash 5-1 to Wembley in front of the Twin Towers.
Gerry Francis beat him twice from 25 yards-plus but the image that endures is of the despairing keeper wrapped around his near post after failing to get a hand to Kevin Beattie's looping header for England's second.
Equally unable to get near Colin Bell's driven effort or a David Johnson follow-up, the Rangers No. 1 ended carrying the can for the scale of the defeat, if not the defeat itself.
The holder of four caps before Wembley, he never played for Scotland again.
Beattie spoke later about Kennedy having made mistakes, but of England's players not noticing them at the time, due to adrenaline.
It is a view echoed by Bruce Rioch, who contributed Scotland's one real piece of resistance, scoring from the penalty spot to prevent a whitewash.
"It was a difficult afternoon for Stewart, but you could say the same for almost all of us," he said.
Rioch, in particular. The 1975 mauling turned one of his childhood dreams into a nightmare.
"I was brought up as a Scotland fan living in England, so Wembley was the game my dad always took me to," he said.
"From the youngest age, I loved the atmosphere and the huge part our supporters played in creating it.
"I used to imagine how good it would feel to be part of a winning Scotland side, and that became a big goal of mine."
It was an ambition he was to realise two years later. But 1975 was at the very start of his international journey.
Scotland had beaten the Auld Enemy at Hampden the previous year and would repeat the feat in 1976.
So the 5-1 thrashing was as painful as it was unexpected.
"I was playing for Derby County, title winners that year, and doing pretty well for them as an attacking midfielder, when Willie Ormond called me up," Rioch continued.
"Despite Derby's success, my expectation was that I would have to do my time before playing, but it wasn't like that at all.
"He had me straight in the side, starting in a couple of friendly games.
"The standard was high, with guys like Kenny Dalglish, Danny McGrain and Gordon McQueen about the place.
"But everyone was really friendly and I felt as if I fitted in right away.
"I got in the team and then I kept my place for Wembley.
"The build-up was everything I had imagined it would be. There were about 100,000 there and we had by far the majority of the crowd.
"Everywhere you looked there were people wearing tartan, and one of the ends in particular was a sea of Saltires and Lion Rampants.
"Unfortunately, the game itself was a disaster. They got two goals in the first 10 minutes through a long-range shot from Gerry Francis and Beattie's header.
"To be fair to them, they had some great footballers in the side – Alan Ball, Kevin Keegan, Mick Channon and Colin Bell – and given that start, they never looked back.
"At 3-0, we won a penalty and it fell to me to take it. They had Ray Clemence in goals, who was a terrific keeper, but it never occurred to me I would miss.
"I viewed scoring goals as part of my job and penalties were a great chance to do just that.
"As I remember, he guessed the right side but I got the ball just inside the post so he wasn't able to reach it.
"That wasn't much consolation, as you can imagine, and towards the end of the 90 minutes, I think most of us just wanted to hear the final whistle so we could get out of there.
"My lasting memory, however, is of meeting a cluster of Scotland fans – who had spent their money to come down and saw us beaten 5-1 – in London after the game.
"They told us not to worry, and said we had better players than them, and that we would be back to beat England in 1977 and that it would be sweet when it came.
"How right they were."
By Danny Stewart
---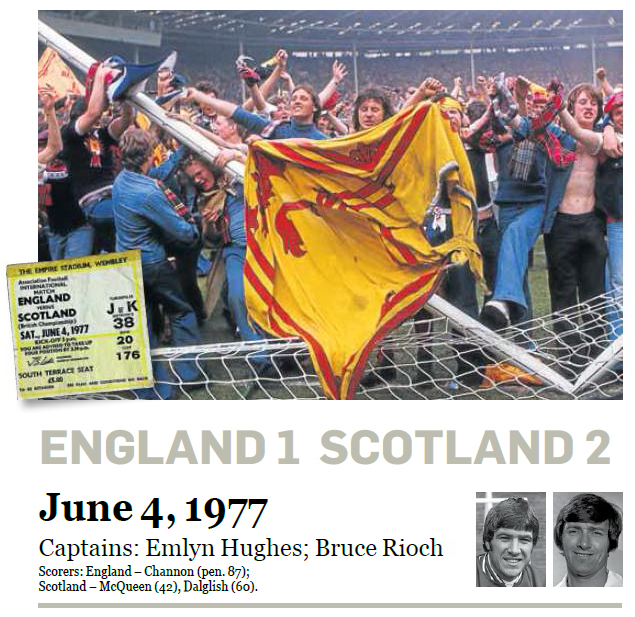 Go-go gave Rod and Sean a miss
JUNE 4, 1977, is a date which produced not one, but two of Scottish football's most iconic moments.
The best known? The crossbar cracking in two under the weight of acrobatic pitch invaders as the Wembley playing surface disappeared in a sea of tartan and Lion Rampants.
No less celebrated? The blond mane of Gordon McQueen rising highest of all to bullet a header beyond England goalkeeper Ray Clemence for the first Scotland goal in a 2-1 victory.
What is less well known is that big Go-Go missed a night out with Sean Connery and Rod Stewart as a result.
"Kenny Dalglish also scored that day, but mine is the one people seem to remember," says McQueen, an imposing centre-half for Manchester United, Leeds United and St Mirren.
"It was very much premeditated. Big Joe Jordan would run one way at set pieces, and I'd run the other.
"And Asa Hartford, who was a brilliant wee player, was told to aim for the biggest thing on the pitch – which just happened to be my head!
"It worked pretty well, and I know for a fact England (then under Ron Greenwood's charge) were worried enough about the threat posed by myself and Joe in the air they did special training with us in mind.
"If the delivery is good enough, though, and you can get a decent run and leap, then sometimes there is nothing opposition teams can do to stop you.
"The goal itself was an amazing moment. When you are brought up as a football-loving kid in Scotland, you dream about playing against them at Wembley.
"So to do that, to score a goal, and help the team to victory is the stuff dreams are made of.
"It is a day that is best remembered now for the fans and the pitch invasion, and I understand that.
"They said 70,000 of the 98,000 crowd that day were Scots, and I can believe it because the atmosphere when we came out of the Wembley tunnel was out of this world.
"I know all about Celtic in Seville in 2003 and Rangers in Manchester five years later. But I believe that day was the biggest away support of all time.
"After we won, it felt like there were Scotsmen everywhere you looked. It was astonishing.
"The emotion of it all took it right out of me, and after the match I just had to get my head down.
"I wouldn't have minded, but I had invites to go to post-game parties from both Rod Stewart and Sean Connery and I missed them both through choosing to go for a sleep when I did!
"It was OK, though, because there still some celebrations on the go by the time I got up, and I managed to find a pub that would let us over the door.
"Inside the place was absolutely jumping with fans, and I was lifted about the place at shoulder level. It was quite a night."
As McQueen, now 64, says, the jubilation has to be viewed in the context of the time.
Scotland hadn't won at Wembley for 10 years and their previous visit had ended in a 5-1 thrashing.
And then there was the Ally MacLeod factor.
"Things went a bit mental under Ally," admits the former defender.
"He was this super-confident guy, a born optimist, and he had almost the whole country thinking we were going to win the 1978 World Cup.
"Looking back on it now, after so many failed attempts to reach a major Finals, it seems hard to believe – but that it is the way it was.
"Before we went to Argentina, we had the (now infamous) open-top bus tour of Hampden when thousands and thousands turned out to wave us off.
"To be fair, we had some great players in the 1970s. I have mentioned Joe and Asa, plus we had Kenny Dalglish, Danny McGrain and Willie Johnston.
"You look at them, plus Bruce Rioch, Don Masson, Archie Gemmill and Willie Donachie and you have to come to the conclusion we actually under-achieved.
"Yes, we qualified for the World Cups in 1974 and 1978, but we didn't make the impact in either of the Finals we were hoping to.
"I would love to see the current Scotland side qualify this time round. Given the start we've made, it will be tough, especially the game at Wembley.
"But we are playing better football these days, and have some good players, so you never know."
By Danny Stewart
---

Did Trevor try to undo Robbo?
IT was 35 years ago, but it feels like yesterday.
That is the emotion for a smiling John Robertson as mention of THAT goal at Wembley comes up.
The Nottingham Forest winger had scored some big goals before, but this was Scotland versus England.
The pressure was on as he stepped up to take a penalty after Steve Archibald had been brought down by Bryan Robson.
Robertson's Forest team-mate, Trevor Francis, appeared to put club loyalty to one side as he dashed up to speak to England keeper Joe Corrigan. One theory is that he was offering advice on
Robertson's techniques from the spot-kick. Another is that he said: "Well, that's 1-0 Scotland."
And so it was as Robertson calmly sent Corrigan the wrong way and sent the Scottish fans into ecstasy.
The boy from Uddingston had a memory that would last for ever from a fixture he is delighted to see back on the calendar.
"Scoring the winner at Wembley was definitely the highlight of my Scotland career," he said.
"People might say that it was only a Home International, but it meant everything to me. When I was a wee boy, that was the game I dreamed of being involved in.
"So to not only play in it, but also get the winner, was absolutely fantastic.
"Something is missing from the calendar with no regular Scotland-England game.
"From when I went down to Forest aged 15 in 1968 until the match was taken off the calendar, my brother used to bug me every two years to see how many
tickets I could get for the Wembley weekend.
"It was a great adventure for the Scottish supporters. For that alone, it would be worthwhile bringing it back.
"I'm sure there will be a huge support going down this time. Lock up your daughters in London that weekend, that's for sure!"
Old rivalry and, more importantly, World Cup qualification, is on the line at Wembley on Friday night, but Robertson still believes Gordon Strachan can get the result needed to keep campaign hopes alive.
"I think we've got a great chance," he argued. "It's not going to be easy but England are not playing that great.
"You might say Scotland aren't either, but Gordon has given us a little bit of optimism. It might take a little bit of time but I'm sure the Wee Man will do it."
Robertson recently had the honour of being inducted into England's National Football Museum's Hall of Fame for his achievements with Scotland and Forest.
And while Wembley will always have a special place in his heart, it was those back-to-back European Cup triumphs under Brian Clough, including his winner in the 1980 Final against Kevin Keegan's Hamburg, that stand out.
He said: "I always dreamed of playing for my country, but I never dreamed of winning the European Cup because I never thought I would be good enough.
"I thought that was for the likes of Puskas and Di Stefano. But I was lucky to get a couple of medals, playing with some great players in a great team.
"The whole team was inducted into the Hall of Fame too, this year, which was a little bit overdue. Not many teams win the European Cup once, let alone twice."
By Adam Lanigan
---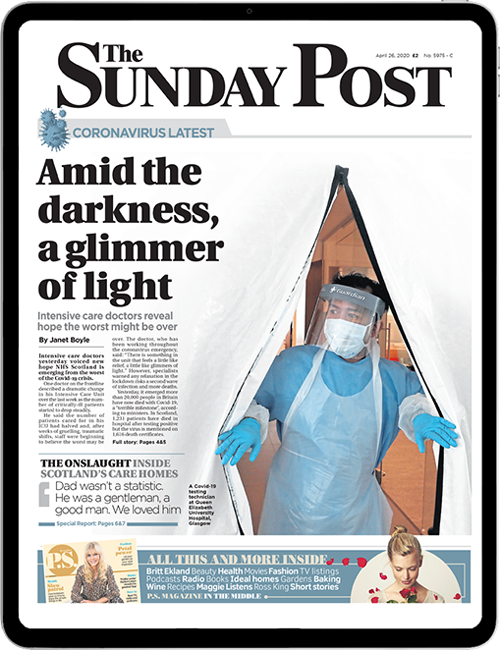 Enjoy the convenience of having The Sunday Post delivered as a digital ePaper straight to your smartphone, tablet or computer.
Subscribe for only £5.49 a month and enjoy all the benefits of the printed paper as a digital replica.
Subscribe