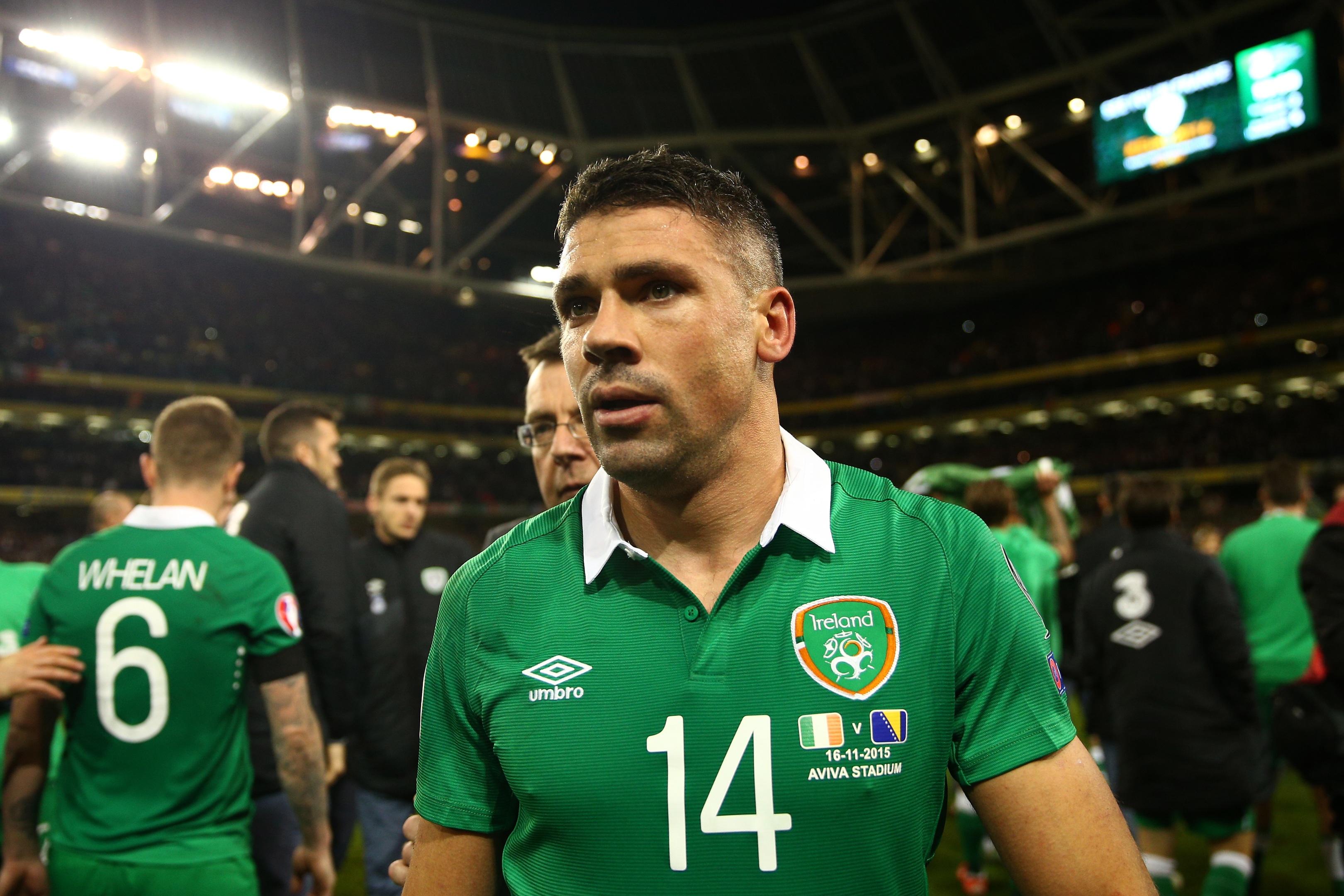 Republic of Ireland
How They Qualified: 3rd in Group D; P10 W5 D3 L2 18pts.
Georgia (a) 1-2; Gibraltar (h) 7-0; Germany (a) 1-1; Scotland (a) 1-0; Poland (h) 1-1; Scotland (h) 1-1; Gibraltar (a) 0-4; Georgia (h) 1-0; Germany (h) 1-0; Poland (a) 2-1.
Coach: Martin O'Neill
HE may be the Quiet Man to assistant Roy Keane's Raging Bull, but don't be fooled – O'Neill (below) is a
no-nonsense sort.
He has built a Republic of Ireland team in his own image, with toughness and discipline.
There is little in the way of flair in his squad, but what they lack in raw ability, they make up for in heart.
Every match will be an exercise in safety-first football for O'Neill's men.
But as he showed during his run to the UEFA Cup Final with Celtic in 2003, with the right players, that can be effective.
Star Man: Jon Walters
THE Stoke City striker typifies what the Republic of Ireland are all about – he's big, combative, disciplined and opportunistic.
On paper, he is never an international footballer, but he has become the talisman for O'Neill's side.
When he plays well, the Republic play well, and when he plays alongside Shane Long, that is normally what happens.
The pair's opposing attributes complement each other perfectly.
And even though Walters won't twist opposition defenders inside out, he is certainly capable of sending them backside over elbow.
ANALYSIS:
THE Irish have won only three games at major tournaments since 1988. If they can add even one more in France, they will have done incredibly well.
Despite taking four points out of six from world champions Germany in qualifying, Belgium and Italy in tournament mode are likely to prove too hot to handle for O'Neill's team of steady Eddies.
Their best shot at a win will come against Sweden, but Zlatan Ibrahimovic will have his say.
It is hard to see who amongst the Irish squad will answer back, but O'Neill will be comfortable seeing his side written off in advance.
After all, given the mix of Championship and lower-order Premier League players at his disposal, that is what they are used to.
Everton stars Seamus Coleman and James McCarthy are the exceptions amongst the Irish, and big things will be expected of both of them.
Veteran striker Robbie Keane, meanwhile, is likely to be a bit-part player at best.
The odds are against the Irish, then, but after failing to escape the group stages in 2012, Martin O'Neill has targeted improvement.
"We managed to get out of a qualifying group containing the world champions," said the Republic boss.
"So it's up to us now to go and make an impression at the tournament itself."
Sweden
How they qualified: 3rd in Group G; P10 W5 D3 L2 18pts.
Austria (a) 1-1; Russia (h) 1-1; Liechtenstein (h) 2-0; Montenegro (a) 1-1; Moldova (a) 0-2; Montenegro (h) 3-1; Russia (a) 1-0; Austria (h) 1-4; Liechtenstein (a) 0-2; Moldova (h) 2-0.
Coach: Erik Hamren
SWEDEN'S sharp-suited coach is famous for celebrating big victories with a cigar, but his side look unlikely to light up the Euros.
He'll step down after the Euros and the former Rosenborg coach is playing down his side's hopes of reaching the latter stages. However, his record at club level is proof of his ability to get results under pressure.
Star Man: Zlatan Ibrahimovic
HE is one of the world's "box-office" footballers – and Sweden need him to deliver a blockbuster performance.
The 34-year-old PSG striker is unlikely to squeeze another major tournament into an incredible career, so the stakes are high.
ANALYSIS:
SWEDEN'S likely tactics can be summed up in five words – give the ball to Zlatan.
Ibrahmovic will be the first name on the Swedish teamsheet every game, the first on the lips of every Swedish fan, and their first and last hope of progression out of the group.
It is a lot of pressure for one man to labour under, but if anyone possesses the almost insane levels of self-belief required to rise above it, it's him.
Italy
How they qualified: 1st in Group H; P10 W7 D3 L0 24pts.
Norway (a) 0-2; Azerbaijan (H) 2-1; Malta (a) 0-1; Croatia (h) 1-1; Bulgaria (a) 2-2; Croatia (a) 1-1; Malta (h) 1-0; Bulgaria (h) 1-0; Azerbaijan (a) 1-3; Norway (h) 2-1.
Coach: Antonio Conte
AS a player, he was a runner-up in both the Euros and the World Cup. But he's unlikely to go one better in his swansong as national team boss.
Conte's side face rock-solid group opponents, and despite a strong qualifying showing, the sense that Italy are not a team on the rise is hard to shake.
Whatever happens in France, Conte will be off to take control of Chelsea.
Star Man: Thiago Motta
FOLLOWS in the footsteps of Gianni Rivera, Giancarlo Antognoni, Roberto Baggio, Alessandro Del Piero and Francesco Totti by wearing Italy's iconic No. 10 jersey in France.
His deftness of touch and tactical discipline make him a fine player, without doubt. However, he does not possess the same magical ability to change games as his legendary predecessors.
Analysis:
IN the absence of any real world-class attacking talent, coach Conte has reverted to type by attempting to make his side impenetrable at the back.
The discipline, commitment and rigid organisation that are his hallmarks as a manager will be on display in France.
Indeed, during the qualifying campaign, the Italians topped Group H despite scoring just 16 goals – three less than Poland's strike duo of Robert Lewandowski and Arek Milik.
At 38, veteran keeper Gianluigi Buffon is probably Italy's only truly world-class player, and with Juventus team-mates Giorgio Chiellini, Leonardo Bonucci and Andrea Barzagli in front of him, will be key to their hopes of progression.
Up front, Eder was only called up during qualifying, and Southampton target man Graziano Pelle went four whole months without scoring last season.
Belgium
How They Qualified: 1st in Group B; P10 W7 D2 L1 23pts.
Andorra (h) 6-0; Bosnia & Herzegovina (a) 1-1; Wales (h) 0-0; Cyprus (h) 5-0; Israel (a) 0-1; Wales (a) 1-0; Bosnia & Herzegovina (h) 3-1; Cyprus (a) 0-1; Andorra (a) 1-4; Israel (h) 3-1.
Coach: Marc Wilmots
WITH a host of talented players at his disposal, Wilmots has led Belgium to their most-successful spell since the 1980s.
Reaching the 2014 World Cup quarter-finals was their best-ever performance.
Earlier this year, the Belgians topped the FIFA World Rankings for five months.
Star Man: Kevin De Bruyne
THE Manchester City star chalked up more assists in 2015 than anyone else in Europe.
A knee injury sustained in January on club duty has curtailed his efforts this year, but having returned to full fitness, he is showing signs of being back to his best.
In addition to his role as chief chance creator, De Bruyne possesses the highest goals-to-caps ratio in the Belgian squad. If he chips in at the Finals – and feeds the likes of Romelu Lukaku and Christian Benteke – Belgium could prove to be a deadly prospect.
ANALYSIS:
BELGIUM'S golden generation could end up kissing silver in France, but you won't hear anyone in the camp saying as much.
Despite a squad packed with stars from Europe's top clubs, there remains a feeling that they are still a work in progress. Even their manager sees it that way.
"For me, France and Spain stand above the rest," says Wilmots. "France because they are playing at home and have solid options for every position, Spain because they can call on players from Real Madrid and Barcelona."
Despite Wilmots' pragmatic assessment, few nations have as much creative talent as Belgium at their disposal.
And with the experience of reaching the World Cup quarter-finals in Brazil behind them, they will arrive in France with big tournament know-how.
The question is whether that knowledge will make any difference.
---
READ MORE
Group A preview: Hosts France hoping for hat-trick of major wins
Group B preview: Qualification perfection will mean nothing if England fail
Group C preview: No matter what, Northern Ireland's O'Neill is a legend