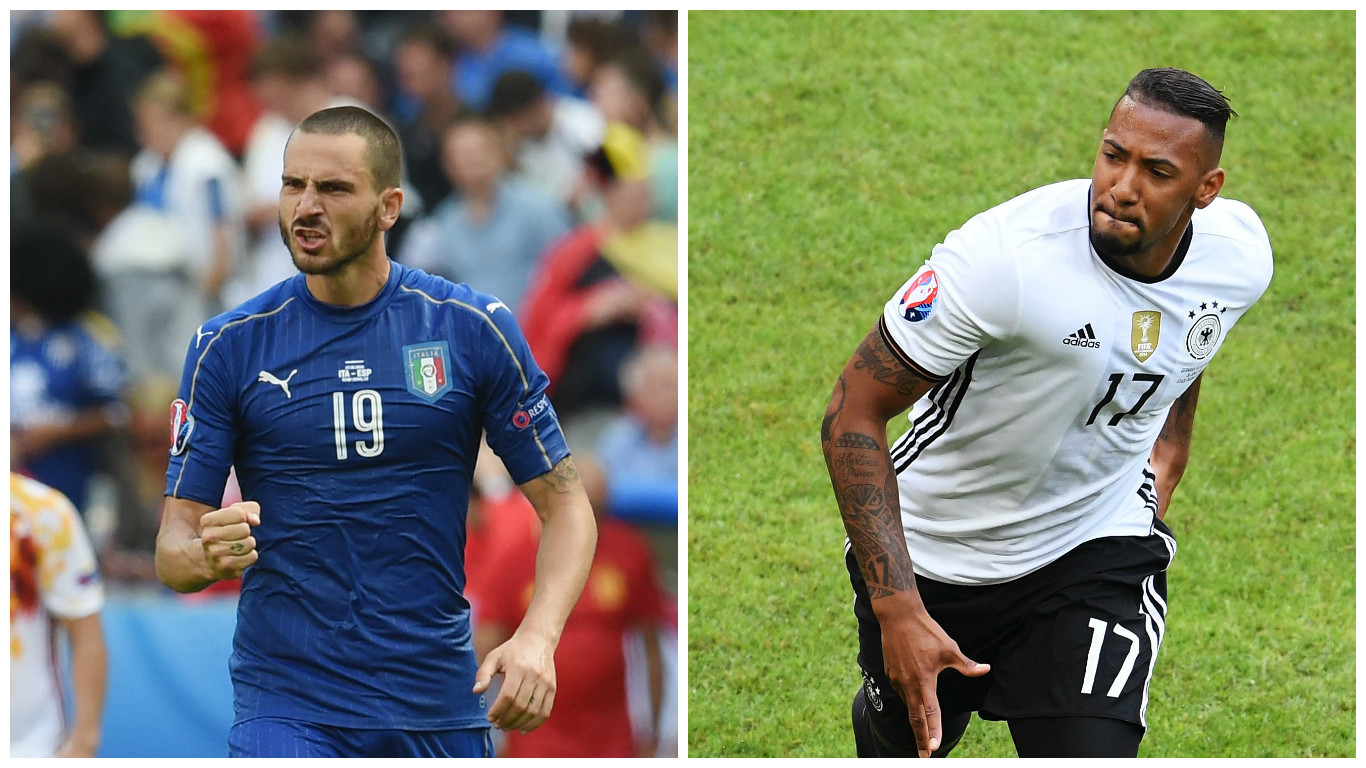 AS Wales start to digest their historic achievement following last night's sensational 3-1 win over Belgium, tonight it's the turn of the two most successful European football powers – Germany and Italy.
Eight World Cups and four European Championships between them means there is always plenty at stake when Die Mannschaft and the Azzurri face each other.
Will the Italians continue their tournament hoodoo over Germany?
IT is one of the astonishing statistics of world football. The Italians and Germans have previously met eight times in major tournaments stretching back to their first meeting at the 1962 World Cup and the Italians have never been beaten. Some of the matches have been amongst the most famous in Italian football.
The dramatic 4-3 win in the 1970 World Cup semi-final. The 1982 World Cup final, with Paolo Rossi's goals and Marco Tardelli's unforgettable celebration in the 3-1 victory. The 2006 semi-final where Fabio Grosso's extra-time goal ended Germany's World Cup party on home soil in a 2-0 success.
Considering the mental dominance that the Germans seem to exert over every other nation in tournament football, it really is remarkable how Italy have managed to resist. Italian boss Antonio Conte will have spent the last five days working on a plan of how to trap Germany.
The forthcoming Chelsea manager came up with tactics that worked a treat against Belgium and Spain and no doubt, he will have something up his sleeve to try and stifle Joachim Low's men in Bordeaux.
Is Germany's quality under-appreciated?
INTERNATIONAL football is full of stereotypes. The Italians are the masters of Catenaccio. Brazil bring their samba style, Holland always play total football, the Spanish have their tika-taka. And Germany? Well, they are strong, efficient and mentally tough. But that does a disservice to their qualities as footballers.
You don't win four World Cups and three European Championships without being packed full of excellent players. Hungary in 1954 and Holland in 1974 would have been the romantic World Champions, but they fell at the final hurdle against the Germans, who could still call upon players like Fritz Walter, Franz Beckenbauer and Gerd Muller.
The overriding image of Germany's World Cup triumph two years ago was not of them just getting the job done but of overwhelming Brazil 7-1 on their own turf in the semi-final with a deadly display of attacking where they were 5-0 up before 30 minutes had been played. And again in France this summer, they have a team full of skilful players such as Toni Kroos and Julian Draxler with full-backs who spend most of the game near the opposition's penalty area.
Their football is fluid and pleasing on the eye and should quell the lazy stereotypes about German teams. Whether that is good enough to finally put one over Italy in a major tournament, we will have to wait and see.
Player of the Day: Giorgio Chiellini
THE Daily Digest has opted for Giorgio Chiellini as Player of the Day, but it could just as easily have been Leonardo Bonucci or Andrea Barzagli. That's because these three come in a package as the three central defenders who are so crucial to Italy's fortunes at Euro 2016.
All three, along with goalkeeper Gianluigi Buffon behind them, play their club football for Juventus and it's that level of intimate understanding that makes them such a formidable obstacle. Juve conceded just 20 goals in 38 Serie A games last season and it's easy to see why when Chiellini and Co. are around.
At times in the Premier League, we bemoan the standard of defending so watching Chiellini, Bonucci and Barzagli should be essential. Chiellini is not afraid to use whatever means he can, both fair and foul, to stop the attackers scoring a goal. It is not to everyone's liking but it is mighty effective. He even ended up with a bite on the shoulder from Luis Suarez at the 2014 World Cup for showing the Uruguayan a little too much close attention.
Chiellini was excellent at nullifying the Spanish in the 2-0 last-16 win on Monday and he even got up the other end to grab the all-important first goal. If he can help the Italians to another major trophy in Paris a week tomorrow, he would be a worthy heir of Claudio Gentile, Paolo Maldini, Franco Baresi, Fabio Cannavaro and others as one of the greats of Italian defending.
French of the Day
La Bête Noire (Black Beast, or in football terms, bogey team)
TV tonight
Germany v Italy, 8pm, BBC1
---
READ MORE
Euro 2016 TV Schedule: Where to catch the action from the final matches