Emma Hayes says Chelsea's owners share her vision for improving infrastructure in the women's game after a frozen pitch forced the abandonment of her team's Women's Super League match against Liverpool after just six minutes on Sunday.
Referee Neil Hair declared the surface at the Blues' Kingsmeadow ground, which is not fitted with undersoil heating, playable after ground staff worked with heat blowers and covers to thaw the pitch, with overnight temperatures having dropped to minus two degrees in south London.
But within minutes of kick-off it became clear the pitch was unsafe and the game could not continue, leading to questions over how and why the elite women's game has been left in a position where it struggles to provide useable facilities for winter fixtures.
Those questions were particularly searching on a day when Stamford Bridge, which does have undersoil heating, was not being used by the men's team and stood empty.
Co-owner Todd Boehly has invested more than £450million in transfers for Graham Potter's side since taking over in May, and Hayes believes that more must be done to ensure parity in infrastructure for the women's game.
"I've spoken with our owners about it and they share the same vision and idea that I do around the women's game," Hayes said. "This isn't about them. This is about the infrastructure in and around the game, and we've gradually implemented better things year on year for the sport.
"A year ago or two years ago, pitch tents and blowers were the solution for frozen pitches. Well, clearly not. I'm not doing that post-mortem. But if that's the case and we want to ensure that fixtures are on week in and week out, then we're going to have to come up with another plan.
"What that looks like between the league and the clubs, I suspect that conversation will take place, not just as a result of the weekend, but I'm sure it's on everybody's agenda."
Fixture congestion caused by postponements is likely to have a detrimental effect on Chelsea's attempt to retain their WSL and Women's FA Cup titles, particularly as they continue their bid to win the Women's Champions League for the first time.
Hayes' side are also due to face Tottenham at Brisbane Road in the WSL Cup on Wednesday, with that game currently expected to go ahead despite more cold temperatures across London, with Liverpool due back at Kingsmeadow in the FA Cup fourth round on Sunday.
There are currently only four WSL teams to have undersoil heating at their primary grounds – Manchester United, Manchester City, Leicester and Reading – and the debacle at the home of England's champions on Sunday was described as "embarrassing" by former Lionesses' manager Hope Powell.
"Undersoil heating, as someone has pointed out, isn't exactly environmentally friendly," Hayes added. "So an environmentally friendly option for football pitches in an ideal world, so that we can play in a top division, is what I think we can all expect. Let's hope we can continue to work towards that.
"We've got pitch covers and heaters that are designed to prevent frozen pitches. So if they don't do that job then we have to have another solution for that. That's not my job to do that, that's for the league and the clubs to work through for the best solutions, so that we never cancel games.
"I've said this for years, cancelling games has a detrimental impact on our sport. So whatever it takes to ensure that fans who are travelling from up and down the country are not showing up and having a game cancelled six minutes in, is something we should all work towards.
"If this is the top division for women's football, then we should be afforded exactly the same opportunity. So as far as I'm concerned, this isn't about Chelsea, this is about women's football being in a place where we're working hard to build a fanbase, to build a business, after many, many years without equal access to things."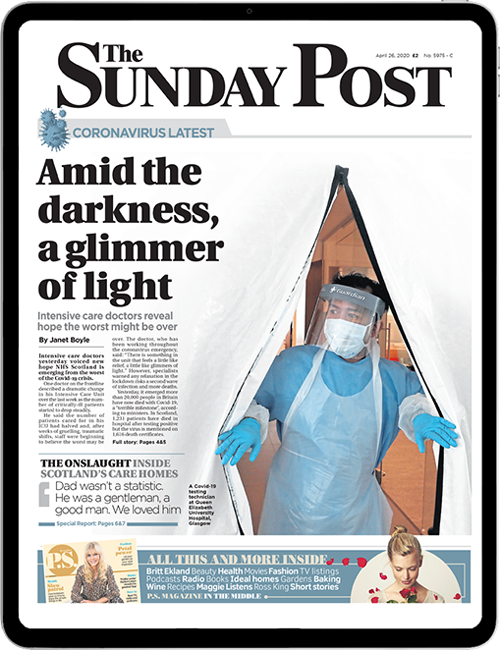 Enjoy the convenience of having The Sunday Post delivered as a digital ePaper straight to your smartphone, tablet or computer.
Subscribe for only £5.49 a month and enjoy all the benefits of the printed paper as a digital replica.
Subscribe