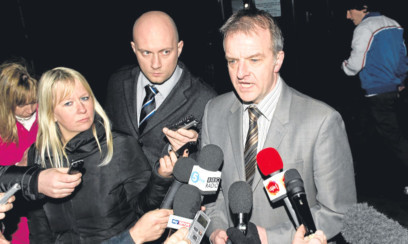 Mad year for the man who sparred with Charles Green.
Fraser Wishart laughs at the thought of himself cast as the modern-day image of Scottish football in crisis.
Once it was a cracked club crest on the back page of the morning paper.
Today it is SKY Sports News re-runs of PFA Scotland's Chief Executive addressing a bumper press pack outside locked training ground gates of another club
facing financial meltdown.
"Aye, that would probably be about right," says the 48-year-old with a wry smile.
"Me stood there, moaning at length about players not getting paid, all the while trying to ignore the cold!
"Fans of whichever club was involved would probably take one look at me on the screen, and start thinking: 'Oh oh.'" With good cause.
If the players' union's highest official deems it necessary to make a public statement, then something has gone badly wrong somewhere.
Think Rangers, Dunfermline and Hearts, just the most recent examples of a list that has taken in Clydebank, Gretna, Airdrie, Morton, Motherwell, Dundee and Livingston.
It says it all about the state of the game that the sheer volume of liquidations, administrations and redundancies has turned Wishart into an expert on employment and contract law.
"We have been through an awful lot with all these clubs and others who have been on the verge to the extent that we have now become battle-hardened," says the PFA official.
"We absolutely know what we are doing."
Charles Green found that out to his cost when Wishart championed the rights of Rangers players to do walking away last summer as the Govan club went into liquidation.
Steven Naismith, Steven Whittaker, Steven Davis, Kyle Lafferty and Allan McGregor were just a few of the host of stars who decided to follow union advice over that of the Light Blues owner.
"The Rangers situation was very intense for a short period, but we always felt in control of it," says Wishart.
"I have a good layman's knowledge of insolvency, and we are backed by very, very good lawyers.
"We studied all the relevant legislation and were very confident in our position.
"Charles Green was absolutely fine. He certainly liked to have a go at us in the press, and we had a go back. That is football.
"He is, just as he says, a blunt-talking Yorkshireman.
"We were fairly blunt with him, too, however, and I think he appreciated that as well.
"But I have to admit I have never seen a time like this for turmoil.
"It has been a crazy year because having a club like Rangers involved in Scottish football is so important. Along with Celtic, they drive the commercial side of the game.
"The Rangers situation has just affected everything.
"From the word go, it has been an issue that has been on the minds of every single person in Scottish football.
"Sure, Gretna went into liquidation before, but Rangers are such an integral part of the game. I know non-Old Firm fans don't like to hear that kind of talk, but it's true.
"It became a major problem, and one that was impossible to handle 100% correctly, partly because it has been so divisive.
"I went onto the BBC's Newsnight programme at the start of the Rangers situation because I thought it was the right thing to do.
"But in days that followed, I just thought: 'This is going to become absolutely crazy.'
"So I spoke to our lawyers, and we took the view we had to simply focus on protecting the players. All the politics had to be parked elsewhere."
Not that lowering his profile sheltered the PFA chief from criticism.
Some Rangers fans were bitter that one of their former players had played a part in the club losing star players.
Other critics argued too much attention was given to the Govan club.
"Listen, it is water off a duck's back," says Wishart.
"I have been involved in professional football for 29 years now, so I am used to the flak.
"I am a trade unionist. A lot of the work involves dealing with conflict and some people love you, some people hate you.
"I am a former Rangers player. Again, some people love you, some people hate you.
"I was criticised because I was seen to be doing Rangers' bidding, which was entirely not the case.
"I only actually played around 20 games for Rangers. I was a St Mirren fan as a kid, and I also played for Motherwell, Hearts and Falkirk in the SPL.
"But that time at Ibrox was great, and I am proud of the small part I played in Nine-In-A-Row.
"It was 20 years ago, and it changed my life because it gives you that recognition. The fans have always been terrific to me.
"There is also good news that goes under the radar.
"Hearts players not getting paid on time was an issue, but we got a complaint in to the SPL and rules changed on the back of that.
"The Dunfermline lads who were made redundant picked up clubs fairly quickly. Dundee was a success because the players who were made redundant there got the vast majority of their money.
"And in the Rangers situation, the players themselves were fantastic.
"They came up with a lot of the ideas themselves and made sacrifices so the jobs of the non-playing staff would be protected.
"So you see, it's not just me standing in front of a ground moaning about players not getting paid. A lot of good stuff does go on in Scottish football."
Argument delivered, Wishart wanders off, ready to make less of a drama out of the next crisis.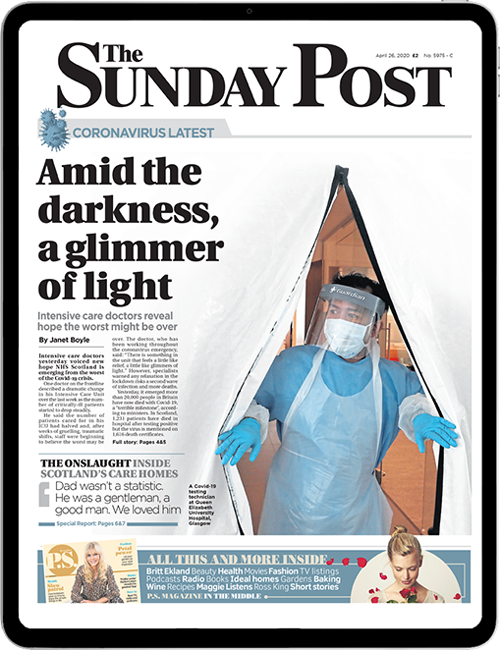 Enjoy the convenience of having The Sunday Post delivered as a digital ePaper straight to your smartphone, tablet or computer.
Subscribe for only £5.49 a month and enjoy all the benefits of the printed paper as a digital replica.
Subscribe