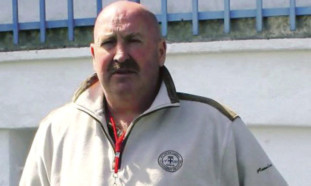 John Clarkson is the form manager in the whole country.
David Moyes has admitted he faces a tough task to restore the fortunes of Real Sociedad in 2015.
According to the most famous Scottish manager in Spain, he doesn't know the half of it.
John Clarkson can't compete with Moyes' experience of bossing big clubs like Everton and Manchester United. But the 58-year-old is now in charge of his fifth Spanish club in seven years. And, like Zinedine Zidane, he has been banned from coaching his team from the sidelines.
Clarkson is the form manager in the country after leading Real Aviles to six victories in an eight-match unbeaten run.
While his team compete in Segunda Division B two tiers below La Liga he believes Moyes will encounter some the same problems he has become accustomed to.
He said: "It will be interesting to see how Davie Moyes does at Sociedad because I think it will be a real eye-opener for him. Spanish football is totally different to the environment he's been used to in England.
"For a start he will have to get used to being given players to work with by a technical director. But there are other stranger things that go on.
"When I was manager of Ontinyent, one of my players was offered a huge amount of money to throw a match. It's also not uncommon for referees to be paid off.
"I went public to expose this corruption 18 months ago, but I'm not convinced anything has changed. The player concerned, who is now at a different club, recently went off with an injury after only four minutes."
Clarkson's colourful press conferences and outspoken views have made him a star in Spain.
He went on: "When I arrived to take over Aviles two months ago it took me an hour to get out of Asturias Airport. I have a five-and-half-year contract with the club. That's very unusual in Spain because most managers only last one season.
"I'm quite hopeful of getting the team promoted to Spain's second division but it might take a little time because finances mean I will probably have to move four or five players out in January.
"I haven't met Davie Moyes yet but his team did play our neighbours, Real Oviedo, in the Copa del Rey. I've been to one of Oviedo's games and they had a crowd of 18,000 on a very rainy night. I believe that our standard of football is like the top half of the Championship in Scotland."
There was a real possibility of Clarkson managing a team in Portugal before deciding on a return to Spain.
He said: "I was sold on the north of Spain when I visited during the summer and heard the Galician bagpipes!
"My only problem is that I don't have my coaching badges yet and can only sit in the stand. Zinedine Zidane has the same problem at Real Madrid and is banned from the sidelines.
"My A licence should be completed by June, so I will be back in the dugout in the summer. At the moment I have to let my trainer work with the players. The media even come to training to make sure I'm not coaching!"