Brendan Rodgers insists Leicester must accept they will always sell their best players but believes the Foxes will survive.
The club has banked around £275million from selling several big names over the last five years.
Harry Maguire, N'Golo Kante, Danny Drinkwater, Riyad Mahrez, Ben Chilwell and Wesley Fofana have all left the King Power Stadium for big money.
This year, Youri Tielemans – whose deal expires in the summer – has been heavily linked with Arsenal while James Maddison is a target for Newcastle.
The Foxes are 14th in the Premier League without the prospect of European football and Rodgers knows they have to be realistic with their players but will always have a succession plan.
"It's (selling talent) something in the main that's always been done," said boss Rodgers, ahead of Saturday's trip to Aston Villa.
"Apart from in the pandemic, where it was really tough financially, and the market value we were going to put on a player maybe wasn't going to be there.
"You can never be frightened of that. It's all about that pipeline of players, bringing in the next one. It's the model that's here.
"If you can bring players in and develop them to the level they can do here, they will always be of interest, and that will gain them more money and financial abilities later on in their lives. It's really about bringing in the next one.
"Early on in my career I had a player I was absolutely devastated that I lost, because I thought it would make a big impact on the way my team played.
"I was genuinely (puffs out cheeks) because I was young in my career and I was really down this player had decided to leave when he was on a free transfer. I never thought we could play how we wanted without his big qualities.
"But we ended up getting someone in who was absolutely brilliant and did great and it made me, at that point in time, never really get too in love with a player.
"I love talent and I love working with players but players will come and go and if they do it's just a case of making sure you've got the next ones to come in.
"I learned that early on in my career. Footballers have short careers and they have to maximise that.
"I am a custodian of the club, I have to look after the club and make sure we can try to get the next one in. That's what we'll do here."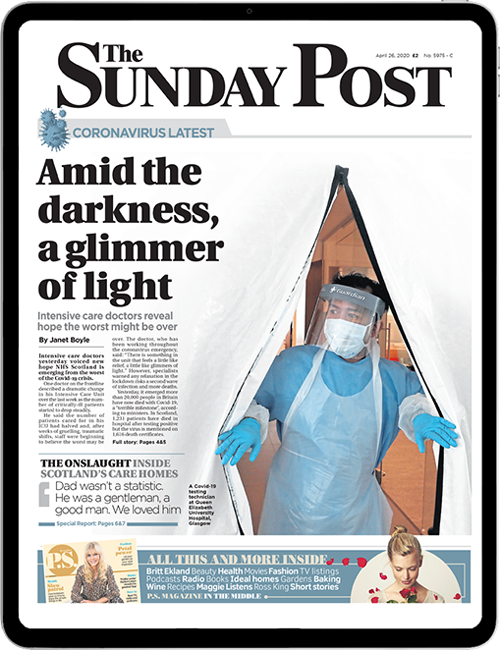 Enjoy the convenience of having The Sunday Post delivered as a digital ePaper straight to your smartphone, tablet or computer.
Subscribe for only £5.49 a month and enjoy all the benefits of the printed paper as a digital replica.
Subscribe