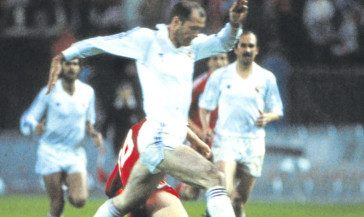 The former Dutch international boasts that he helped launch Sir Alex Ferguson on his path to European greatness.
Current Derby County coach Johnny Metgod was part of the Real Madrid side which went down to Aberdeen in the 1983 European Cup-Winners' Cup Final. The Dons followed that up by beating SV Hamburg later the same year to win the Super Cup.
It's a measure of the dual achievement that, 30 years on, they remain the last Scottish club to win a European trophy. For Metgod and Madrid, however, it is a different story.
Look up Real's history on the club's official website and a lengthy section on the 1980s contains no mention of Gothenburg. Zero, zilch, nada.
Compare and contrast how much continues to be made of the efforts of Celtic and Rangers in reaching the 2003 and 2008 UEFA Cup Finals.
The man who was left trailing in Gordon Strachan's wake as the rain poured down in Sweden is surely then just being mischievous when he talks of helping Fergie.
"It has been funny over the years," says the 55-year-old Dutchman.
"Sir Alex has risen to the point where he is now probably the best known manager in the whole world.
"You see that, and there have been quite a few times I have thought back to the build-up of the 1983 Final.
"Back then, all the media was full of stuff about it being a match up between a great big club and a smaller one, who were unknowns for many people.
"But, of course, that night everything changed for Sir Alex more than anyone.
"I look back and I think: 'Hey, I can say that I played a little part in his history.'
"It was our game in Gothenburg that launched the man who has been the manager of Manchester United for the last 26 years, and who has won more trophies than anyone else in the game."
It's the reference to a treasure trove of silverware that makes you question whether Metgod might actually have taken some vicarious pleasure from Ferguson's success.
Especially when you stack up his own experience against that of the Govan knight.
"There was huge disappointment in Madrid when we lost the Cup-Winners' Cup Final," he recalls.
"If you are Real Madrid and you go into the scenario we were in, the only acceptable outcome is victory. Nothing else works.
"For a smaller club, just getting to a European Final can be enough but not when you are Real Madrid.
"If you suffer a defeat such as we did in Sweden, no one escapes from criticism. Everyone is a target.
"Juanito, who is sadly no longer with us, took a lot of stick because the final goal came as a result of his failed attempt to nutmeg an Aberdeen player in the centre circle.
"But I think he was probably hardest on himself than anyone else.
"What made things much worse for all of us in 1983 was the fact it was always the same story over and over again.
"Incredible as it sounds, we finished as runners-up in FIVE separate competitions that year.
"On top of losing to Aberdeen, we lost La Liga to Athletico Bilbao on the final day of the season, the Copa del Rey, the Supercopa and the Copa de la Liga.
"And on each and every occasion, our defeat was celebrated as both a magnificent triumph for the victors, and a disaster for Real.
"It was very frustrating because we knew we were not that far away from being a great side.
"Uli Stielike, the other one of the two foreigners permitted by UEFA at that time, was excellent, and we had some of the best Spanish players of the day.
"Jose Camacho, Juanito who died in a car crash Del Bosque and Carlos Santillana. These guys were all great footballers.
"I look back on it now, and think maybe what we lacked was exactly what that Aberdeen were blessed with an invincible team spirit."
Metgod recalls that in the aftermath of the Final defeat, Real were accused of complacency, and of having disregarded Aberdeen almost as an irrelevance.
It is a charge he rejects with force.
"That was very annoying. It was very insulting to us all because it was so far from the truth," he says.
"We had watched hours and hours of Aberdeen playing, and knew them inside out.
"Even now I can still remember the impressions I took from the tapes.
"Willie Miller and Alex McLeish were very strong defenders. Likewise Jim Leighton was a fine goalkeeper.
"I liked Eric Black, too, who struck me as having great energy.
"The biggest impression, though, was that Aberdeen were a real unit who attacked and defended as one.
"That was proved more than anything on the night.
"The conditions were terrible, the rain never stopped. They were determined, though, and they came out on top."
The story was a familiar one for Metgod, who earned his move to Real off the back of AZ Alkmaar's ultimately unsuccessful run to the 1981 UEFA Cup Final.
Like the Cup-Winners' Cup Final two years later, it is a date to strike a chord with a British audience, with AZ going down to an Ipswich Town team containing Scots John Wark and Alan Brazil.
"I didn't manage to win the biggest trophies but that was OK because I had a very good playing career," says Metgod.
"It is like my career now. I am happy working as a coach with Derby County.
"Hey, we can't all be Sir Alex Ferguson."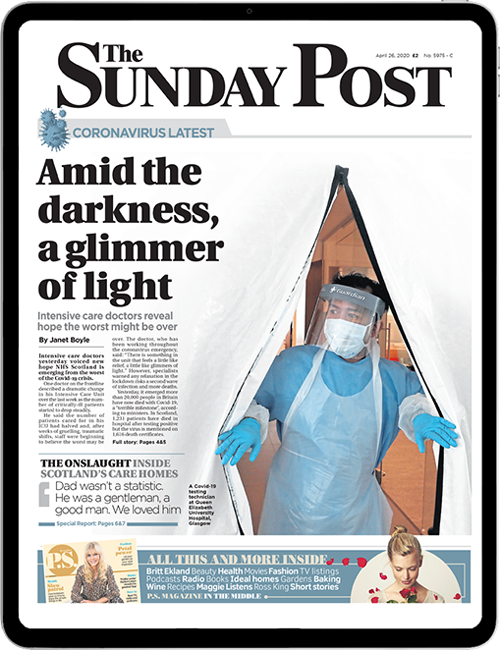 Enjoy the convenience of having The Sunday Post delivered as a digital ePaper straight to your smartphone, tablet or computer.
Subscribe for only £5.49 a month and enjoy all the benefits of the printed paper as a digital replica.
Subscribe