The current Davis Cup format has been branded a "disaster" and "wrong", but players' calls for the return of home-and-away ties look set to be rejected.
Since 2019, the historic competition has been converted to a World Cup-style event with group stages and matches on neutral soil, but low crowd numbers have attracted consistent criticism.
Stan Wawrinka posted a video on social media on Tuesday showing virtually empty stands in Manchester for Switzerland's tie against France, a stark contrast to the 9,000-strong crowd that attended Britain's contest with Australia the following day.
After Britain's 2-1 victory over Switzerland on Friday, Wawrinka said: "We see the difference between today and three days ago – it's not normal. I played some Challenger tournaments this year and there were way more people and a way better atmosphere than when we played France.
"You have to try new things, that's for sure, but it's been quite a clear disaster. This company, they finish a 25-year deal after five years so that means something is wrong. And the people who took this decision are still deciding for the future of Davis Cup."
A lot of the ire has been directed towards former Barcelona and Spain footballer Gerard Pique, whose Kosmos group took over the running of the competition from the International Tennis Federation in 2018 and instigated the changes.
Kosmos promised to invest three billion US dollars into the sport over 25 years in a deal that always seemed financially questionable and it is heading for the courts after collapsing earlier this year, with both sides blaming the other.
Australian former doubles great Mark Woodforde, who is chair of the Davis Cup committee, believes the focus on Kosmos has masked the problems that existed with the old format.
He told the PA news agency: "We're fully aware that some players will say, 'Why don't we go back to that home-and-away format?' That format was not working. That's why the change came about. The old format was killing Davis Cup.
"We had nations telling the ITF they were unhappy, it needed to change. We had our title sponsor telling us we need to make changes, we need to keep the competition alive, we need to make it fresh.
"The home-and-away format had been an integral part of the competition historically, we haven't got rid of it, it's still there, it's still alive in the lower groups as well. Even without Kosmos being involved, we think the changes we've made are positive.
"It's in the minority some of those voices, some of them are politically motivated, which is unnecessary. Stan created a bit of a furore with filming the stands. We're always welcome to having feedback, it's unfortunate he did it in such a public way."
While the ITF insists players were consulted and their views taken into account, that is not the feeling among those doing battle on the court.
Andy Murray said: "I was on the ATP player council when the initial discussions were had about this format, not one person on the council supported it.
"We told that to (ITF president) David Haggerty and to the ITF at the time. We were told that would be taken into consideration and then literally two days later it was announced they were changing the format.
"We're fortunate here because we get to play all of the matches in a brilliant atmosphere, great crowd. It is a shame when France and Australia, two of the biggest tennis nations, they love their Davis Cup, and they're playing in front of what feels like an empty stadium.
"It feels wrong. I think the format will have to change if it's going to be successful again. All the players loved the home-and-away ties, I think the fans loved the home-and-away ties as well. Hopefully there's a way we can get it back to that."
At the end of the current group stage on Sunday, the top two teams from each group will progress to November's final eight event in Malaga.
That will be played entirely on neutral territory, though, with Spain already knocked out following two losses.
While organisers are open to tweaks and insist they welcome feedback from players, it does not appear there are likely to be any major changes to the format in future years.
The focus instead is likely to be on trying to improve the attendance and atmosphere at ties where there is no home team, with Woodforde suggesting organised support crews, reducing capacity at venues and working with them to better promote all the players on show.
"It's challenging," he said. "It really does make it look like we're not doing a great thing for the competition, which couldn't be further from the truth.
"In 2024 the competition will remain as is. We feel this is the format where we can see mileage with it.
"I don't think there is a format that we are going to ever have 100 per cent thumbs up from the players and the nations. Through our cooperation with the ATP we are doing an assessment looking at the options. I think we leave the door open for tweaks."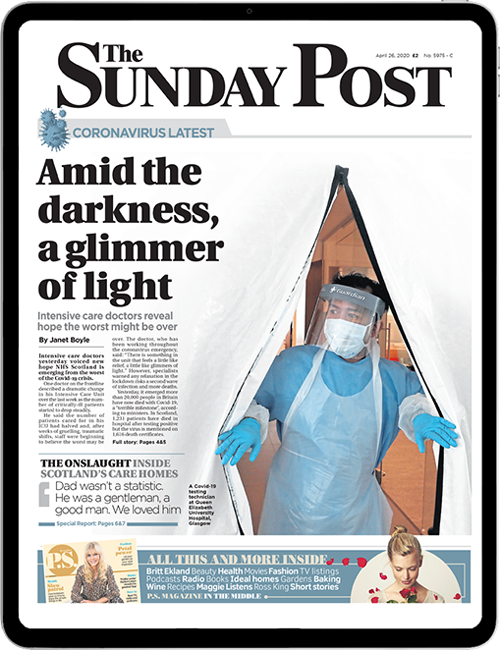 Enjoy the convenience of having The Sunday Post delivered as a digital ePaper straight to your smartphone, tablet or computer.
Subscribe for only £5.49 a month and enjoy all the benefits of the printed paper as a digital replica.
Subscribe