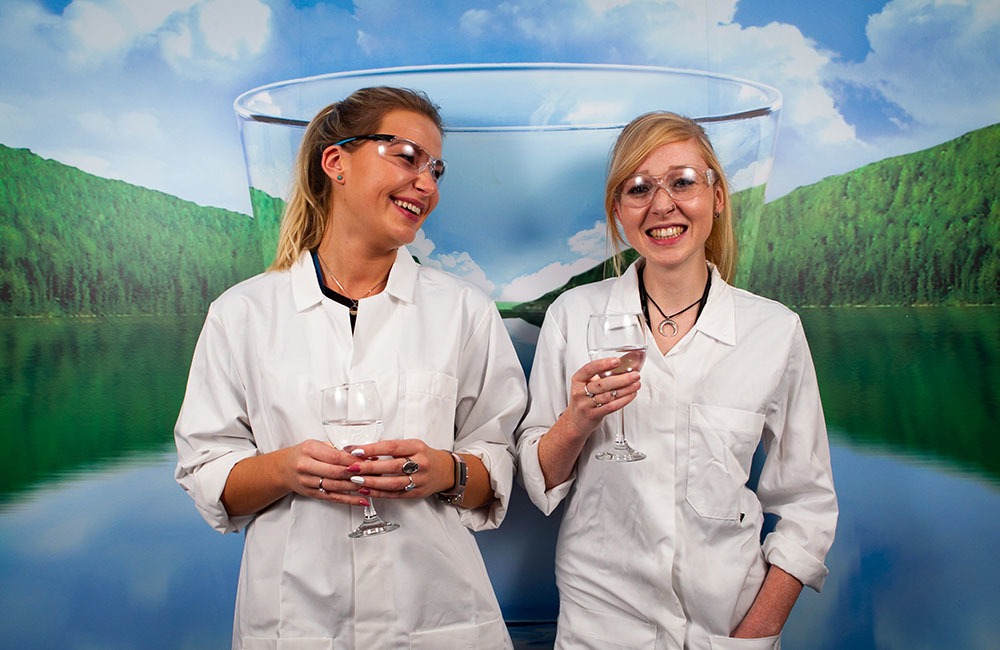 Scotland's drinking water meets the most stringent requirements in the world with up to 500 samples undergoing six quality tests every day. Here, LAURA COVENTRY pays a visit to the Scottish Water labs in Edinburgh where she meets the team behind our taps…
When we turn on our tap and clear, fresh drinking water pours out, we usually don't give it a second thought.
But there is a whole army of specialists making this happen as they work to maintain the high quality of Scotland's drinking water.
Located in Edinburgh's Heriot-Watt University Research Park is Juniper House, one of two large laboratories in the country tasked with sampling and testing Scotland's water (the other is in Henderson Drive, Inverness).
There are 340 staff working here, each a skilled chemist or biologist responsible for quality testing, inspecting and analysing our drinking water.
Each day between 400 and 500 samples go through rigorous tests at Juniper House. When they arrive in a myriad of bottles, they are labelled and wheeled to the Quantitative and Qualitative Taste and Odour Room for the taste testers. Unlike Juniper House's other laboratories, the wearing of white lab coats is forbidden in this room to prevent cross contamination.
Each sample is heated to 25°C before being decanted into glass goblets with a cap on top.
"It's like a beehive with everyone in the colony working together," says Sarah Hutchison, laboratories team leader, who explained nothing is left to chance as each one of the tasters is trained to pick up any abnormal odours and tastes on their noses and tongues, and that each sample is tested by three different tasters. Tasters have a list of describing words to use for smells such as 'fruity', 'musty' or even 'cucumber'.
These tests are regarded as the most important on the premises, explained Sarah, "because taste and odour are among the first things customers will notice about the quality of their water", and, like sommeliers tasting wine, great care and attention is taken by Scottish Water's master tasters during this process.
As one of the youngest Senior Scientists in the labs, Sarah's colleague, microbiologist Sarah Sinclair has an important role to play as the eyes, nose and mouth of the organisation in her job as a trained taste tester.
Sarah, who has been at Scottish Water since graduating, said: "We're doing this to make sure the water that comes out your tap is safe, clean, high quality drinking water.
"We're very lucky in this country as a lot of countries don't have the facilities or expertise as Scottish Water does. I love my role, especially the practical side. There's never a boring moment in 'micro' [microbiology], every day is different.
"I feel we're doing a public service so I do feel responsible. People take it for granted that you turn on the tap and get clear, fresh drinking water – we help make that happen."
Chief Scientist Elise Cartmell added: "Everyone's water is tested, wherever they are in the country. Samples in the north of Scotland travel to our Inverness laboratory to ensure those in the Highlands and Islands receive the same high standard of service as they do in Edinburgh.
"Half of our 340-strong workforce is doing testing and analysis, the other 170 people are in technical logistics, out sampling every single day of the year."
Today, no other country's water supply is given the stringent testing that goes on in Scotland, making Scottish water "the most tested water in the world" says the chief scientist – consistently reaching almost 100 per cent with 99.91 per cent of tests taken at customers' taps complying with strict regulatory standards.
In addition to tasting, samples from across Scotland are given further testing in the Incubator Room by scientists in white coats, using Petri dishes and agar plates. Sarah Hutchison explained: "This is where the magic happens. A team of eight analysts work up to 10pm at night if required to ensure drinking water is safe to drink."
In a bid to further detect any unwanted bacteria in each of the 400-500 samples, they are tested in six different ways, thus ensuring the quality. "In a nutshell, we have got it covered," added Sarah Hutchison.
A chartered microbiologist, she has amassed 25 years' experience in laboratories in the food and drink industry so has more knowledge of what happens behind the scenes than most, and this has had an impact on her lifestyle.
For example, when she worked for a dairy company, it prompted her to go 'dairy free', and when she worked for a chicken factory, she stopped eating poultry altogether.
But confident in the quality of our drinking water in Scotland, Sarah is a huge supporter of Scottish Water's Your Water Your Life campaign, which is encouraging more Scots to top up from the tap.
She said: "Scottish water is the only product I have worked with that I still consume to this day, and always will."
THE TASTE TESTS
In Scotland, all the water we use comes from rain that is collected in 270 reservoirs across the country and then piped to one of 242 water treatment works. There are three sources; groundwater, upland catchment and lowland river water.
To ensure customers receive an uninterrupted supply, Scottish Water then sends the treated water down its massive network of pipes, stretching more than 30,000 miles. This is a process that happens every minute of the day, every day of the year.
At each stage of the water cycle – at treatment works, service reservoirs and customers' taps – water samples are taken to ensure this high quality.
Across the country there are more than 90 water samplers each responsible for collecting samples of water in recycled plastic bottles, 365 days a year. Among them is Lindsay Steele. As a self-confessed 'people person', it is the perfect role for the former salesman.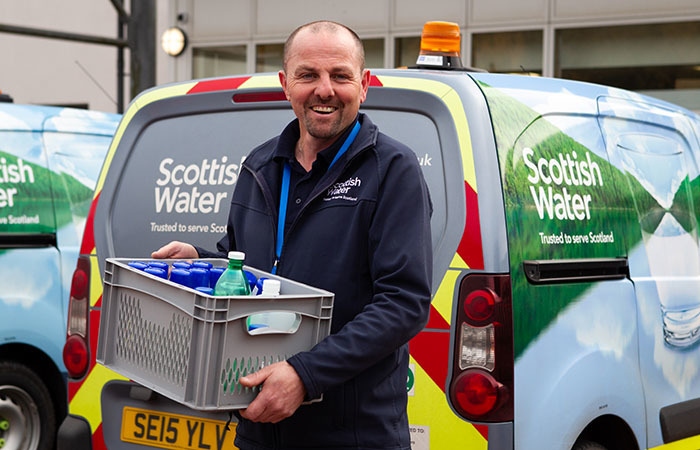 "When I go to a customer's door to take samples of their tap water they often they ask me questions about their water. I have great pride in telling them where their water comes from. For example, the water in Linlithgow actually comes from Balmore Treatment Works in Glasgow. That surprises some people – it surprised me," Lindsay said.
On a typical customer visit, Lindsay (who will always be travelling in a branded Scottish Water van, dressed in uniform, and carrying official identification) could take up to 12 bottles of water from a customer's tap – ranging from 500ml to 10 litres. It's a precautionary measure to ensure drinking water in Scotland remains at a high standard.
The bottles are then transported back to the testing labs in Lindsay's refrigerated van at a temperature between 3°C and 7°C.
He added: "We have very strict quality standards and we are audited by external bodies, the Drinking Water Quality Regulator and the United Kingdom Accreditation Service (UKAS). I, along with the other water sampling officers, am also audited once a year.
"A lot of customers I visit love drinking tap water, yet many take it for granted. They say it is the best in the world, and I agree."
His boss, Jolene Sinnott, Scottish Water's technical logistics team manager, ensures Scottish Water meets its strategic targets, and "makes sure we take required samples and that the drinking water is fit for Scotland".
As someone who worked in the organics department before arriving in technical logistics, Jolene has provided an end-to-end service, and explained: "It is about meeting the appropriate standard in the quality of the water we are providing and to perform our sampling and testing in a competent way to ensure we protect the public health.
"We have brilliant water in Scotland and we're working 24/7 to keep it clear, fresh and high quality every day."
TAPS ON
Tap water refill points are going to be installed in every local authority area around the country over the next two years so the public can top up on the move.
Under the Scottish Water initiative, councils are being consulted to identify the best locations with the aim of having the first 10 Top Up Taps in operation by the end of March 2019.
The move follows the launch earlier this year of the Your Water, Your Life campaign in which the utility called for customers to drink tap water at home, at work and on the move as a way of reducing packaging waste, saving money and staying hydrated.
Zero Waste Scotland estimates 20 million plastic bottles are littered in Scotland each year and about 120,000 tonnes of plastic packaging waste is produced from our homes over a 12-month period.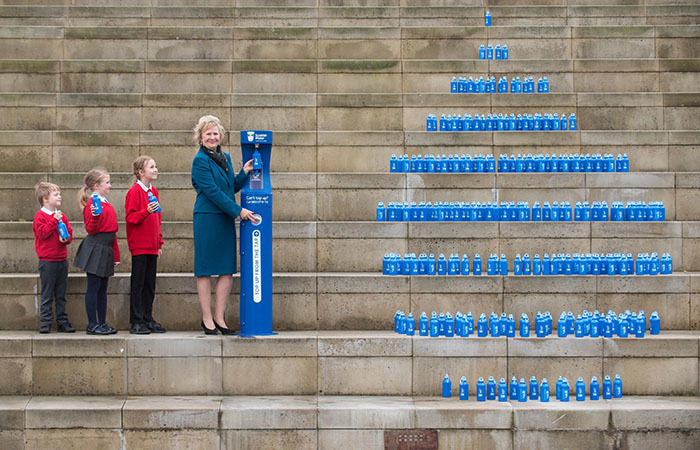 Drinking tap from a reusable bottle is an easy win when it comes to protecting the environment, and the Your Water, Your Life campaign aims to make tap the first choice for water drinkers wherever they are, and encourages businesses to make it readily available for staff and customers. Licensed premises are legally bound to serve tap water on request, yet research shows Scots are uncomfortable asking, something this campaign hopes to change.
Customer research carried out for Scottish Water revealed tap is the water of choice for almost two thirds of people in Scotland (65 per cent), and currently over a third (36 per cent) carry reusable bottles always or often when they are out and about. But less than a third (30 per cent) said they'd be happy to go into a café and ask for their bottle to be filled.
*To find out more visit: www.yourwateryourlife.co.uk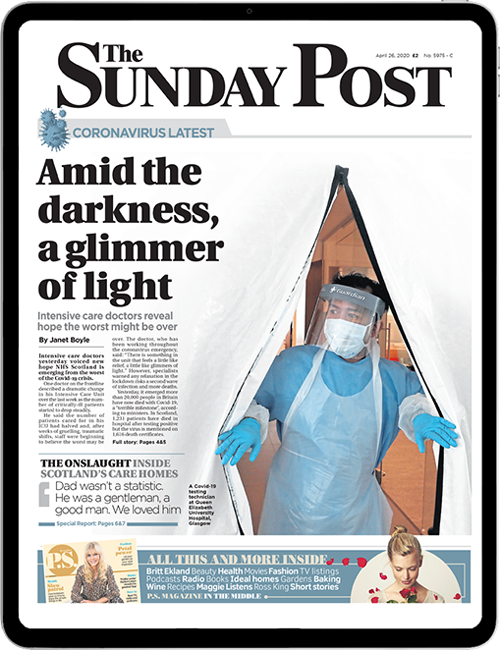 Enjoy the convenience of having The Sunday Post delivered as a digital ePaper straight to your smartphone, tablet or computer.
Subscribe for only £5.49 a month and enjoy all the benefits of the printed paper as a digital replica.
Subscribe