Rishi Sunak resisted calls to suspend his Deputy Prime Minister Dominic Raab while an investigation into bullying allegations is carried out.
The three permanent secretaries who led officials working under Mr Raab are thought to have given evidence to an inquiry into the Justice Secretary being led by senior lawyer Adam Tolley KC.
Dozens of civil servants are believed to be involved in the eight formal complaints and Dave Penman, leader of the FDA union, which represents senior officials, said Mr Raab should be suspended to protect other members of staff while the investigation is conducted.
Mr Raab sat alongside Mr Sunak at Prime Minister's Questions as allegations about his conduct were raised by Sir Keir Starmer.
The Deputy Prime Minister shook his head and muttered as the Labour leader questioned why Mr Raab had been appointed to his role.
Sir Keir claimed that Mr Sunak had ignored reports about the tax dispute involving the now-sacked Tory chairman Nadhim Zahawi when he appointed him and had done the same with the allegations around Mr Raab's conduct.
"Is the Prime Minister … going to claim that he's the only person completely unaware of serious allegations of bullying against the Deputy Prime Minister before he appointed him?"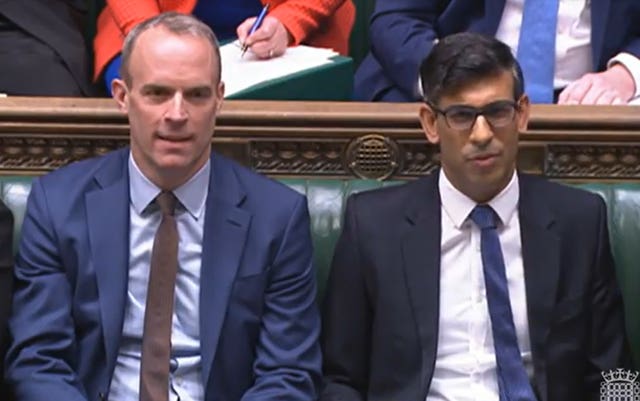 He highlighted reports suggesting "some of the complainants were physically sick, one says they were left suicidal".
He asked Mr Sunak: "How would he feel if one of his friends or relatives was being forced to work for a bully simply because the man at the top was too weak to do anything about it?"
The Prime Minister said: "When I was made aware of formal complaints I appointed a leading independent KC to conduct an investigation, because I take action when these things happen."
He compared his actions to the Labour leader's handling of the row over MP Rosie Duffield's stance on trans issues, which led her to compare being in the party to an "abusive relationship".
The questions over Mr Sunak's handling of Mr Raab's position came after Downing Street would not be drawn on whether he was told about informal complaints made about the Justice Secretary during his ministerial career.
Union chief Mr Penman suggested that in any other role Mr Raab would have been suspended pending the outcome of an investigation.
"Dominic Raab is now facing investigations around eight separate complaints involving what we understand is dozens of civil servants in three separate government departments over a period of four years," he told BBC Radio 4's Today.
"If that was any other employee, if that was a permanent secretary in the civil service, they would in all likelihood be suspended from their job while the investigation took place.
"That's not to prejudge the investigation, that's to say if there are serious allegations of bullying and extensive allegations like this, that one of the considerations is how do you protect employees from that sort of behaviour? And while it's being determined you would normally suspend someone, given the seriousness and extent of those accusations."
Former Foreign Office mandarin Lord Simon McDonald, Antonia Romeo, the current permanent secretary at the Ministry of Justice, and Philip Rycroft, who ran the Brexit department while Mr Raab was there, are thought to have given evidence as witnesses to the inquiry.
Mr Rycroft said "it would be a bit of a surprise if the investigation hadn't reached out to those who were working with Dominic Raab through those years".
He also told Times Radio on Wednesday: "I'm pleased the investigation is happening.
"Clearly for everybody involved in this, getting this sorted out is long overdue, but we'll have to wait and see what the investigator comes up with and ultimately the decision on the base of that evidence is one for the Prime Minister."
Mr Raab's Cabinet colleague Gillian Keegan rejected calls for him to step aside while Mr Tolley carries out his work.
The Education Secretary told Sky News: "I personally think it is fair to let investigations continue."
She said she does not feel uncomfortable sitting alongside someone accused of bullying.
"I sit round the Cabinet table and don't see that. I feel very comfortable with my colleagues around the Cabinet," she said.
The Liberal Democrats called on the Prime Minister to publish the advice given to him by the Cabinet Office when he appointed Mr Raab in October.
Deputy Lib Dem leader Daisy Cooper said: "The public deserves to know the truth about what he knew and when, including the full disclosure of any advice given to him by the Cabinet Office."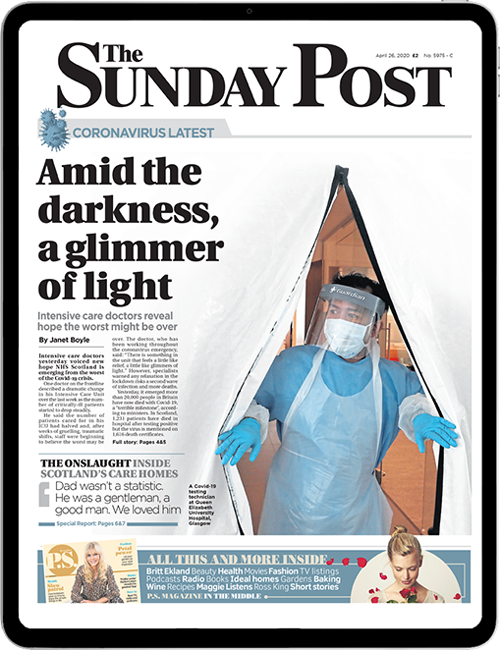 Enjoy the convenience of having The Sunday Post delivered as a digital ePaper straight to your smartphone, tablet or computer.
Subscribe for only £5.49 a month and enjoy all the benefits of the printed paper as a digital replica.
Subscribe