Rishi Sunak has refused to confirm he will scrap the northern leg of the HS2 line despite widespread expectation that he will axe the project due to "enormous" costs.
The Prime Minister said the price of the scheme had gone "far beyond" what was originally planned but declined to publicly say he would save billions by cancelling the Birmingham to Manchester leg.
Mr Sunak, in Manchester for the Conservative Party conference, could use his set-piece speech on Wednesday to announce the decision but is likely to soften the blow by spending on other projects for the north.
In a clear hint that he is considering changing course on HS2, during a series of broadcast interviews he repeatedly referenced his decision to water down the timings for a series of net zero measures, suggesting that showed he was prepared to make tough long-term choices.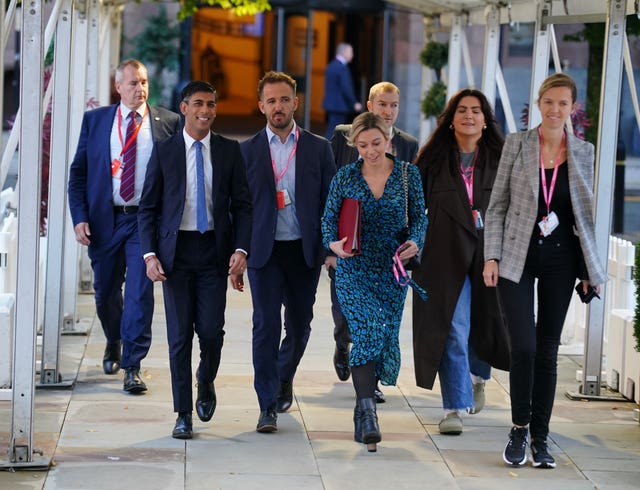 "It's clear that the costs of this programme have escalated far beyond what anyone thought at the beginning," Mr Sunak told Times Radio.
"I know there's lots of speculation on it but what I would say is I'll approach this in the same way I approach everything in this job, I will take the time to look at it properly, get across the detail and then decide what's right for the country.
"The sums involved are enormous and it's right that the Prime Minister takes proper care over it.
"It's obviously not my money – it's taxpayers' money and we should make the right decisions on these things."
The HS2 scheme was given a budget of £55.7 billion in 2015 but costs have ballooned, with an estimate of up to £98 billion – in 2019 prices – in 2020.
Since then soaring inflation will have pushed costs even higher.
On BBC Breakfast, Mr Sunak said: "As you saw with my recent decision on net zero, when I make a decision that I think is important of course I go and explain that to everyone, explain why I'm doing what I'm doing, why I thought it was right to change direction there."
He added: "If that happens and is necessary, of course that's what I'll do."
The Prime Minister is expected to hold an emergency Cabinet meeting to sign off the measures during his party conference in the city most directly hit by the cut to HS2.
The Times reported that after intense lobbying from within his Cabinet he will say the line will terminate in Euston, in central London, rather than the western suburb of Old Oak Common.
Tory mayor of the West Midlands Andy Street made an impassioned last-ditch appeal to Mr Sunak not to cancel the link between Birmingham and Manchester.
He did not rule out resigning over the issue, and said: "You will be turning your back on an opportunity to level up – a once-in-a-generation opportunity.
"You will indeed be damaging your international reputation as a place to invest."
Labour's Greater Manchester mayor Andy Burnham said: "If they're about to pull the plug, that would just be a desperate act of a dying government with nowhere left to go."
An expanded Northern Powerhouse Rail project linking cities, and cash for potholes and bus routes, could be announced to sweeten the pill of curtailing the project feared to have spiralled past £100 billion.
Mr Sunak, whose Richmond constituency is in North Yorkshire, said: "If you talk to people across the North, what most people will tell you is it's actually getting around the northern towns and cities, east to west, is the biggest concern that most people have."
But Mr Burnham said reports of extra projects "will not deliver the new east-west line promised in the last three Conservative manifestos", adding: "The North is being betrayed and people here won't forget it."
A decision to scrap the northern leg of HS2 would also be overruling the concerns of Tory former prime ministers Boris Johnson, Theresa May and David Cameron.
And the chaotic handling of the announcement, which has been the subject of briefings and leaks for weeks, has threatened to overshadow a conference which is intended as a pre-election showcase for Tory policies.
But Mr Sunak insisted "actually we're having a great conference" and "the mood here is great".
Mark Reynolds, chief executive of Mace Group, which is building a new station in Birmingham and also in Euston if that part of the project continues, said the central London terminus was crucial.
He told BBC Radio 4's Today: "If anyone thinks that ending from Birmingham to Old Oak Common is going to be strategic infrastructure, that is a waste of money and you might as well scrap the whole lot, which is ridiculous.
"What we have to do is invest in Euston because Euston also provides the capacity for Birmingham to Manchester, and that needs to be done as well."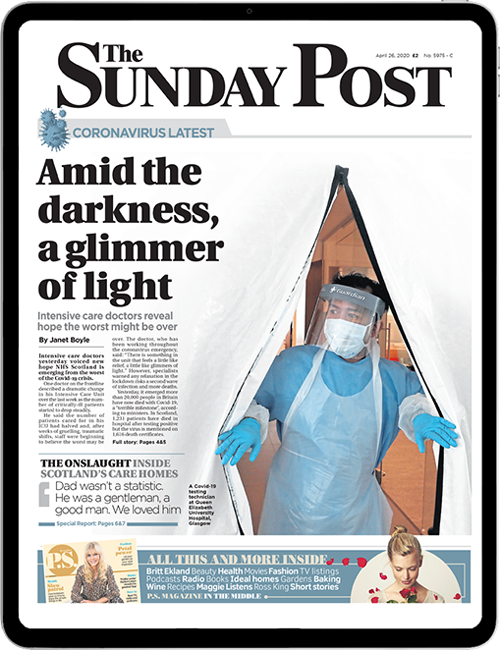 Enjoy the convenience of having The Sunday Post delivered as a digital ePaper straight to your smartphone, tablet or computer.
Subscribe for only £5.49 a month and enjoy all the benefits of the printed paper as a digital replica.
Subscribe