A secondary school where teaching has been severely disrupted due to the reinforced concrete crisis is "one of the top" on the list for a rebuild, the local MP has said following a visit by an education minister.
There is now a "road map" in place to get the 1,490 pupils at St Leonard's Catholic School in Durham back into face-to-face lessons after half-term, using the parts of the existing site deemed safe, temporary classrooms and the 19th century former seminary Ushaw College.
Parents held a demonstration of support for staff and the school, which is regularly one of the top performing state schools at GCSE in the North East, for the visit of schools minister Baroness Barran on Wednesday.
After the visit, the minister said: "We are working closely with St Leonard's school to minimise disruption and get pupils back into face-to-face learning.
"Today, I met with parents, staff and pupils to hear their views and I will return next week to share further updates.
"St Leonard's School is already set to be rebuilt as part of our School Rebuilding Programme and we are working at pace to conclude feasibility work so that procurement, planning and construction can go ahead as quickly as possible."
Since the start of school some year groups have only been allowed into school for one day a week of face-to-face teaching, with the other four days taught remotely online.
Pupils who are allowed in face very large class sizes, some in the sports hall or corridors, without desks and using clipboards to lean on.
Durham Labour MP Mary Kelly Foy was at the meeting with the schools minister, as well as senior leaders and the trust that runs it, Department for Education officials and Durham University.
Ms Foy described the outcome as "quite positive" but said that surveys of the extent of the reinforced autoclaved aerated concrete (Raac) in school buildings were ongoing and a clearer picture will be known next week.
The MP said the "silver lining" of this disruption was that the long-planned school rebuild would now happen.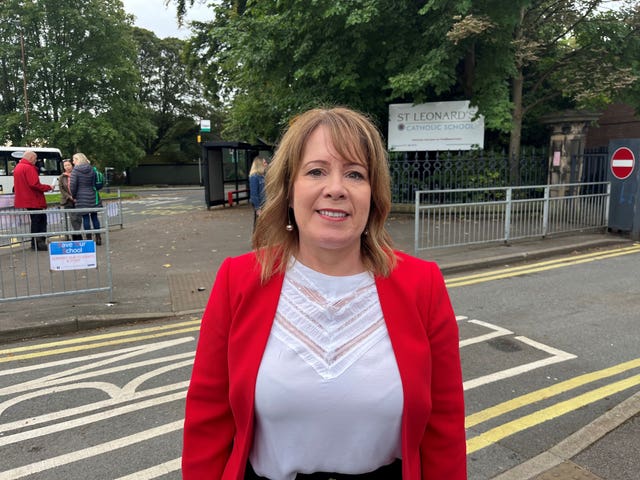 She said: "The minister has assured me that this has been expedited and it's one of the top on the list for a rebuild.
"So hopefully we'll see that brand new model school earlier than we would have expected."
Ms Foy said she felt more positive following the meeting than she did previously, and she promised to keep applying pressure on the Government.
Nick Hurn, chief executive of the Bishop Wilkinson Catholic Education Trust which runs St Leonard's, also met Baroness Barran and said the meeting had been "very productive".
He said: "We now think we've got a really good road map moving forward, that we can use a combination of the school site, Ushaw College, and hopefully, the demountables (temporary classrooms) as they come online.
"We're hopeful by half-term we'll have all the children back and face-to-face learning.
"But we'll make a proper announcement next week because we'll have a clearer idea of what we can and can't use within the school."
The chief executive admitted they may have been "a bit behind" other schools in securing temporary offices, and that the portable toilets they need were hard to get, but he said some schools had more warning about the Raac problems than St Leonard's did.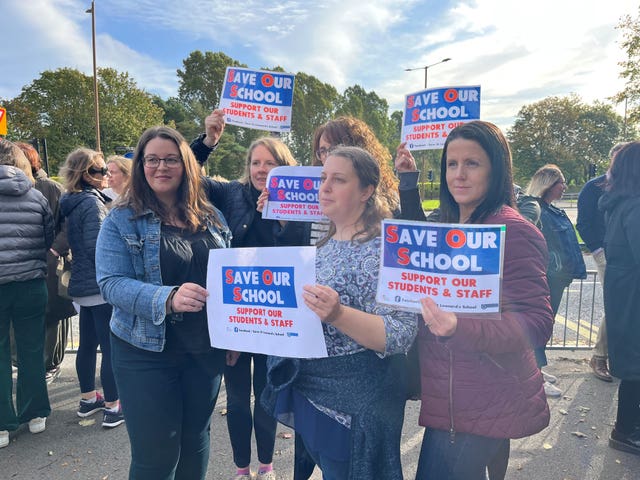 Mr Hurn praised parents for their campaigning, and said: "We really appreciate the support and the understanding.
"Rest assured, we're working as hard as we possibly can to get things back on track for the children and for the staff.
"Stick with us, keep the faith."
The minister was said to have met a group of parents but her car did not stop when she left the school and she did not speak to those demonstrating outside.
The DfE said she was not available to be interviewed by the media.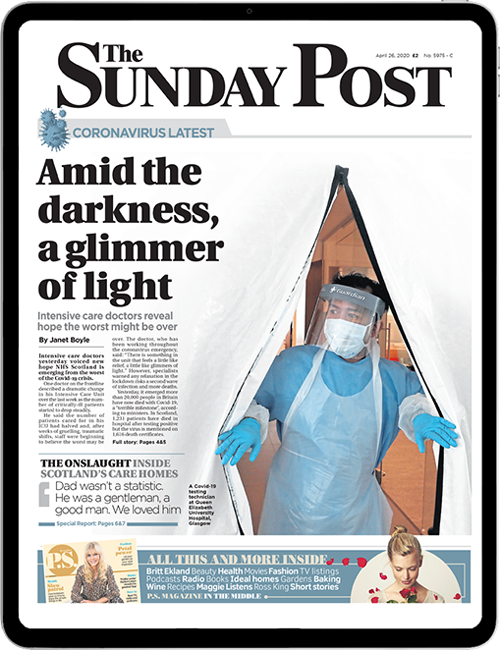 Enjoy the convenience of having The Sunday Post delivered as a digital ePaper straight to your smartphone, tablet or computer.
Subscribe for only £5.49 a month and enjoy all the benefits of the printed paper as a digital replica.
Subscribe