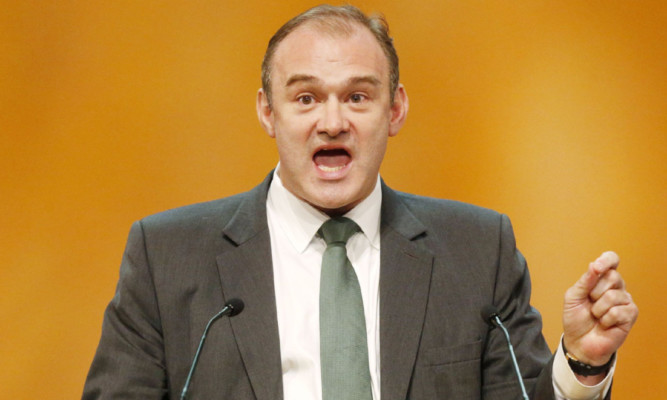 UK Energy Secretary hints that powers will be devolved before General Election.
The UK Government is set to accept plans to give Holyrood full power over fracking.
Speaking exclusively to The Sunday Post, Energy Secretary Ed Davey dropped a massive hint that the first new powers to be devolved under the Smith Commission proposals will get the nod this week.
And the Lib Dem MP revealed that he will fly into Aberdeen for crisis talks on the impact the crash in the price of oil is having on industry there.
He also wants to see a "significant" number of new windfarms put up across the UK and predicted that energy bills will go down but not until next winter.
The extra fracking powers would allow the Scottish Government to stop firms carrying out the controversial technique under people's houses without their permission.
Currently, Edinburgh can veto developments but Westminster retains the power to grant licences and the tricky issue of underground access.
The Conservatives want to give companies the power to frack where they like, even if that means drilling under folks' homes.
Labour will table an amendment to the Infrastructure Bill on Tuesday that would implement Smith Commission proposals to devolve all powers relating to fracking to Holyrood.
Mr Davey said he accepted the Smith plan and that, on Tuesday, he "will make very positive noises".
Lib Dem, Labour and SNP votes would be enough to ensure the amendment becomes law before the General Election while the rest of the Smith Commission package will have to wait until after May to be tabled.
If the Lib Dems survive in a coalition after May, they'll be pushing for an expansion of green energy, mainly generated by wind turbines.
Mr Davey said: "I believe onshore wind potential across the whole of the UK has still got a significant way to go."
And he denied that the projects criticised by many for blighting the landscape and which received £53m last year from his Department for Energy and Climate Change just to keep turbines switched off are unpopular.
He claimed that polling carried out by his ministry found around two-thirds of people support windfarms while the percentage opposed is "always in single figures".
He added: "I'm not saying there aren't quite a few people who don't like onshore windfarms, but I think it is a distortion of the truth to say it's a majority. I've not seen any evidence to back that."
However, his Conservative coalition partners think there are votes in pledging to ban any more windfarms in England. Mr Davey says that will put up prices.
He explained: "Conservative ideological opposition to onshore wind is going to put bills up. I want to tackle climate change in the cheapest possible way.
"Onshore wind is the cheapest large-scale renewable energy so if you don't invest in that, you'll have to invest in not-so-cheap large-scale renewable energy. It's called logic."
But, he says, bills will come down this year thanks to his policies.
He claims that increased competition in the sector is already forcing the Big Six energy companies to lower their prices and, combined with the threat of a Competition and Markets Authority investigation into the sector due to report by the end of this year, they will have to bring bills down.
He said: "I'm as confident as I can be that we will see energy bill price cuts by next autumn because of the competition we've introduced.
"If the Big Six don't do this they will either lose even more market share or I think the CMA might have something to say about it. That's all to do with action I have taken."
However, energy bills have actually increased on Mr Davey's watch and even with smaller firms taking more of the market, the Big Six still control nearly 90% of it and they have resisted political pressure to cut their charges.
After nearly five years of Coalition government and rising bills he could stand accused of offering jam tomorrow.
He said: "I don't control prices. We have a free market. I can't control prices. The idea that the Secretary of State can control prices is a nonsense.
"This is the con of Labour. They think the Government can suddenly come in and sort it all out overnight. Anyone who knows anything about anything knows that's not true.
"It does take time. I wish it could be done quicker. We've run helter skelter to try and help people. The evidence is it's working and we're going to continue to work as long as Labour doesn't mess it up."
He claims Ed Miliband's promised price freeze would actually allow firms to get out of cutting their prices come the autumn.
He explained: "He's going to give them a get out of jail free card. He's going to legislate for an energy price freeze when they should be cutting.
"Mr Miliband will come to the rescue of the Big Six. The fact that he doesn't understand this is a worry."
Prices may also come down due to the crash in oil prices. Mr Davey will fly to Scotland to meet key oil industry players this week.
He said: "I've always been a supporter of the oil and gas sector in the North Sea. We've got to make sure we're there for them."
And he didn't miss the opportunity to criticise the SNP, whose independence White Paper contained predictions the price of oil would remain over $100 a barrel when it's currently nearer half that.
"The SNP's economics given the crash in the oil price would've led to an SNP government handing out P45s to nurses, doctors, teachers and firemen across Scotland.
"They should apologise for not having warned people that that was the implication of their economic and tax policies."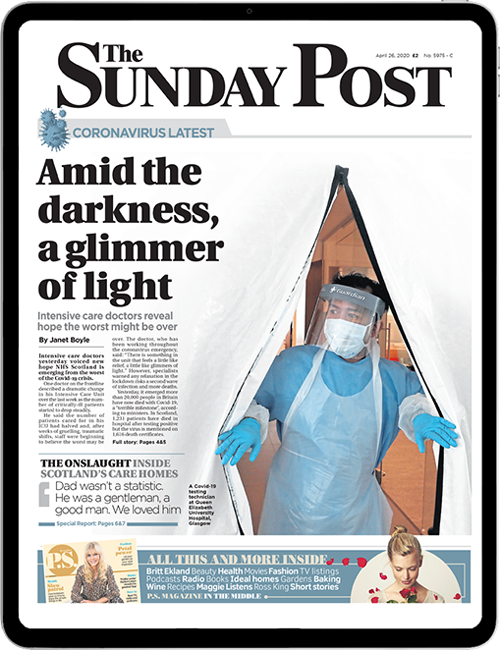 Enjoy the convenience of having The Sunday Post delivered as a digital ePaper straight to your smartphone, tablet or computer.
Subscribe for only £5.49 a month and enjoy all the benefits of the printed paper as a digital replica.
Subscribe