Schools across the country have been forced to close or tape off sections of buildings days before the new term starts after aerated concrete was identified.
Parents were informed of the emergency measures taken by the schools and colleges, which have had to partially or fully close buildings because of the presence of reinforced autoclaved aerated concrete (Raac), which could suddenly collapse.
A headteacher at one school for children with special needs had to call parents to inform them the school would not be opening just days before the new term started.
Louise Robinson, headteacher of Kingsdown School in Southend, Essex, called parents of students, who are aged between three and 14, on Thursday to tell them the news that the school will be closed next week due to the aerated concrete.
It comes amid chaos across the country as 104 schools and colleges have been told by the Department for Education (DfE) to partially or fully close buildings just as students prepare to return after the summer holidays.
The Government has not identified the schools but the list also includes: Parks Primary, Mayflower Primary School and Willowbrook Mead Primary Academy in Leicester; Cranbourne College in Basingstoke; Crossflatts Primary School and Eldwick Primary School in Bingley, near Bradford; Abbey Lane Primary School in Sheffield; Scalby School in Scarborough; St Leonard's Catholic School in Durham; Winter Gardens Academy in Essex; and Corpus Christi Catholic School in Brixton, London.
Ms Robinson said: "Instead of preparing to welcome our students back to class, we're having to call parents to have very difficult conversations about the fact the school is closed next week.
"We're hoping that a solution can be found that allows us to open the school, at least partially, but that entirely relies on ensuring the safety of our pupils and staff, and approval by DfE."
The school's main building has been ordered to close, which has special equipment inside that the students need and cannot be accessed.
Lydia Hyde, Labour and Co-operative Party councillor for Southend-on-Sea Borough Council, said the situation was "awful" and a plan should have been made in March when the school was first inspected.
She added: "It's the right decision that the children aren't going back to this school as it is unsafe, this should have been sorted out months ago, the Local Government Association has been warning the Government for a long time."
Ms Hyde added that the situation will also impact other family members, with parents potentially unable to work and or take other children to school.
She said: "There are going to be big questions asked about how this was allowed to happen, why the families have been thrown into such chaos, the first thing is to ensure the children are back into education as soon as possible."
Mayflower Primary School in Leicester was given 24 hours to close due to aerated concrete and had to spread its 500 pupils across four sites which included a mosque's community hall and a manor house.
Luke Whitney, headteacher of Mayflower Primary School, said the school was one of the first where Raac was identified in April. Part of their original building is now back in use and a temporary school is being built in the grounds.
Raac was also found at Abbey Lane Primary School in Sheffield, where "alternative meal arrangements" will be in place while the work costing £620,000 is carried out.
Louise Haigh, Labour MP for Sheffield Heeley, labelled the situation schools have been put in "appalling".
She said: "Raac was identified as an issue back in 2018 and there remain schools around the country which the Government do not know if they contain this material and are therefore a risk to children."
Meanwhile, a spokesperson for Essex County Council said three local authority schools have Raac and the council is "working closely with these schools to minimise any disruption to learning".
City of Bradford Metropolitan District Council said access to areas of Crossflatts Primary School and Eldwick Primary School where Raac is present is prohibited and at least eight teaching spaces have been lost, alongside other staffing facilities across both sites and the loss of the kitchen at Crossflatts.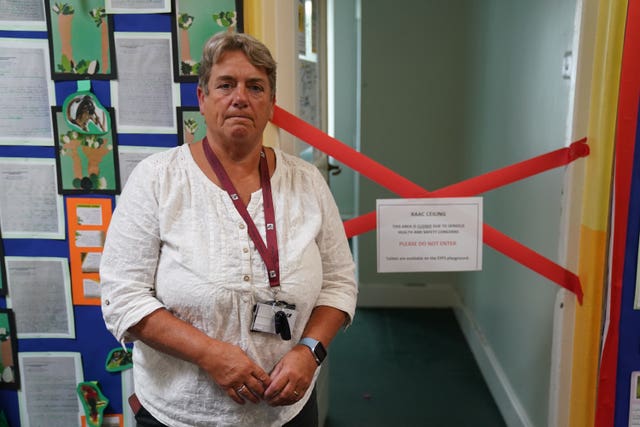 Education will continue at the schools in the short term with alterations and a long-term plan is in place for temporary accommodation.
In Leicester, the city council said the Raac notification for Parks Primary and Mayflower Primary School came before the summer holidays, and alternative accommodation was arranged, but Willowbrook Mead Primary Academy was only identified on Thursday.
A spokesperson for the council added that they will be working with the academy trust "to offer support and advice to try to minimise disruption to pupils".
And temporary works have been carried out in one section of Cranbourne college in Basingstoke to make sure it is safe and another area has been taken out of use since the beginning of the year, but the school is expected to open as normal.
Nick Hurn, chief executive of Bishop Wilkinson Catholic Education Trust, wrote to parents of students at St Leonard's Catholic School in Durham to say a DfE-commissioned survey had identified that Raac panels were used in the construction of the building.
"As a result, the DfE directed the trust yesterday afternoon that they have taken the difficult decision to temporarily deem St Leonard's school as a site that must not reopen next week," Mr Hurn wrote.
"We understand the disruption this will cause, however, we have not been left with any choice (other) than to temporarily close as we put emergency measures in place."
North Yorkshire Council said Scalby School in Scarborough had been asked to close, but was the only one of its schools affected.
Raac was found in the roof of part of the junior school at Corpus Christi Catholic School in Brixton, south London, so it has temporarily relocated from its Trent Road site to St Martin-in-the-Field girls school in two self-contained blocks.
Also, Cockermouth School in Cockermouth sent a letter to parents on Thursday saying the school term will start on August 6, one day later than planned, to ensure the school can "prepare well" after Raac was found in four areas.
South Essex Academy Trust has said it is "rapidly responding to secure the safety of the children and buildings" at Winter Gardens Academy in Essex where Raac has been found.
Surrey County Council confirmed Raac has been found in one school, which it has not named, and said the school does not require full closure.
A Welsh Government spokesperson said a condition survey of all state-funded schools and colleges was commissioned earlier in the year which will identify any structures suspected of containing Raac.
Local authorities and further education institutions have not reported any instances of Raac being present within schools or colleges to the Government, the spokesperson added.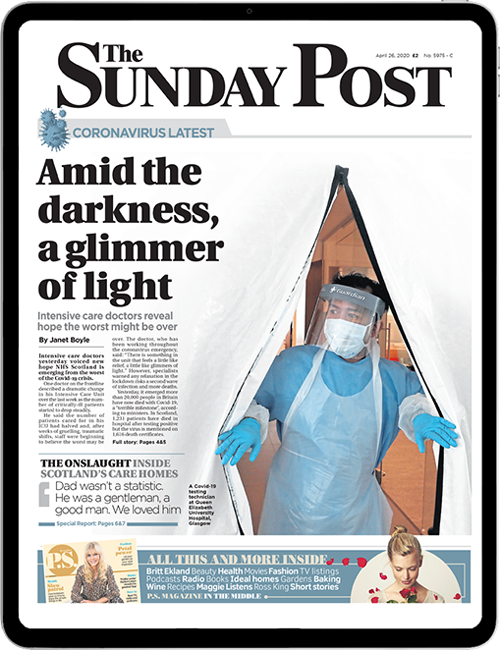 Enjoy the convenience of having The Sunday Post delivered as a digital ePaper straight to your smartphone, tablet or computer.
Subscribe for only £5.49 a month and enjoy all the benefits of the printed paper as a digital replica.
Subscribe