A former Northern Ireland secretary has warned that the rules around powersharing in Northern Ireland need to change if the devolution settlement is to survive.
Lord Hain, who helped negotiate the arrangement in 2007, suggested that sanctions should be imposed on any political party that refuses to powershare and therefore collapses the Northern Irish government.
His comments came as the DUP's refusal to form an executive, due to the Northern Ireland Protocol, has stretched on for more than a year.
Lord Hain suggested, in an amendment to the Northern Ireland Budget Bill, new rules around executive formation in Northern Ireland, which would mean any party eligible to form a powersharing executive and which refuses to do so should have their funding withheld.
This would include its Assembly party funding, the salaries of the Members of the Legislative Assembly, the salaries of the members' staff and its office and travel expenses.
He told peers he wanted to highlight a "deeply troubling gridlock in Northern Ireland's self-governance, which is relentlessly ravaging the very foundations of the Good Friday Agreement".
The Labour peer continued: "From 2007, when a settlement I helped negotiate under Tony Blair brought the unlikely duo of Ian Paisley Snr and Martin McGuinness to share power, there was a decade of DUP/Sinn Fein-led self-government as stable as Northern Ireland was ever likely to get.
"Then, that was collapsed by Sinn Fein for three years.
"Now, post-Brexit, Stormont has again been collapsed, this time by the DUP, for over a year…
"Meanwhile, public support for the carefully negotiated system of self-government is in danger of collapsing completely in the midst of the worst cost-of-living crisis for generations, the NHS facing a worse crisis, costing lives, than anywhere else in the United Kingdom, and other manifestations of dysfunctional public administration causing serious problems.
"This amendment does not point fingers or apportion blame. Any political party has a right to refuse to serve and to use that as leverage.
"The problem is that the political architecture necessary to achieve the Good Friday peace accord requires cross-party government, so that a refusal to serve collapses everything and amounts to a veto.
"There's got to be a cost for doing that and my amendment would impose one, not so much as a penalty, more as a deterrent."
He added: "A situation in which one party or other can simply walk away and paralyse Northern Ireland self-governance, because they do not get their way, is anti-democratic.
"This issue will have to be addressed by the Government if the devolution settlement, which was so hard won, is to survive."
His remarks came as the House of Lords discussed the Northern Ireland Budget Bill, which will authorise resources of public services in Northern Ireland for the years ending March 31 2023 and 2024 in the absence of a functioning devolved Northern Ireland Assembly and executive.
Lord Caine, a minister in the Northern Ireland Office, spoke of his "disappointment" that the UK Government had had to step in and legislate for something the Northern Ireland Assembly should be in charge of.
He said: "People in Northern Ireland rightly expect to see those decisions taken at Stormont and I agree with them.
"I state again my continued disappointment that we are, as a Government, having to step into Northern Ireland affairs and intervene in this way, and I look forward to the restoration of the Northern Ireland executive and Assembly at the earliest possible opportunity."
Former DUP deputy leader Lord Dodds of Duncairn blamed the absence of an Assembly and executive in Northern Ireland on the "imposition" of the Northern Ireland Protocol.
He also accused Lord Hain of targeting unionists, arguing that sanctions were not suggested when Sinn Fein collapsed the government for three years in 2017-2020.
He said: "I fail to recall at any point during the three years when Sinn Fein collapsed the executive that there were any such amendments brought forward.
"Indeed, I asked the library to check how many vociferous statements by members of the Northern Ireland Select Committee, Northern Ireland spokespersons, people who take an interest in Northern Ireland, frontbench spokespersons, and I found very, very few examples of where any of these people were prepared to come out and say Sinn Fein is at fault for the collapse of the Assembly, or to seek any kind of punishment or to seek any kind of redress…
"So it is interesting – and it's not been lost on unionists in Northern Ireland – that at a time when unionists are making the point that they cannot operate a protocol that is injurious to the Union, the very thing that we are there to defend and to promote, that we have this approach to unionist parties."
Northern Ireland's former first minister Baroness Foster of Aghadrumsee concurred with this assessment.
The non-affiliated peer said: "There was no such pressure to have Sinn Fein back in government during those three years when there were huge pressures, particularly on our health service. I remember it very, very well."
DUP peer Lord McCrea of Magherafelt and Cookstown also took Lord Hain to task, claiming his proposal would "threaten the unionist electorate through their politicians that if they do not obey this diktat then their legitimacy will be cast aside as if we were under some communist regime."
He added: "Does he really think the DUP would be willing to sell the constitutional future of our province for a paltry 30 pieces of silver?"
Lord Hain responded: "At no time have I attacked the DUP for its stance over its withdrawal from the executive… I understand their position."
Explaining why he never put forward such an amendment when Sinn Fein refused to form a government, he said: "All I can say in mitigation is I did not think this was going to become a habit."
Labour frontbencher and former Northern Ireland secretary Lord Murphy of Torfaen said Lord Hain's amendment was not Labour Party policy.
He said: "It's a personal view of Lord Hain, but it does express his frustration – as all of us express our frustration – at the lack of progress."
The minister responded that he could not support Lord Hain's amendment, saying: "What he's putting forward would be a significant change to the process of executive formation in Northern Ireland at a time when the priority of the Government is to get those institutions back up and running; and his motion could be perceived as a tilting of the playing field significantly against one party, which might have the effect of frustrating our objectives."
He added that the motion could also make it more difficult for political parties wishing to go into opposition in Northern Ireland.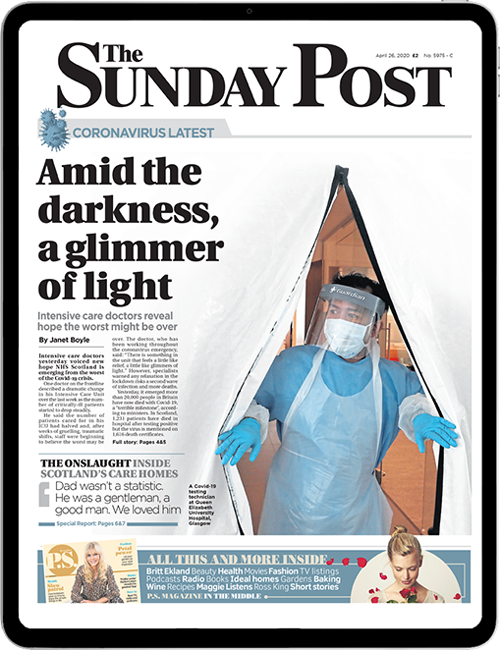 Enjoy the convenience of having The Sunday Post delivered as a digital ePaper straight to your smartphone, tablet or computer.
Subscribe for only £5.49 a month and enjoy all the benefits of the printed paper as a digital replica.
Subscribe