Wales' nationalist party has proposed raising taxes to give NHS workers a pay rise and end the strikes taking place across the country.
Plaid Cymru said it will call on the Welsh Government next week to amend their draft budget to raise the basic rate of income tax that people in Wales pay by 1p, the higher rate of tax by 2p, and the additional rate of tax by 3p.
Leader of the party Adam Price said the move would generate an extra £317 million which could provide health and care workers with fairer pay.
Mr Price said the money could be used to provide an 8% wage hike for NHS workers, a £12 an hour minimum wage for care workers and a package of financial support for those in greatest need.
The Welsh Government said raising income tax in the way set out by Plaid would hit those already struggling.
Andrew RT Davies, leader of the Welsh Conservatives, called the plans "typical voodoo economics from Plaid".
It comes amid continued industrial action by public sector workers in Wales and across the UK because of disputes with the Government over pay and conditions, while NHS waiting times stand at an all-time high.
February 6 is set to see the biggest ever walkout of NHS staff in its history, with multiple unions representing nurses and ambulance staff planning to strike on the same day.
Mr Price said: "Our NHS is in crisis, workers are on strike, and the Labour Welsh Government is refusing to act.
"Thirteen years of Tory cuts and 25 years of Labour mismanagement has left our health and care workers demoralised, exhausted and struggling to make ends meet.
"Plaid Cymru's proposals offer a way forward.
"Fair pay for nurses will mean fair play for patients and would signal a real investment in our NHS, putting it on a sustainable footing for the future.
"Labour cannot in good faith say they are doing everything they can to support health and care workers when they have so far refused to use the tax powers at their disposal."
Mr Price added: "If Labour truly are the party of the workers as they claim to be, they will support our amendment to the budget, and if they truly believe in a fair taxation system, they will join us in demanding the powers to set our own tax bands just like Scotland, rather than be ruled by Westminster."
Wales has limited devolved tax-varying powers which mean that since April 2019 it has been able to set Welsh income tax, which is paid directly to the Welsh Government. It is not a separate tax but determines the overall rate of income tax paid by people in Wales.
The Welsh Government has previously made a commitment not to use its powers to increase tax "as long as the economic impact of Covid-19 lasts".
A Welsh Government spokesperson said: "Now is not the right time to raise the basic rate of income tax as it would hurt many who are already struggling with rising inflation and higher energy bills.
"Increasing the higher and additional rates of income tax in the way Plaid Cymru are proposing would only raise £75m – the bulk of the revenue raised under these proposals would come from basic rate tax payers in Wales.
"Our draft budget protects public services and the most vulnerable in the face of a perfect storm of financial pressures."
Welsh Tory leader Mr Davies said: "If they really lacked faith in Labour ministers in the Senedd, they would stop propping them up.
"Instead, they're trying to have all the good things of government without taking responsibility. The result is typical voodoo economics from Plaid, trying to spend the same pound twice.
"Under the UK Conservative Government, Wales gets £1.20 for every £1 spent in England. The money is there but Labour and Plaid mismanagement is short-changing Wales and our NHS."
The draft budget will be debated in the Senedd on Tuesday February 7.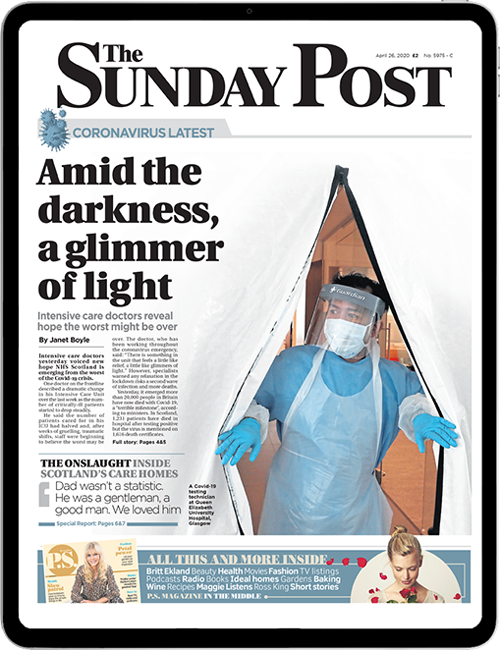 Enjoy the convenience of having The Sunday Post delivered as a digital ePaper straight to your smartphone, tablet or computer.
Subscribe for only £5.49 a month and enjoy all the benefits of the printed paper as a digital replica.
Subscribe