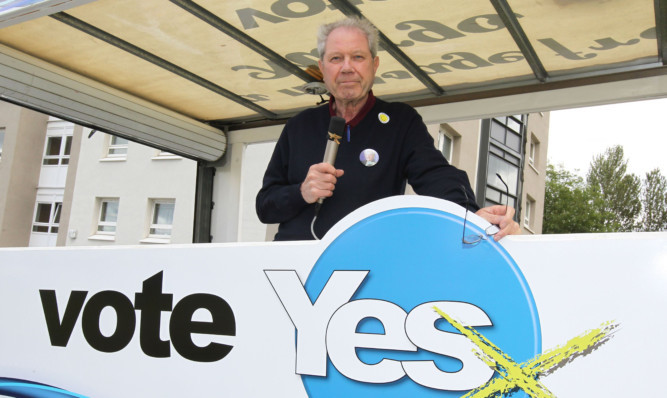 Veteran Yes campaigner Jim Sillars has penned an open letter to Scotland's pensioners urging them to back independence for the sake of their grandchildren.
Thousands of copies of the letter will be distributed across the country over the next 11 days via the Margo mobile tour van which Sillars is taking around working class areas of the country.
The move is part of a wider push to grab the "grey vote" from both Yes and No camps after a Sunday Post poll showed more than 70% of OAPs have concerns about how the state pension will be funded in an independent Scotland.
Former MSP and leader of the Scottish Senior Citizens Unity Party John Swinburne yesterday came out in favour of a Yes vote and will now join the campaign.
In his letter, former SNP MP Sillars claims the No camp has "scared you into thinking your pension wasn't safe" despite assurance from both UK and Scottish Governments the current state pension will be unaffected by a Yes vote.
He continues: "I'm 76-years-old and I know my state pension and yours will be safe when we're independent.
The grandfather to ten adds: "Of course, there's more to the referendum than pensions. We want our children and our grandchildren to have a prosperous and secure life in Scotland."
Better Together leader Alistair Darling said: "The rising cost of pensions is currently spread across the whole of the UK, 60 million people. If we became independent that cost would be spread across just five million people.
"The ability to pay pensions depends entirely on a state's ability of paying for it."