A pledging conference in Germany ended without a commitment by Western allies to send more battle tanks to Ukraine, despite a call from President Volodymyr Zelensky to speed up the delivery of military support in his country's struggle against Russia.
So far among the Nato allies, only the UK has agreed to send tanks, in the form of 14 British Army Challenger 2s.
There had been hopes that Germany would authorise the release of its Leopard 2 battle tanks, which are potentially available in far greater numbers.
But at the conclusion of the meeting at the US airbase in Ramstein, Germany, US defence secretary Lloyd Austin said: "I don't have any announcements to make on M1s (US Abrams tanks), and you heard the German minister of defence say that they've not made a decision on Leopards."
He said officials were "pushing hard to meet Ukraine's requirements for tanks and other armoured vehicles".
Mr Austin refused to criticise Berlin, suggesting Germany was doing enough to show real leadership in Europe, but "we can all do more".
He highlighted the "really capable package" that will "enable the Ukrainians to be successful", downplaying the immediate importance of tanks by saying "this is not dependent upon a single platform."
Countries including France, Germany and the UK had pledged to send air defence systems that will "help save countless innocent lives", he announced.
German defence minister Boris Pistorius vowed that Berlin "will make our decisions as soon as possible".
Earlier, Mr Zelensky urged assembled defence ministers to agree in "principle" to supply his forces with modern battle tanks.
Speaking remotely from Ukraine, Mr Zelensky thanked allies for their previous support, but said "hundreds of thank yous are not hundreds of tanks".
"It is in your power to make a Ramstein of tanks. Not to bargain about different numbers of tanks but to open (the) principle (of) supply that will stop Russian evil."
UK Defence Secretary Ben Wallace appealed to allies to keep up the pressure on Moscow on the battlefield.
"The UK is leading international support for Ukraine by becoming the first nation to donate modern, Western main battle tanks," he said in a statement.
"It is crucial that we build on this momentum supported by our international partners, who are determined like us, to ensure that Putin's illegal and unprovoked invasion fails."
The Ukrainians are seeking around 300 tanks to enable them to mount a counter-offensive, with the German-built Leopard 2s – which are widely used by European armies – seen as the most suitable candidate.
Poland has offered to send a company of its Leopard 2s, but requires a sign-off from Berlin, which issued the original export licences, if they are to be re-exported.
So far, however, the government of Chancellor Olaf Scholz has been reluctant to do so amid concerns about the likely reaction in Moscow.
Reports had suggested the Germans would be prepared to relent if the US were to release some of its Abrams tanks, though Germany's defence minister insisted there was no linkage.
The Americans however argue that the Abrams is a more complex machine – requiring more training for crews – while their turbine engines are heavy on fuel, making them unsuitable for Ukraine's beleaguered forces.
Amid growing impatience in Kyiv and among some allies, Poland's prime minister Mateusz Morawiecki has suggested he would be willing to send Leopard 2s without Germany's consent.
After Friday's meeting, Polish defence minister Mariusz Blaszczak said 15 countries that have Leopards discussed the issue, but that no decisions were made, indicating there would be more talks.
Estonia's defence minister Hanno Pevkur said he was confident Germany would not stand in the way of other countries sending their Leopard 2s, with a decision likely in the "coming days".
"I am more than sure that Germany will not stop any other country who is ready to contribute with the tanks that they (Germany) have to approve," Mr Pevkur told BBC Radio 4's The World at One.
Mr Wallace said that in addition to its latest support package, including the Challenger 2s and other heavy armour, the UK would be sending a further 600 Brimstone precision-guided missiles.
The US on Thursday announced a 2.5 billion dollar (£2 billion) Ukraine aid package which includes 90 Stryker combat vehicles, 59 Bradley fighting vehicles and hundreds of thousands of rounds of ammunition.
The more heavily armoured and tracked Bradleys and the medium-armoured Strykers will provide Ukraine "with two brigades of armoured capability", the Pentagon said in a statement.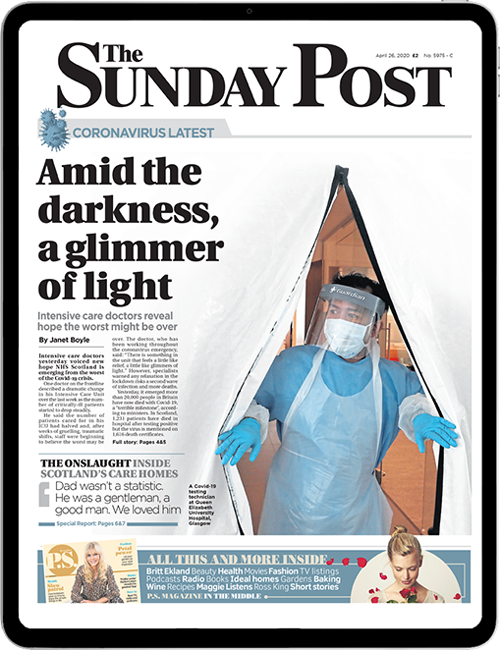 Enjoy the convenience of having The Sunday Post delivered as a digital ePaper straight to your smartphone, tablet or computer.
Subscribe for only £5.49 a month and enjoy all the benefits of the printed paper as a digital replica.
Subscribe