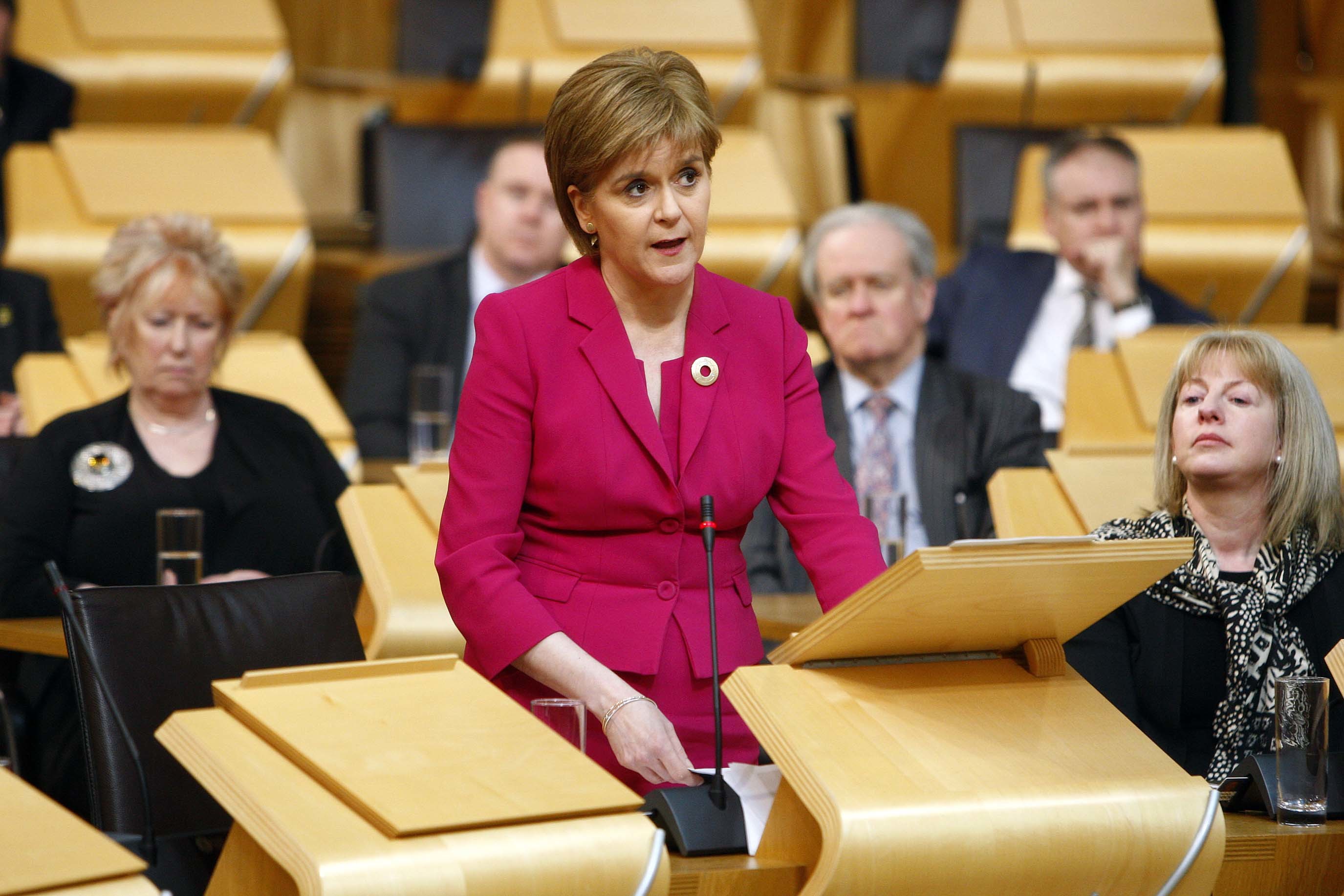 NICOLA STURGEON has insisted that plans to publish the results of new national school tests have not changed, despite the Tories claiming she is backtracking from the proposals.
Conservative leader Ruth Davidson said Scotland's main teaching union, the EIS, has published an advice note saying the Scottish Government has "watered down" its plans for standardised assessments.
The assessments are being brought in for youngsters in P1, P4, P7 and S3, with SNP ministers arguing the data is vital in helping them close the attainment gap in schools.
However critics have warned publishing the results of the tests, as outlined in the Scottish Government's National Improvement Framework, could lead to a return to school league tables.
Ms Davidson said the EIS now claims to have "forced changes" so that "standardised test scores will not be collected or published".
She also said the teachers' union adds "there is actually no need for all pupils to sit assessments in the first place".
The Tory leader challenged Ms Sturgeon on the issue at the first session of First Minister's Questions at Holyrood since May's election, in which the Tories overtook Labour to become the second largest party in the parliament.
Ms Davidson said: "The First Minister said publishing more information and more data was vital if we are to improve our schools, but it now appears she is backing off from her own original plans, why hasn't she stuck by them?"
She added: "They are backing off from it, that is what they have told the teachers across our country.
"The First Minister and I absolutely agree this needs to be done. We will stick by our guns. Why isn't she sticking by hers?"
But Ms Sturgeon said: "The leader of the main opposition party may have changed but there doesn't appear to be any greater ability on that leader's part to adapt her questions to the answers she is given.
"Let me try and make it clearer. All of the data that the National Information Framework says will be gathered and published will be gathered and published.
"That has not changed. That remains the case now in the way that it was when I published the National Improvement Framework, no change whatsoever to that."
The clash came days after new figures showed numeracy levels in Scotland'sschools have fallen
The Scottish Survey of Literacy and Numeracy (SSLN) showed "a third of S2 pupils aren't meeting basic standards in numeracy", Ms Davidson said, adding that "the attainment gap between children from richer and poorer backgrounds has under the SNP got wider".
The First Minister said: "The findings of the SSLN are not acceptable to me."
She said the Scottish Government has "embarked on a major programme of reform and improvement in our education system", with the provision of better data a "key part" of that.
She added that the SSLN is "limited in its coverage", saying the information is drawn from a sample that includes just four pupils per primary school and 12 pupils per secondary.
The SNP leader said: "It doesn't enable us to tell school-by-school how schools are performing, that is why the National Improvement Framework will lead to more comprehensive school-by-school data that allows us to target our efforts more closely."
But Ms Davidson pressed on whether the new standardised assessments are "going to give all the information she said the country needs".
The Tory leader said that when the First Minister was asked in January if all the data from tests would be published, she had answered "Yes".
Ms Davidson questioned that, saying: "Now we have the teachers' union, the teachers themselves, saying that is not what is happening."
But Ms Sturgeon insisted her Government is going further than any previous administration in the amount of information that would be made available.
She said: "What we are talking about publishing is information on the percentages of pupils, all pupils, not samples of pupils, all pupils and whether or not they meet the required levels of the Curriculum for Excellence on a local authority by local authority basis, and on a school-by-school basis.
"Detailed comprehensive information that allows us to tell not just a snapshot of how our education system is performing, but how each and every school across the country is performing. That means if we have to take action in particular areas or particular schools, that should be done.
"That is information that no previous government has published, that will be published for the first time and it is a sign of the determination I have to deal with the problem we're talking about."
She also made clear: "On the point about whether all pupils will be required to sit assessments, let me make it absolutely clear – yes, they will be. That is my expectation and that is what I intend to see happen.
"Clearly there will be some pupils who for very particular reasons, special needs for example, where there may be a different approach, but the general thrust of this is that these assessments will be carried out in our schools.
"That will inform the judgements that teachers make, that will lead to the publication of information which will give us for the first time a clear picture of what is happening in each of our schools. And then we will be able to take action if any particular school or if any particular area is not performing in the way we think necessary."
Labour leader Kezia Dugdale said Government cuts are "devastating" Scotland'sschools, as demonstrated by the "scandalous" decline in numeracy levels.
She said: "It is a disgrace. These stats are the reality of this Government cutting the education budget by 10%.
"You have been in power for nearly a decade now. Surely the First Minister regrets cutting the education and skills budget?"
Ms Dugdale continued: "Nicola Sturgeon needs to do the numbers and accept she can't cut the attainment gap whilst she is cutting school budgets.
"The SNP face an important choice – they can work with parties on the left to invest in education and skills or they can side with the Tories to impose even deeper cuts on our schools."
Ms Sturgeon rejected the view that she should choose between political sides, stating that the whole parliament should get behind a national priority to cut the attainment gap.
"I am on the side of Scotland's children and young people – nobody else," she said.
On funding, she added: "We have been very clear about the need to increase resources to tackle attainment. That's why the plans we set out in the election… are to increase funding by an extra £750 million over this parliament, specifically targeted at attainment.
"By the end of this parliament, we'll be spending an extra £500 million a year on early learning and childcare, because all of the evidence says that giving young people the best start to their educational life is key to solving this challenge.
"We are also getting more of that resource direct to head teachers.
"Not only are we going to increase the resource we are going to have a new funding formula so that that resource gets to the places it is needed the most."
---
READ MORE
Nicola Sturgeon aims to deliver 'excellence for all' with Scotland's education system
Nicola Sturgeon confident that Scotland will vote to remain in the European Union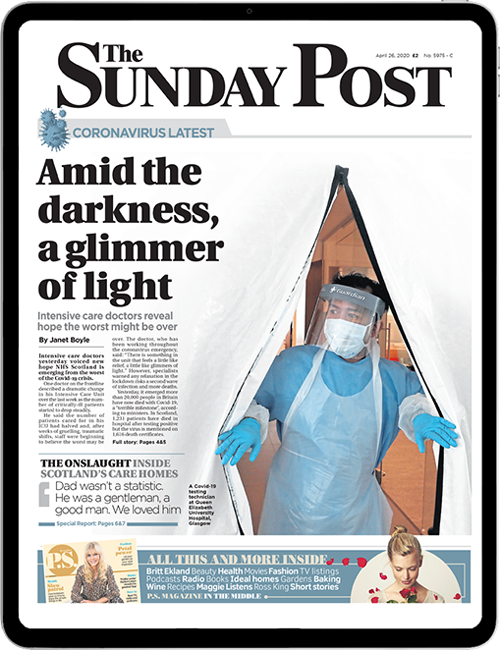 Enjoy the convenience of having The Sunday Post delivered as a digital ePaper straight to your smartphone, tablet or computer.
Subscribe for only £5.49 a month and enjoy all the benefits of the printed paper as a digital replica.
Subscribe