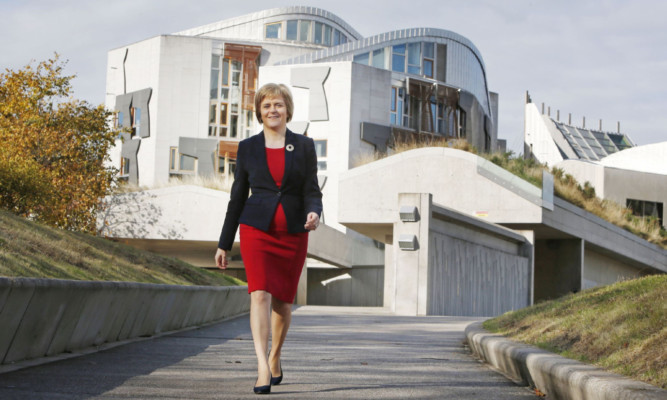 Ahead of the release of a new book, Nicola Sturgeon A Political Life by David Torrance, we publish extracts from the first biography of the First Minister.
"I was out every weekend clubbing and then panicking at the last minute while Nicola had everything done"
Nicola Sturgeon has spoken of being driven by a "very Scottish fear of failure", which stemmed in part from her working-class roots.
"I grew up in a working-class family in a working-class area," she reflected, "and was the first member of my family to go to university."
So it was perhaps no surprise that in her Freshers' Week at Glasgow University, she became friendly with two other students from working-class backgrounds, Caroline Summers, from Paisley, and Claire Mitchell, from Glasgow.
The trio became life-long friends and the paths taken by Mitchell and Summers one a partner in a law firm the other an advocate is one which Sturgeon could have followed if not for politics.
Mitchell said Sturgeon was "quite serious and focused when it came to work". She added: "She was fiercely bright, but more than that she was incredibly well organised a combination that can't be defeated.
"I was out every weekend clubbing and then panicking at the last minute while Nicola had everything done. She never missed a lecture."
During the referendum campaign, Mitchell spoke in support of the Union at a Better Together event but still got a message from Sturgeon to congratulate her on getting involved in politics.
"I was very touched when she sent that," recalled Mitchell. "That shows you the size of a person she was pleased someone was engaging, even though it was with the other side of the debate."
In November last year, Sturgeon was officially sworn in as First Minister in the Court of Session and Mitchell grabbed a picture of the pair after the ceremony.
She added: "It was an absolutely brilliant moment to see the first female First Minister of Scotland, my pal, being sworn in where I worked."
Summers recalled that Sturgeon was not that opinionated at university, at least not in a social context, "which made her easy company".
"We would have lively debates," said Summers, "but always in the context of our legal studies. She would do political stuff but kept it separate. She wouldn't badger us or evangelise."
After completing her diploma in 1993, Sturgeon became a trainee solicitor at McClure Naismith, an old and largely male-dominated Glasgow firm.
"We'd just come out of a recession," recalled Summers, "so the priority for graduates was getting a job and Nicola didn't have a wealthy family to fall back on."
During her two years with the firm, Sturgeon would have worked on litigation, property law and general commercial work but, by the end, as a partner at the firm remembered: "There was no question of Nicola staying on and I don't think she was surprised by that decision.
"She just wasn't a star she didn't show any great ambition to do what we did."
The partner added that Sturgeon was "not an unusually energetic or conscientious trainee it was quite clear even then that her interests didn't lie in becoming a solicitor or a lawyer".
Sturgeon ended up at the Drumchapel Law and Money Advice Centre which one confidant said "paid peanuts by comparison" with her previous employment, "but was where she felt comfortable".
Jim Gray, a solicitor who helped set up the advice centre, remembered Sturgeon initially being quite reserved.
At the same time, in other familiar descriptions, she was "driven".
"She was also quite an effective advocate and I used to get good feedback from people she represented," recalled Gray.
"Nicola often got good results for her clients she had a forceful although not aggressive style. She was very bright and very able and she was very committed to the work. It was not the sort of work you'd go into for money or the profile, so she clearly wanted to do it to help people."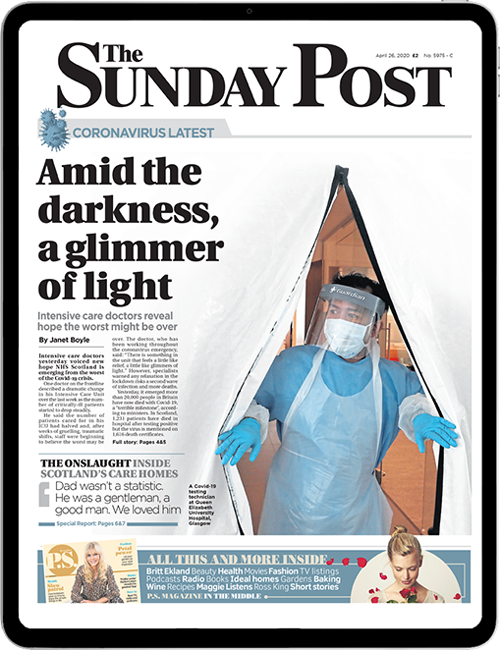 Enjoy the convenience of having The Sunday Post delivered as a digital ePaper straight to your smartphone, tablet or computer.
Subscribe for only £5.49 a month and enjoy all the benefits of the printed paper as a digital replica.
Subscribe