Unions have suspended further strikes by ambulance and other NHS staff and will recommend acceptance of a new pay offer to NHS workers.
The breakthrough follows days of talks with the Government over the long-running dispute over pay which has led to a series of walkouts by nurses, ambulance crews, paramedics, hospital porters and other health workers in recent months.
Ambulance members of Unison and Unite were due to strike next Monday and physiotherapists were going to walkout later this month but the action has been called off.
Unison said the offer to NHS workers in England includes an additional one-off lump sum for 2022-23 that rises in value up the NHS pay bands.
This is worth £1,655 for staff at the bottom of band two (for example porters, cleaners and healthcare assistants), £2,009 for staff at the top of band five (nurses, midwives, physiotherapists), £2,162 at the top of band six (paramedics, health visitors, senior occupational therapists) and £3,789 for staff at the top of band nine.
There will be a permanent 5% pay rise on all pay points for 2023-24.
Ministers said they could guarantee there will be no impact on frontline services as the result of the pay offer.
There will be further discussions between DHSC and the Treasury over how it will be funded, the PA news agency understands.
Union members will now vote on whether to accept the deal.
Unison's head of health Sara Gorton said: "It's a shame it took so long to get here. Health workers had to take many days of strike action, and thousands more had to threaten to join them, to get their unions into the room and proper talks underway.
"But following days of intensive talks between the Government, unions and employers, there's now an offer on the table for NHS staff.
"If accepted, the offer would boost pay significantly this year and mean a wage increase next year that's more than the Government had budgeted for.
"This is better than having to wait many more months for the NHS pay review body to make its recommendation.
"Unison will now be putting this offer to the hundreds of thousands of health members in the union in the next few weeks, recommending acceptance.
"In the coming days, health workers will have the chance to look at the full detail of what's on offer and decide whether that's enough to end the dispute. While that process takes place any planned industrial action will be paused."
Rachel Harrison, GMB national secretary, said the Government has gone from refusing to talk about pay this year to putting an extra £2.5 billion on the table.
She said: "GMB members should rightly be proud of themselves. It's been a tough road but they have faced down the Department of Health and won an offer that we feel is the best that can be achieved at this stage through negotiation.
"If the offer is accepted then it would meet a key GMB demand of a huge pay uplift for the lowest paid to keep them well above the Real Living Wage.
"Progress has also been made on non-pay demands, such as addressing violence in the workplace.
"This offer is far from perfect, and of course our NHS workers deserve more. GMB's national committee is recommending that the offer be accepted – but the final decision belongs to our members.
"Strike action will be paused until the outcome of the ballot."
Elaine Sparkes, assistant director of employment relations at the Chartered Society of Physiotherapy, said: "It is without question the case that the courage and determination shown by CSP members and other NHS staff in taking widespread strike action is what brought the government back to the negotiating table, albeit belatedly.
"For many months the government refused to discuss any additional pay rise for 2022-23, a position they have now had to reverse.
"We always aim for consolidated pay rises. This new offer equates to a one-off payment of around £2,000 for most NHS staff, in addition to the £1,400 consolidated rise already in place.
"Although non-consolidated, this would go some way to offsetting what will have been a very difficult winter for many."
Health Secretary Steve Barclay said "balance was required on both sides" to reach an agreement.
Asked why the Government had not offered something regarding this year's pay at an earlier point in negotiations, he said: "We have listened to the concerns of the trade unions, we've had meaningful discussions with them. Both sides have engaged constructively.
"Obviously the starting position from a number of the unions was much higher and so both sides have worked together to reach a settlement which is both affordable to the wider taxpayer and then balances the very real pressures we recognise that NHS workers have been on.
"So balance was required on both sides, that is what the talks explored."
Prime Minister Rishi Sunak said the deal is "affordable for the taxpayer and continues to deliver on my promise to halve inflation".
TUC general secretary Paul Nowak said: "As unions consult their members over the proposed NHS pay offer, it's important to recognise the stand taken by each and every union member who took and voted for strike action over the last few weeks and months.
"It's down to them that the Government finally came to the negotiating table.
"It's now essential that ministers sit down for meaningful talks with education and civil service unions.
"These disputes can be resolved if the Conservatives are willing to act in good faith and deliver on fair pay."
Royal College of Nursing (RCN) general secretary Pat Cullen said: "The Government was forced into these negotiations and to reopen the pay award as a result of the historic pressure from nursing staff. Members took the hardest of decisions to go on strike and I believe they have been vindicated today.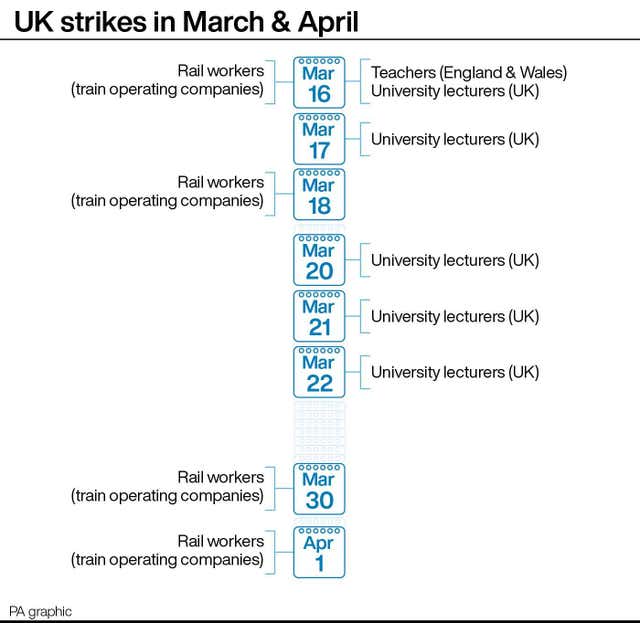 "After tough negotiations, there are a series of commitments here that our members can see will make a positive impact on the nursing profession, the NHS and the people who rely on it.
"Our members will have their say on it and I respect everybody's perspective. Each should look closely at what it means for them.
"As well as the additional money now, we have made real progress with the Government on safe staffing measures, a new pay structure for nursing, support for newly qualified staff and pensions too.
"It is not a panacea but it is real tangible progress and the RCN's member leaders are asking fellow nursing staff to support what our negotiations have secured."
But Matthew Taylor, chief executive of the NHS Confederation, warned that the NHS does not have the money "just lying around" to fund the pay offer itself.
He told Channel 4 News that it will be "very important that we find out in the next few days how we're going to meet this extra cost".
Mr Taylor added: "The Government has said in its press release today that the cost of this will be met without any impact on patient services or quality of care. Well, that's a good guarantee. And we'll want to see that being delivered on in the next few days.
"There's no way that the NHS can find one-and-a-half, two billion, two-and-a-half billion pounds without an impact on patient services or quality of care. We don't have that money just lying around."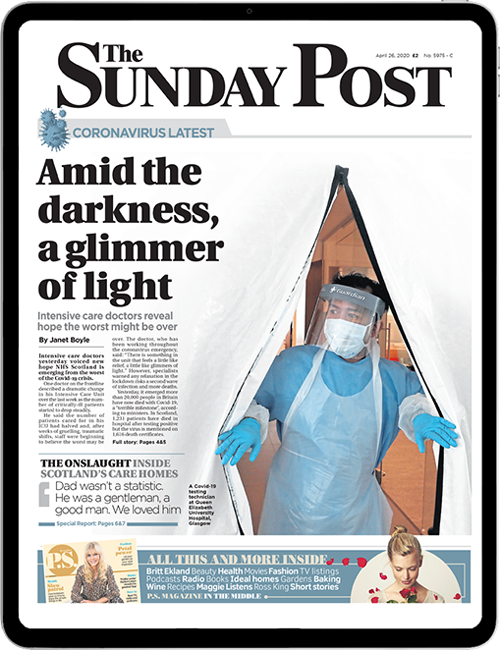 Enjoy the convenience of having The Sunday Post delivered as a digital ePaper straight to your smartphone, tablet or computer.
Subscribe for only £5.49 a month and enjoy all the benefits of the printed paper as a digital replica.
Subscribe