The millions spent by the Government on buying extra care home beds will not address the long-term root cause of the issues, a senior social care figure has said.
Ministers will spend up to £200 million buying thousands of extra care home beds to speed up the discharge of hospital patients and reduce the strain on hospitals.
Health Secretary Steve Barclay will also announce £50 million additional capital funding for hospitals on Monday as the Government comes under intense pressure to alleviate the crisis in the NHS.
Professor Martin Green, chief executive of Care England, which represents independent adult social care providers, said ministers "never, ever understand that they should learn from their mistakes", and that he is not clear on how the latest plan differs from the previous initiative.
He told BBC Radio 4's Today programme: "I also think that a lot of the challenges we face are because successive governments have failed to find a proper approach to social care.
"And what we're seeing now is the fact that people are going into crisis and then going into hospital.
"So what this new money might do is it might alleviate an immediate problem but it will not get to the long-term root cause of the issues."
Labour criticised the plans as "yet another sticking plaster" rather than an attempt to fix "buckling" health and care services.
The Royal College of Nursing (RCN), which is undertaking strike action over pay, argued the strategy "won't make a difference" without halting the "exodus" of staff.
Some of the strain on the NHS comes from around 13,000 people occupying hospital beds in England – despite being medically fit to discharge – because they need further care before going home.
Mr Barclay is committing funding to immediately buy short-term placements in community settings, including care homes, to fund stays of up to four weeks per patient until the end of March.
He hopes thousands of extra patients will be discharged in the coming weeks, freeing up much-needed hospital beds.
If successful, this will reduce pressure on A&Es and speed up ambulance handovers by allowing patients to be admitted to wards from emergency departments more quickly.
Rather than new beds funding coming from the Treasury, the Department of Health and Social Care (DHSC) said up to £200 million will be redirected from existing health budgets to fund the scheme.
The additional £50 million coming from the DHSC's capital budget will be used to expand hospital discharge lounges and ambulance hubs to help tackle queues of paramedics waiting to hand over patients.
Mr Barclay said: "The NHS is under enormous pressure from Covid and flu, and on top of tackling the backlog caused by the pandemic, Strep A and upcoming strikes, this winter poses an extreme challenge.
"I am taking urgent action to reduce pressure on the health service, including investing an additional £200 million to enable the NHS to immediately buy up beds in the community to safely discharge thousands of patients from hospital and free up hospital capacity, on top of the £500 million we've already invested to tackle this issue."
Shadow health secretary Wes Streeting said "the front door to the NHS is broken".
He told ITV's Good Morning Britain: "We do need to rethink how we're delivering healthcare in this country because one of the reasons our hospitals are blocked up is because the front door to the NHS is broken.
"In October, more than two million people waited more than a month to see a GP, and that's despite the fact that GPs are providing more appointment slots now than they did pre-pandemic.
"It's just that the system is broken; we've lost almost 5,000 GPs in the last decade.
"We actually need more GPs, and Labour's got a fully costed, fully funded workforce plan to deliver more GPs, but we might want to change the way in which GPs are employed."
RCN England director Patricia Marquis said the "aspiration in this policy is right".
"But the lack of beds in social care isn't really the problem, it's the lack of staff," she added.
"Without investment in staff, providing more facilities – whether it's more beds in care homes or hospitals – won't make a difference.
"Nursing staff are leaving the profession in their droves and pay is a key factor. To halt the exodus, ministers must pay them fairly."
Prime Minister Rishi Sunak and Mr Barclay hosted health leaders in Downing Street for emergency talks on Saturday as A&E units struggle to keep up with demand and trusts and ambulance services declare critical incidents.
The wave of strikes is adding to the pressure and the Health Secretary will host union leaders for talks on Monday.
But nurses are set to walk out on another two days this month without a breakthrough, which looks unlikely with Mr Barclay unwilling to negotiate on this year's pay settlement.
In an oral statement to MPs, he will also set out a series of other measures aimed at addressing the pressures facing the NHS this winter.
They will include six areas trialling longer-term solutions to free up hospital beds and ensure patients get the care they need.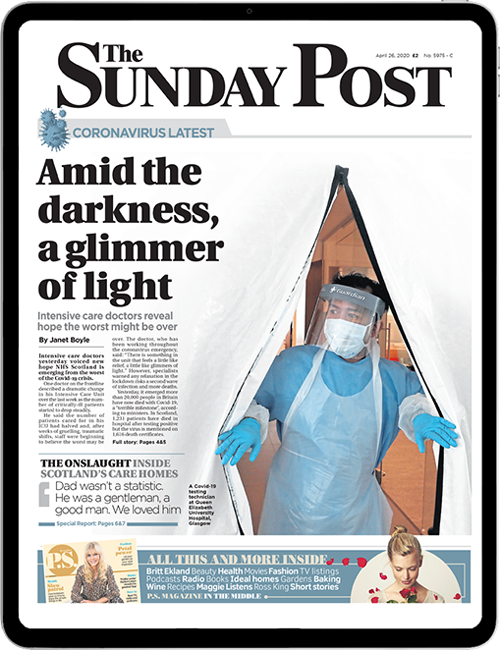 Enjoy the convenience of having The Sunday Post delivered as a digital ePaper straight to your smartphone, tablet or computer.
Subscribe for only £5.49 a month and enjoy all the benefits of the printed paper as a digital replica.
Subscribe