The Ministry of Defence has been criticised for "longstanding weaknesses" in how it manages spare equipment and supplies, with warnings that delivery to the front line is being put at risk.
The National Audit Office flagged concerns about how the defence department manages its £11.8 billion portfolio of missiles, bombs, spare vehicles parts, boots and other pieces of equipment.
A 44-page report warned that under-resourcing and a complex system were hampering the MoD's inventory management.
It also found a large build-up of "excess" and "obsolete" stock in warehouses, with 105,500 cubic metres of items stored that are unfit for use.
Auditors found that while progress had been made, including on the removal of financial incentives for over-purchasing, weaknesses remained.
They found that a "siloed" approach had created a "fragmented organisation", while out-of-date IT systems were posing difficulties.
The report said: "Many of these systems are old, increasing the risks of failure and the expense of supporting them. For example, each command operates its own core inventory management system, two of which are nearly 40 years old. Systems often cannot easily communicate with each other, requiring inefficient manual interventions."
The NAO also found that "staffing pressures are currently posing risks to delivery to the front line".
The Defence Equipment and Support body, which is responsible for delivering equipment, told the spending watchdog it had reduced the number of inventory manager posts over time as part of workforce reduction targets.
Auditors also found that the level of staffing for inventory managers was "outdated".
NAO head Gareth Davies said: "It is vitally important that the UK armed forces have the inventory they need, amid growing global instability and given the plans for an increased deployed presence set out in the Government's Integrated Review.
"The Ministry of Defence has taken steps to improve its inventory management, and these have resulted in improvements in logistics and commodity procurement and reductions in over-purchasing. However, long-standing weaknesses with its inventory management remain, primarily from legacy IT systems.
"The MoD must ensure it prioritises the resources it needs for its transformation programmes, otherwise its ability to build resilience and deploy the people and equipment it needs in the right places will be frustrated."
An MoD spokesman said: "We have made vast improvements to the way we manage inventory, including a modernised information system, and rationalising and reducing the number of logistics systems from 250 to 89 over the past 12 years.
"We make sensible judgments to balance having the right equipment and material to support our operations with the costs associated with holding and storing it, whilst delivering value for money for the taxpayer."
But Labour said that the report was another sign that the Tories had "hollowed out" the armed forces.
Maria Eagle, the shadow minister for defence procurement, said: "This report confirms that serious mismanagement of stockpiles has allowed military equipment to expire, critical capabilities haven't been replenished and a fifth of UK stocks are unusable.
"Billions of pounds of taxpayers money is being wasted by MoD mismanagement with the risk of leaving our troops without the kit they need to fight and fulfil our Nato obligations.
"This is costing British Forces and British taxpayers."
She added: "Labour has long argued that Ministers must bring forward a stockpiles strategy to replenish our Armed Forces and continue our support for Ukraine. Labour in Government would also ask the NAO to conduct a comprehensive audit of MoD waste."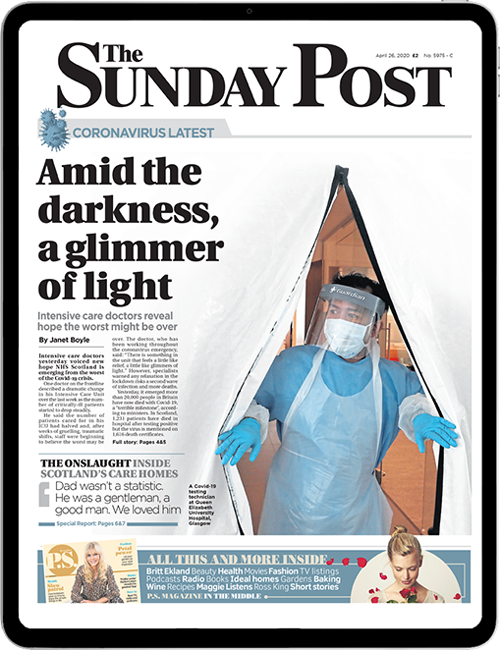 Enjoy the convenience of having The Sunday Post delivered as a digital ePaper straight to your smartphone, tablet or computer.
Subscribe for only £5.49 a month and enjoy all the benefits of the printed paper as a digital replica.
Subscribe