Millions of people with mental health problems, including children with eating disorders, are missing out on NHS treatment or face lengthy waits, the National Audit Office (NAO) has said.
In a new report, the watchdog said that while the number of people getting care has increased overall to 4.5 million in England, some targets are not being met and do not even apply to the bulk of inpatient or community treatment.
The NAO pointed to a growing crisis within the NHS workforce, saying there were more staff, but overall shortages "remain the major constraint to improving and expanding services".
It pointed to problems recruiting and retaining mental health workers, including psychologists, with 17,000 staff (12%) leaving in 2021/22, up from 13,000 (9%) a year earlier.
Its study concluded that while there has been a 22% rise in mental health staff over the last five years, there has been a 44% rise in referrals for help, to 6.4 million in 2021/22.
An estimated 1.2 million people are on the waiting list for community-based NHS mental health services, with eight million more having mental health needs, but not yet in contact.
The NAO said current mental health services are under "continued and increasing pressure", with many people using them also reporting poor experiences.
For example, the number of patients placed inappropriately in hospitals outside their local area, which indicates a shortage of beds locally, has averaged above 600 per month since April 2021, despite a long-standing ambition to eliminate this practice.
NHS mental health trusts also told the NAO that, due to increasing demand, they had allowed waiting times and lists to increase, while almost half of trusts (15 out of 33 surveyed) had raised the thresholds for when they would treat someone. Others said they had made cuts to services.
The NAO also found that some groups in particular had poorer experiences accessing or using services, including children and young people and those with a complex diagnosis.
"While overall service activity has increased, the NHS has missed targets for specific service areas," the NAO said.
"For children and young people's services, NHS England reported that before the pandemic the NHS was on track to treat the higher numbers of people it planned to, but for 2021-22 it was 3% below target for 0 (birth) to 17-year-olds.
"For talking therapy services, the number of people accessing the service was below target before the pandemic, while in 2021-22, 1.2 million people accessed the service, 22% below the target of 1.6 million."
The NHS has achieved waiting times standards aimed at getting people into treatment quickly for things such as talking therapies, the NAO said, but has not met its targets for eating disorders services for youngsters, despite the target being set for 2020/21.
The watchdog noted the Covid pandemic had disrupted NHS performance, adding: "During April–June 2022, 68% of children and young people who were urgently referred to eating disorder services were seen within a week, against a standard of 95%."
In conclusion, the NAO warned that plans to expand services "still leave a sizeable gap between the number of people with mental health conditions and how many people the NHS can treat."
Gareth Davies, head of the NAO, said: "With demand for mental health services having increased since the pandemic and being expected to increase further in the coming years, it is vital that DHSC and NHSE define what is required to meet the growing demand."
NHS Providers' deputy chief executive, Saffron Cordery, said "overstretched mental health services are under huge pressure", adding: "We need long-term, sustainable investment and support for services, and the mental health workforce that is essential to delivering high-quality care, in order to continue to improve access to mental health care.
"Levels of support and investment also need to match growing demand.
"Services are seeing many people, often with more complex needs, as a result of the Covid-19 pandemic and now the cost-of-living crisis is having an increasing impact.
"More than 70% of NHS trusts said last autumn that they had seen more people coming to them due to stress, debt and poverty."
An NHS spokesman said: "The NHS has transformed mental health services over the past few years and, as acknowledged in this report, the NHS is providing mental health support to more people than ever before with over 4.5 million accessing care last year backed by the largest mental health workforce in NHS history.
"A record 674,485 young people accessed NHS care last year, up nearly a third compared to the start of the NHS Long Term Plan, including 12,457 young people accessing eating disorder treatments, up 55% compared to pre-pandemic, so anybody needing care should come forward for support."
A Department for Health and Social Care spokeswoman said: "We are increasing investment in mental health services by over £2 billion a year by 2024, and delivering 27,000 more mental health professionals, so two million more people will be able to get the mental health support they need.
"We also provided an additional £500 million for 2021/22, to accelerate our NHS mental health expansion plans and to target groups whose mental health have been most affected by the pandemic."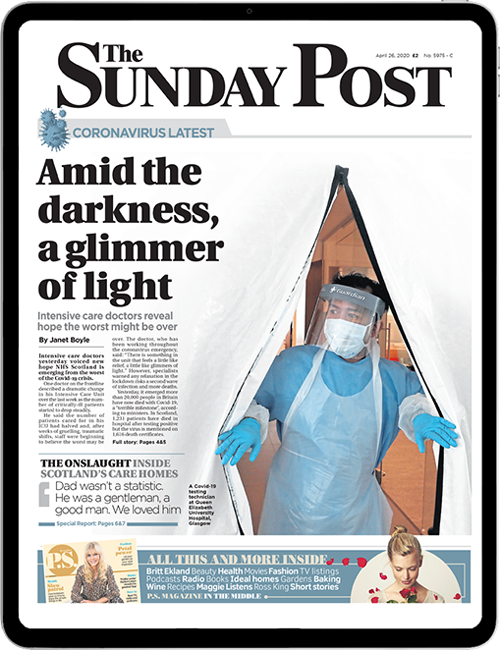 Enjoy the convenience of having The Sunday Post delivered as a digital ePaper straight to your smartphone, tablet or computer.
Subscribe for only £5.49 a month and enjoy all the benefits of the printed paper as a digital replica.
Subscribe