British filmmaker Ken Loach has voiced strong criticism of Sir Keir Starmer and Labour's handling of disputes, especially those related to allegations of antisemitism.
A staunch supporter of Jeremy Corbyn, Loach rejoined the Labour Party in 2017 but faced expulsion in 2021 during the party's antisemitism crackdown.
He has consistently challenged such allegations, hinting at political motivations aimed at destabilising the leadership of the former Labour leader.
Appearing on BBC Radio 4's World At One programme to discuss his new film The Old Oak, Loach expressed his profound lack of confidence in Sir Keir, suggesting he often backtracks on his statements.
He also claimed Jewish members of the Labour Party are "four times more likely to be expelled than non-Jewish members".
Asked about Labour's position on migration, given his new film is a story of two traumatised communities thrown together when a group of Syrian refugees is housed in a neglected former mining village in the north east of England, he said: "I have no confidence in Sir Keir Starmer whatsoever.
"Everything he says he rejects a few months later. I don't believe a word the man says. And I don't think people should either.
"They moved so that they are one millimetre closer to the centre than the Tories. I have no trust in Starmer personally or the clique he represents."
On whether his criticism of Sir Keir stems from the fact that "in your own words, you said you were kicked out of the party", the director and screenwriter, 87, replied: "It was like an abusive relationship, to be honest.
"I mean, the Labour Party is … its whole processes of dealing with disagreements is very flawed. I mean, it's something I think BBC News should examine more closely.
"The fact that now, I think, Jewish members of the Labour Party are four times more likely to be expelled than non-Jewish members."
The interview with BBC presenter Sarah Montague then took a particularly heated turn when she told him the Campaign Against Antisemitism complained to the BBC about their involvement in one of his other films because of his "appalling" views on antisemitism.
In response, Loach accused the public broadcaster of diverting serious conversations into "fraudulent campaigns" aimed at discrediting interviewees.
He said: "Have you got any evidence for that?
"Because otherwise, if you have no evidence, I think you should withdraw it. You're now purveying another misleading, insulting misrepresentation."
He went on: "I think the way you and the BBC constantly divert serious conversations into this fraudulent campaign in order to discredit people that you choose to interview on another premise, I think that's disgraceful."
Ms Montague told listeners the exchange on whether the BBC should have asked him about allegations of antisemitism was "much, much longer, but as it involved a lot of heat, but not much light, we edited it down".
She added: "We also asked Labour if Mr Loach was right when he says that Jewish Labour members are four times more likely to be expelled from the party than non-Jewish members.
"A spokesperson came back from Labour saying the implication of deliberate targeting made by Mr Loach is completely false and not based in reality. Indeed, it isn't even clear from this quote on what statistically reliable basis Mr Loach is attempting to justify such a claim."
The Labour Party has been approached for comment.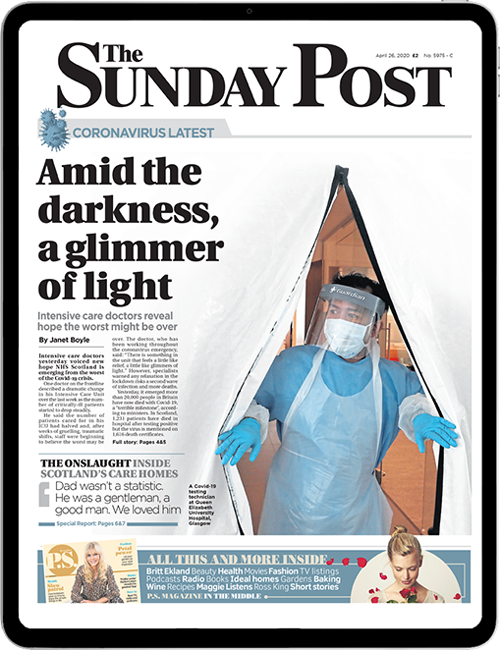 Enjoy the convenience of having The Sunday Post delivered as a digital ePaper straight to your smartphone, tablet or computer.
Subscribe for only £5.49 a month and enjoy all the benefits of the printed paper as a digital replica.
Subscribe