Junior doctors will launch a three-day strike on Monday ahead of a week of walkouts which will include one of the biggest days of industrial action for years.
Members of the British Medical Association (BMA) in England will mount picket lines outside hospitals across the country in the longest ever period of strikes by junior doctors.
The BMA launched an advertising campaign which said junior doctors could earn more money "serving coffee than saving patients".
Members of several trade unions will strike on Budget day in what will be one of the biggest single days of industrial action for years.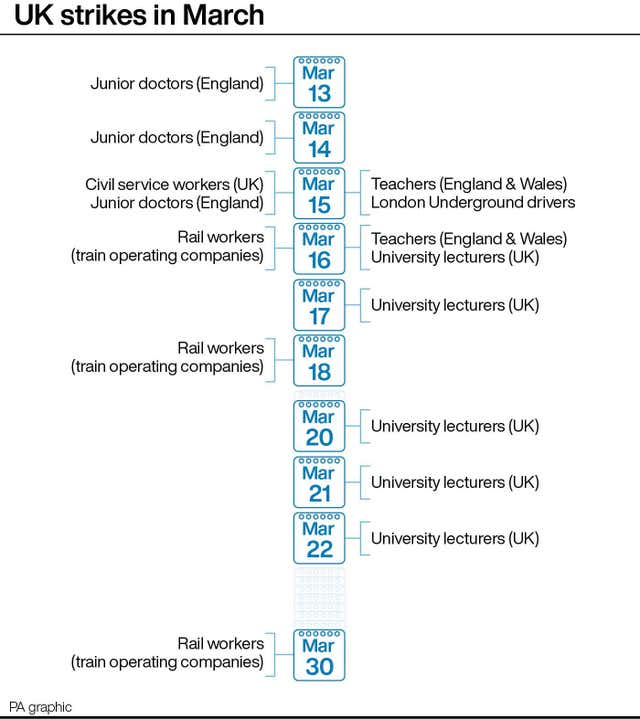 Workers taking action include civil servants, teachers, university staff, London Underground drivers and BBC journalists.
Rallies and demonstrations will be held across the country, including a big protest in Westminster.
Public sector unions have criticised the Government over its handling of the pay disputes, which have been escalating for months.
Progress has been made in Wales and Scotland after negotiations with ministers, but unions say the Westminster Government is taking a completely different approach.
The BMA said newly qualified medics earn £14.09 an hour, less than a barista in a coffee shop, adding that junior doctors in England will have suffered a 26% real-terms cut to their pay since 2008/09.
An advertising campaign launched by the trade union says: "Pret a Manger has announced it will pay up to £14.10 per hour. A junior doctor makes just £14.09. Thanks to this Government you can make more serving coffee than saving patients. This week junior doctors will take strike action so they are paid what they are worth."
Dr Becky Bates, a first-year junior doctor in the Midlands, said: "I thought by being a doctor I would be able to achieve financial independence, but instead I am still completely dependent on others.
"With tuition fee loans, credit cards and personal loans, I've left medical school with over £100,000 debt, and now my wages are not even enough to allow me to fix my car when something goes wrong.
"I come from a single-parent family. I don't come from money, yet at 28 I am relying on my mother taking out credit card debt so I can meet these expenses. It's humiliating for me and it's not fair on her.
"As a junior doctor, I can be responsible for more than 400 patients overnight – assessing them, prescribing medication, having really difficult conversations with families about end-of-life care, and I am the first port of call should something go terribly wrong. Yet our skills and responsibilities are completely devalued.
"My situation is far from unique, and this is why me and the overwhelming majority of my colleagues have been forced to take to the picket line this week."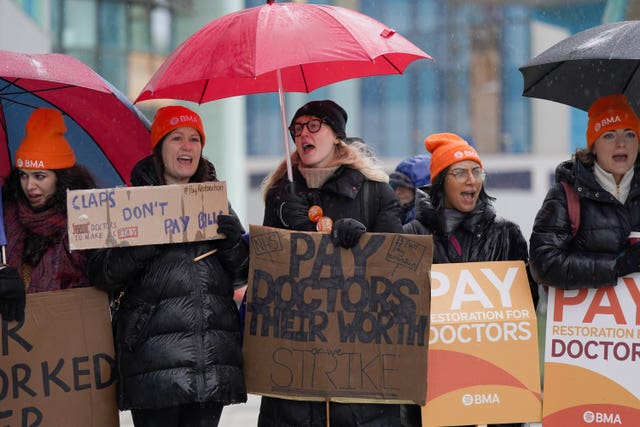 Dr Robert Laurenson and Dr Vivek Trivedi, BMA junior doctors committee co-chairs, said: "Is £14.09 an hour really all junior doctors are worth? These are people who can be providing life-saving care, having trained intensively at medical school, and racking up around £100,000 worth of debt in the process.
"We are fully supportive of any worker getting an inflation-matching pay rise, and it is worth thinking on the fact that the Government has cut junior doctors' pay by so much that they could earn more serving coffee.
"Is it any surprise that junior doctors are looking for jobs abroad or in other fields when the Government is telling them they are worth more than a quarter less than they were in 2008?
"Losing such valuable clinicians to other countries and professions when waiting lists are at record highs means patients will suffer even more than they are already.
"This is why doctors are going on strike. We are fighting to restore our pay. We are fighting to restore our value. We are fighting to restore our workforce to make the NHS an effective healthcare system again."
Prime Minister Rishi Sunak told reporters on his flight to the US: "It is very disappointing that the junior doctors' union are not engaging with the Government.
"We are actually having constructive dialogue with other unions who have accepted our offer to come in and talk through it.
"As you have seen with rail… they have put an offer to their members, we are having constructive dialogue with the nurses' unions and all the other healthcare unions and I would urge the junior doctors to follow suit, and accept the Government's offer to come in and have talks, the other unions have done that and we are making progress."
Health and Social Care Secretary Steve Barclay said: "It is incredibly disappointing the British Medical Association (BMA) has declined my offer to enter formal pay negotiations on the condition strikes are paused.
"I hugely value the hard work of junior doctors and urge unions to come to the negotiating table and cancel strikes which risk patient safety and impact efforts to tackle the backlog. I want to find a fair settlement which recognises the crucial role of junior doctors and the wider economic pressures facing the UK.
"I've been having constructive and meaningful talks with unions representing nurses, ambulance workers and other non-medical staff, which have agreed to pause strike action, and negotiations will continue this week.
"We have been working closely with NHS England on contingency plans to help protect patient safety during strikes, prioritising emergency, urgent and critical care – but there will inevitably be some disruption for patients."
NHS leaders have said they are very worried that the walkout by junior doctors will take disruption caused by recent strikes to the next level, posing a risk to patient safety and setting back work to bear down on care backlogs.
Talks between the Government and other health unions will continue this week, holding out hope of a breakthrough in the long-running NHS pay dispute.
London Underground services will be crippled on Wednesday because of a strike by members of Aslef and the Rail, Maritime and Transport union in a row over pensions and conditions.
Finn Brennan, Aslef's full-time organiser on the Underground, said: "This is not a strike about pay or for more time off. It is about making sure that change and "modernisation" comes about by agreement.
"Central government has used the effects of the pandemic to insist that Transport for London targets staff pensions and working conditions.
"They have no problem bailing out the banks or handing out billions of pounds in dubious contracts to their chums but they refuse to properly fund vital services like public transport in this country.
"The Government wants London Underground staff to fill the hole in it has made in TfL's budget by accepting huge cuts to their pension benefits and changes to working conditions that would destroy our work/life balance and slash their income in retirement.
"Aslef members just aren't prepared to accept that. That is why we are on strike this week.
"We are always prepared to discuss and negotiate but we need TfL to accept that any change is not imposed but has to come by agreement."
Rail services will be disrupted because of strikes by the RMT on Thursday and Saturday at a number of train operators which will lead to widespread cancellations.
Members of the GMB union working for Amazon in Coventry will strike all week in a pay dispute.
Shadow health secretary Wes Streeting said: "Rishi Sunak has learned nothing from his failed approach to strikes in the NHS, which have already led to 140,000 cancelled operations and appointments.
"He's repeating the same mistakes again by refusing to negotiate with junior doctors, the very doctors who represent the future of the NHS.
"Patients won't forgive Rishi Sunak for not even trying to stop these strikes going ahead, when they could be catastrophic for patient safety."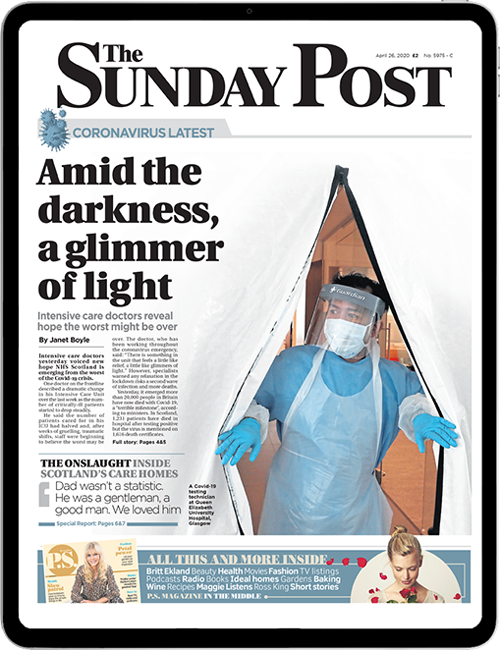 Enjoy the convenience of having The Sunday Post delivered as a digital ePaper straight to your smartphone, tablet or computer.
Subscribe for only £5.49 a month and enjoy all the benefits of the printed paper as a digital replica.
Subscribe