Government efforts to improve the natural environment in England are falling "far short" of what is needed, its green watchdog has warned.
Office for Environmental Protection (OEP) chairwoman Dame Glenys Stacey said there was "little good news to report" in the watchdog's new assessment, with extremely worrying environmental trends such as declines in wildlife continuing.
The report warns the Government is not "demonstrably" on track on any of the 23 environmental targets – covering things from clean air and water to thriving plants and wildlife – which it looked at.
The watchdog was set up as part of the post-Brexit regime for managing England's environment, with a role of monitoring progress on reversing harm to the natural world and acting as a regulator on green laws.
The progress report from the OEP concludes that the current pace and scale of action will not deliver the changes needed to improve the environment in England significantly and deliver on the Government's ambition to leave it in a better state for future generations.
The legally required assessment from the watchdog covers progress in the year to March 2022, and looked at 32 trends across the natural environment.
It found nine were improving, 11 were static and eight were deteriorating.
It points to some improvements in air quality in recent years, an increase in people's engagement with nature, and some progress on tackling climate change, with England's greenhouse gases reducing overall.
But it says there is a "chronic decline in species abundance" across marine, freshwater and land wildlife, and the condition of habitat and land that is essential to threatened species has continued to deteriorate.
The Government is legally required to halt declines in species abundance by 2030, and the OEP report said it must "change gear immediately" to provide bigger, better and more joined-up habitats.
It also said the Government must incentivise famers and landowners to play their full part in delivering environmental goals.
Ministers need to take account of the likely future climate as they make plans for the environment or risk being outpaced by the changes that are happening, the report said.
On the 23 environmental targets looked at, in 14 of them Government progress was not on track, and in some cases significantly so, while nine could not be assessed.
Government data shows many targets, including improving water quality and halting declines in species populations, are at significant risk of being missed, the report said.
Progress towards adapting to a changing climate is poor, the OEP warned.
The Government's 25 Year Environment Plan is its first Environmental Improvement Plan, which is required under the 2021 Environment Act, and was assessed by the OEP for the report.
Dame Glenys said: "Progress on delivery of the 25 Year Environment Plan has fallen far short of what is needed to meet Government's ambition to leave the environment in a better state for future generations.
"There have been recent improvements in air quality and people's engagement with nature, as Covid lockdowns changed the way we live our lives.
"But many extremely worrying environmental trends remain unchecked, including a chronic decline in species abundance.
"Using the data and information available, our assessment shows that the current pace and scale of action will not deliver the changes necessary to significantly improve the environment in England."
But she said there was a clear opportunity to change course, with the Government due to publish a refreshed long-term Environmental Improvement Plan later in January.
She called for meaningful cross-departmental plans to protect, restore and improve the environment, a "true focus" on delivery, and for the Government to be bold and prioritise the areas that most need attention.
Philip Dunne, chairman of the parliamentary Environmental Audit Committee, said: "It is deeply disappointing that progress against so many crucial targets is falling short of what is needed to secure nature recovery.
"We face a nature and climate emergency and the importance of restoring nature cannot be overestimated.
"In its refreshed Environmental Improvement Plan, due to be published shortly, the Government has the opportunity to set clear and ambitious – but achievable – targets to address the worrying decline of nature."
A Defra spokesperson said: "Since the publication of the 25 Year Environment Plan in 2018, we have funded new nature recovery projects spanning over 120,000 hectares, increased our tree planting rates and started work on the restoration of our peatlands at a landscape scale.
"Our international efforts through our presidency of Cop26 and leadership at Cop15 also placed nature at the heart of tackling the twin challenges of climate change and biodiversity loss.
"Building on our landmark Environment Act and its ambitious long-term targets, our Environmental Improvement Plan will soon set out the comprehensive action this Government will take to reverse the decline in nature, achieve our net zero goals and deliver cleaner air and water."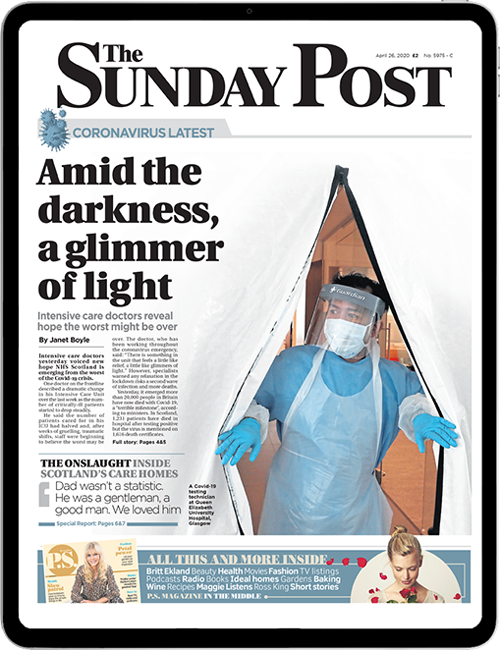 Enjoy the convenience of having The Sunday Post delivered as a digital ePaper straight to your smartphone, tablet or computer.
Subscribe for only £5.49 a month and enjoy all the benefits of the printed paper as a digital replica.
Subscribe