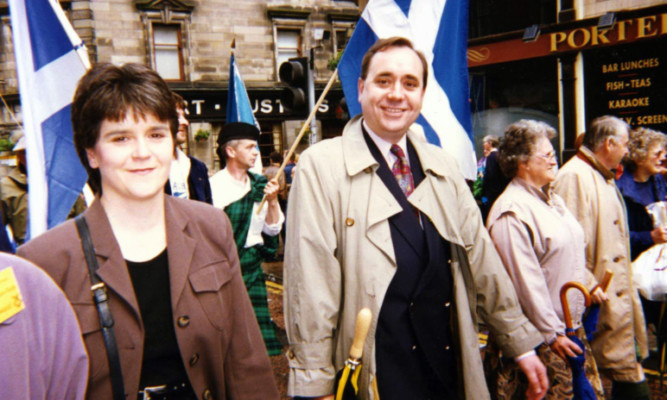 The youngster at the door is about to become Scotland's first female First Minister
Standing in front of 50 battle-weary SNP members, Kay Ullrich pointed to the 21-year-old law student next to her and said: "This lady here will be the first female leader of the SNP one day."
Nicola Sturgeon blushed and smiled, her mother Joan in the back row of the meeting beamed with pride.
The scene was the 1992 candidate selection meeting for the then lost cause Westminster seat of Glasgow Shettleston.
Miss Sturgeon was selected for the seat as the party's youngest-ever candidate and lost, but has never really looked back in a political journey which will next month see her installed as Scotland's first female First Minister.
Kay Ullrich, a former SNP West of Scotland MSP, has known Nicola since she was 16 when the youngster chapped her door to get involved with her bid to become MP for Cunninghame South in 1987.
Speaking from her Ayrshire home, the 71-year-old recalled: "She said, 'Hello, Mrs Ullrich. Can I help with your campaign?', so of course I whipped her in as soon as I could.
"It was a bad time for the SNP in the 1980s but we had quite a wee group of young nationalists and you could tell she was one for the future.
"She integrated quickly, she had been motivated by her modern studies teacher, Mr Kelso, at Greenwood Academy who also taught both my children he was a fine teacher."
Last week, within a day of Miss Sturgeon being confirmed as the next SNP leader and First Minister in waiting, she sold out 12,000 tickets for a rally in Glasgow's Hydro at the end of next month.
The party has also more than trebled its membership in the weeks since losing the referendum, but it is a position which sharply contrasts with the situation in 1987.
"If Nicola Sturgeon had been politically ambitious she wouldn't have joined the SNP in 1987, it was not exactly a career path," explained Mrs Ullrich. "She chose the SNP, which was unusual.
"I ran in 1983 and 1987 locally and I knew it was 'Sister Anna with the banner' time but Nicola still turned up and really got caught up in it all.
"She remained a member of our constituency but then, five years later, she stood as a candidate in her own right as a 21-year-old.
"I spoke at her adoption meeting. I said, 'This lady here will be the first female leader of the SNP one day,' and I meant it.
"So Nicola started going to party conferences and then, in 1999, I was in the Scottish Parliament as health spokesperson and she was there too as education spokeswoman, and I just saw her just blossom and blossom as the years went on."
Mrs Ullrich added: "She was determined but her motivation was a social conscience.
"I'm too past it to give you any guff this was clearly a girl with a social conscience.
"Poverty drives her. You've got to remember the school she came from at that time was predominately working class and in the 1980s she saw poverty in full effect."
As well as vouching for her in 1992, Mrs Ullrich signed Miss Sturgeon's nomination to be leader in 2004 before she ultimately stood aside to allow Alex Salmond to return and again this month when she went for the top job.
Asked if missing out on becoming SNP leader was a blow the last time round, the former social worker who is in her 50th year as an SNP member said: "I don't think so. Nicola wanted to be leader but when Alex came back, it enabled her to serve an apprenticeship, and boy, has she proved herself.
"I think she just recognised that Alex Salmond was the guy, the best option for that time."
Mrs Ullrich thinks the welcome "headache" for Miss Sturgeon is the extra members who have joined the SNP.
She said: "The problems created since the referendum is 50,000 members. She is going to have to be all encompassing.
"These are people who have not been political before and it will require a special approach to take everyone with her.
"As First Minister it will be a different style. For one thing she is a woman, and she will care about all of the people in Scotland.
"And I hope she does have the skills to get away from the tribalism we have in Scottish politics. It began to happen in the referendum but we've got some way to go."
Mrs Ullrich says Miss Sturgeon will care little for the trappings which come with the top job in Scotland, such as the keys to Bute House, though adds she is "a great hostess".
And the current SNP deputy leader will not forget her roots.
"She's kept in touch. Her parents live just round the corner from me and she's still very loyal to her roots she's appeared at all of my birthday parties," Mrs Ullrich added.
"And her mum and dad are just beaming with pride at what she has achieved."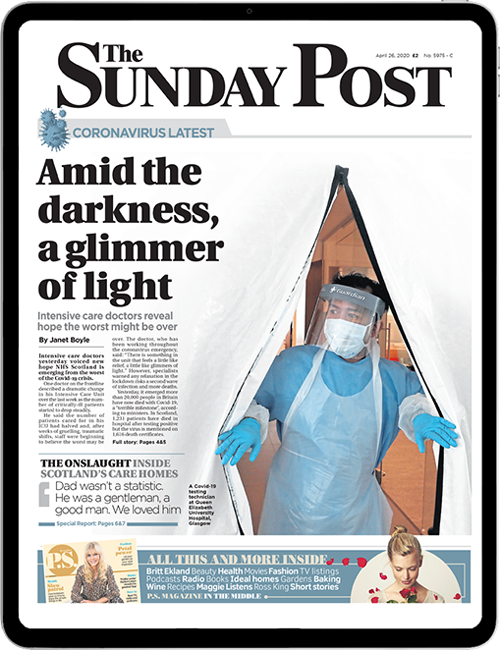 Enjoy the convenience of having The Sunday Post delivered as a digital ePaper straight to your smartphone, tablet or computer.
Subscribe for only £5.49 a month and enjoy all the benefits of the printed paper as a digital replica.
Subscribe