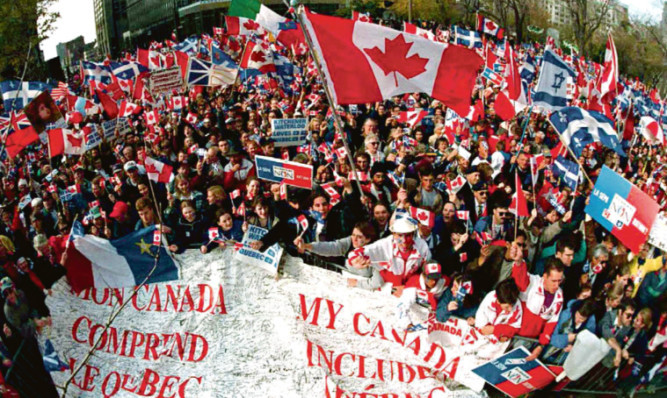 Scotland will get over this … but it will take months of hard work.
The former prime minister of Canada who oversaw two independence referendums has warned that Scots face tough months ahead after last week's historic vote.
Jean Chretien warned there may be "unpleasant" times but believes with hard work Scotland can recover from a divisive and exhausting referendum campaign.
Chretien said that after an incredibly close referendum on Quebec's independence in 1995 there was six months of ill feeling but this "disappeared rapidly" as people moved on.
He also predicted the increase in devolved powers promised to Holyrood will lead to the creation of an English parliament and a federal UK.
Today, more than 1,000 people from the Yes and No camps will pack St Giles Cathedral in Edinburgh for a service of reconciliation, while hundreds of church services across the country will also reflect on the need to repair divisions after the big vote.
Speaking exclusively to The Sunday Post, Mr Chretien said: "A referendum is very emotional. It is dividing families, dividing cities and villages, especially among those who believe so strongly it is almost a religion.
"You are breaking the dreams of some people. Breaking the dream of a kid is tough, but breaking the dream of an adult is more difficult. But generally speaking what I discovered is when it's over, it's over.
"In Canada, it was an unpleasant situation at first. But that disappeared rapidly. After six months the unpleasantness had disappeared completely.
"There will be some hardliners who can't be persuaded but the rest will come with us. Very rapidly those families that have been split with the issue will learn not to discuss it. Some will dream to have another referendum. We had another in no time, 15 years after the first."
Chretien as Justice Minister handled the legal complexities of the 1980 poll on Quebec independence in Canada and was the federal prime minister the next time the issue was put to the vote at 1995. The first referendum was won by the No campaign by 20 points but in 1995 there was just one point in it.
Scottish Secretaries Michael Moore and Alistair Carmichael and Better Together leader Alistair Darling are believed to have sought his counsel ahead of last week's vote in Scotland.
He continued: "Watching the Scottish referendum brought a lot of memories back. That was very difficult. There are many parallels between Canada and Scotland
"In the last days of both our campaigns, there was a surge in support for the Yes camp. The last week in particular was important for the No campaign.
"In Canada two weeks before the referendum in 1995 Yes were suddenly eight to 10 points ahead. It was more difficult for us because it was a provincial issue and the federal government I led could not get involved.
"But in the last nine days I said to hell with the rules and organised a huge meeting in Montreal in which thousands of people flew in to send a message that we wanted Quebec to stay with us.
"It's difficult to bring emotion to the No side. But I've seen some of the speeches in the last week and I've seen emotion. The speech by David Cameron, the one by Gordon Brown were kind of emotional."
On the issue of more powers for Holyrood, Mr Chretien said: "The devolution model is very complicated. You've already done some of it and your country is working quite well but there will always be a demand for more.
"There will be a lot of debate now but hopefully everyone will be calm. The problem they face is what kind of devolution they offer Scotland. Also England will want its own parliament, they will want a federation like we have in Canada."
He added: "My advice to Scotland, and the rest of the UK, now is to work hard. There will be a lot of wrangling, a lot of work for the constitutional lawyers and it will be frustrating. But I'm sure you will get there."
Today's Church of Scotland reconciliation service will see the Moderator of the General Assembly John Chalmers deliver a sermon before the country's political leaders.
He is expected to say: "Here and in congregations across the country is playing its part in making it a little easier to stretch out that hand of friendship to those who are our fellow Scots who did not support the side we supported.
"How we voted on one particular day does not define who we are. How we work together to put in place the democratic will of the Scottish people will be defining."
Labour's Douglas Alexander and the SNP's John Swinney will give readings at the service, where those attending will light a single candle symbolising a commitment to work together.
The Moderator has written to each of the Church of Scotland's 800 ministers asking them to share similar prayers and commitment with their congregations.
Meanwhile, Holyrood's Presiding Officer Tricia Marwick will lead the Time for Reflection slot on the first sitting of the Scottish Parliament since the referendum.
She said: "We have witnessed an unprecedented engagement in our democratic process. The whole world has looked with envy at the peaceful and civic process that we have been engaged in.
"There is now a challenge to political and other institutions across Scotland to respond. We all need to commit to changing our cultures to ensure those that have now engaged can make their voices heard in the future."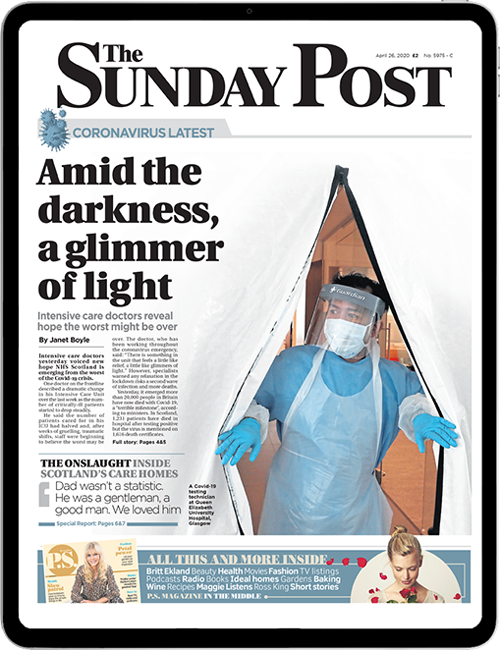 Enjoy the convenience of having The Sunday Post delivered as a digital ePaper straight to your smartphone, tablet or computer.
Subscribe for only £5.49 a month and enjoy all the benefits of the printed paper as a digital replica.
Subscribe